1. Our team has been increased
We just hired a new developer to work on ETS2MP. He is a guy and his nickname is Darreugne. He is working on community parts (e.g. website) and most of utility stuff in the multiplayer core. I think he is good person in a good place and I hope that our cooperation will be fruitful :).
2. Release date
Since last info update we have done a lot of great work, our project now has an organized division of labour. Each team member has select tasks that need to be done. We have plans to release the modification within few months (Probably in September). We think that's very good information for most of you but remember that's just approximate release date.
3. Work in progress
"4 of 51 issue(s) resolved"
It's a quote from our bugtracker which started 2 days ago. We are working hard on finish first release for the September deadline.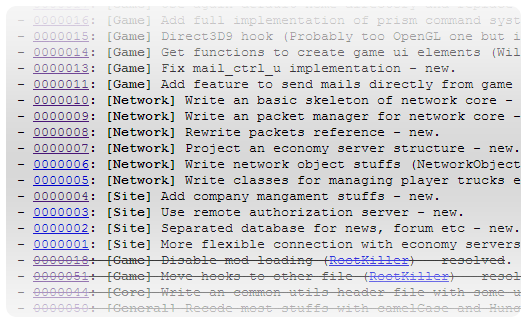 4. Cheaters
Currently you may be thinking, what if there are cheaters who try and get an advantage through the game? Well we are one step ahead, we are encorporating a few anticheats along the way ensuring that even if they attempt to crack into the systems, they won't get far, also with a global banning system, once they get banned, they are banned! However we have had a few comments about "what would happen if somepeople were purposely ramming my truck", well we have currently decided that if someone causes your truck to have unwanted damage, our systems would detect it, kick them from the server & reset your truck, fixing it back up.
5. Team
Our current team contains:
Important persons in project
RootKiller
- Lead Developer, Project Leader
Manuel
- Community manager
Darreugne
- Developer
Beta team
Alask
Biggi
CORREXX
Dziki
hcbj1
I'm a Ninja!
ii_LAW_man
louis121
Mark
pcpl2
Stuart
Moderators
aka.maniacul
DeLorean
ighiba
Marsa.
Shidony
Zzombo