=======================
Patch note v0.80:
GAMEPLAY
- New diseases! You can now die from various diseases like indigestion or headache or many others.
-Diseases and wounds can be seen in the inventory panel (i).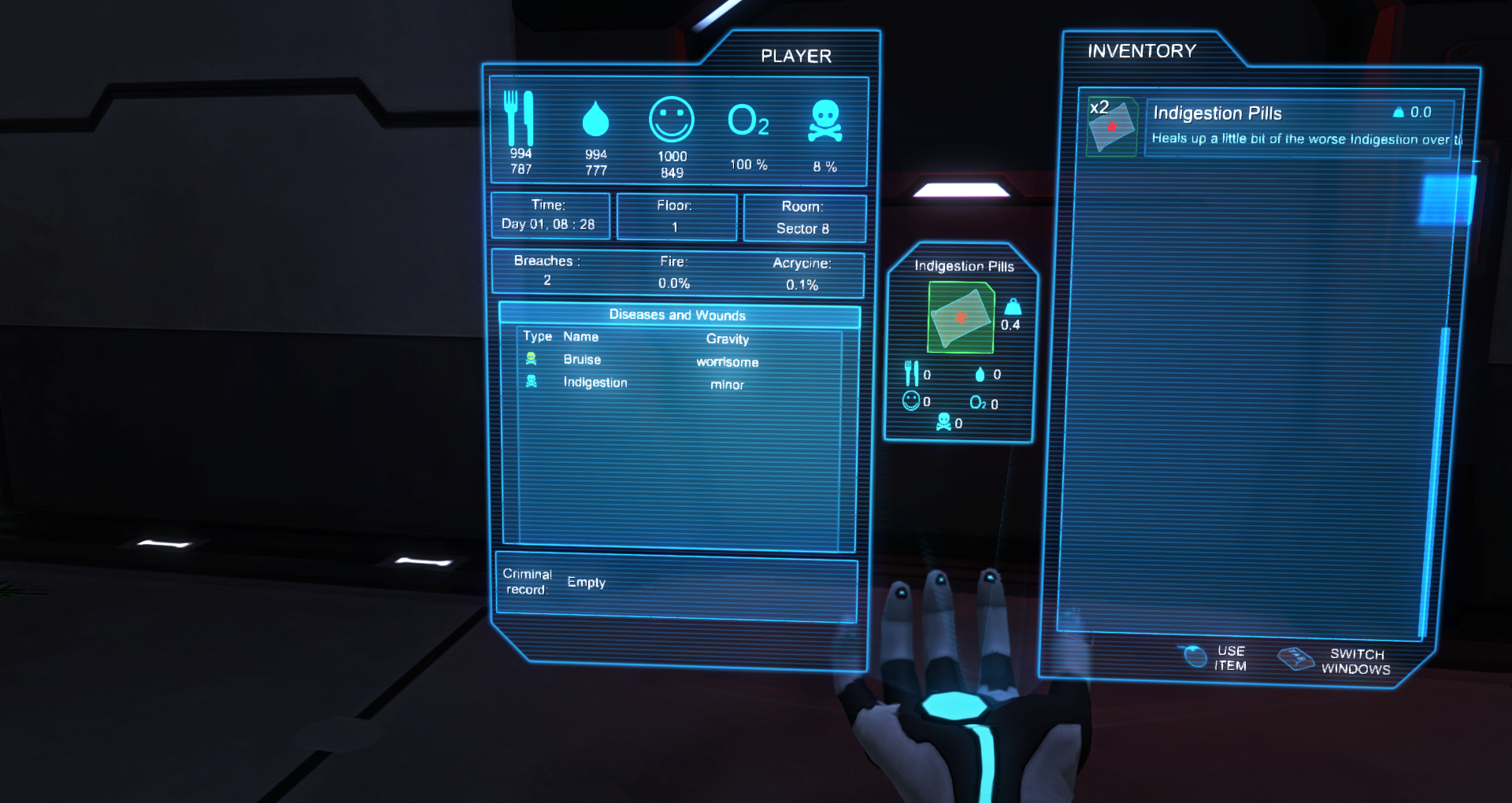 - When catching a disease, its severity level is now correctly randomized.
- Health Objects added and placed in specific rooms. Go scavenge the ship to find them!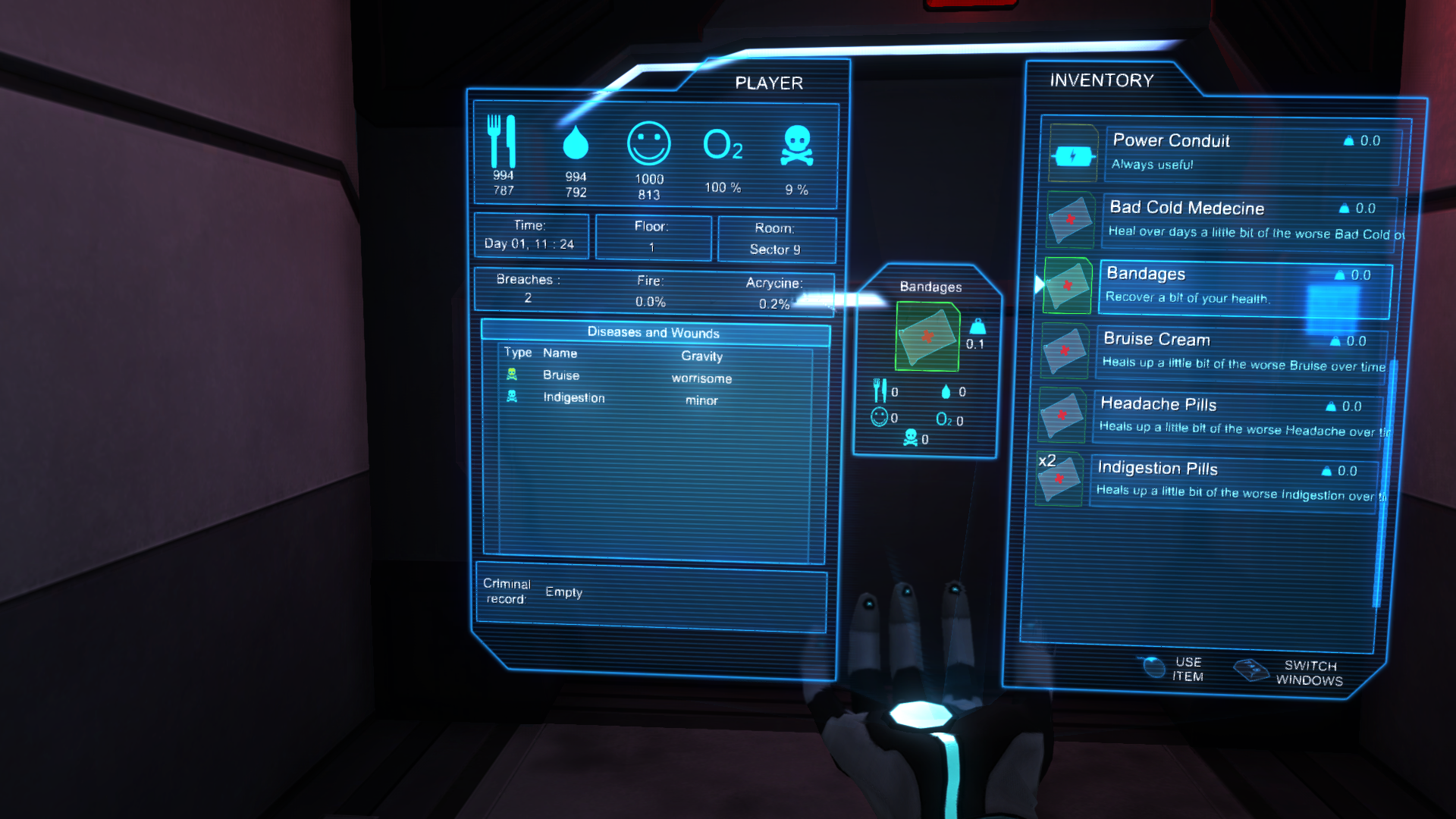 - Teleporters can now be broken.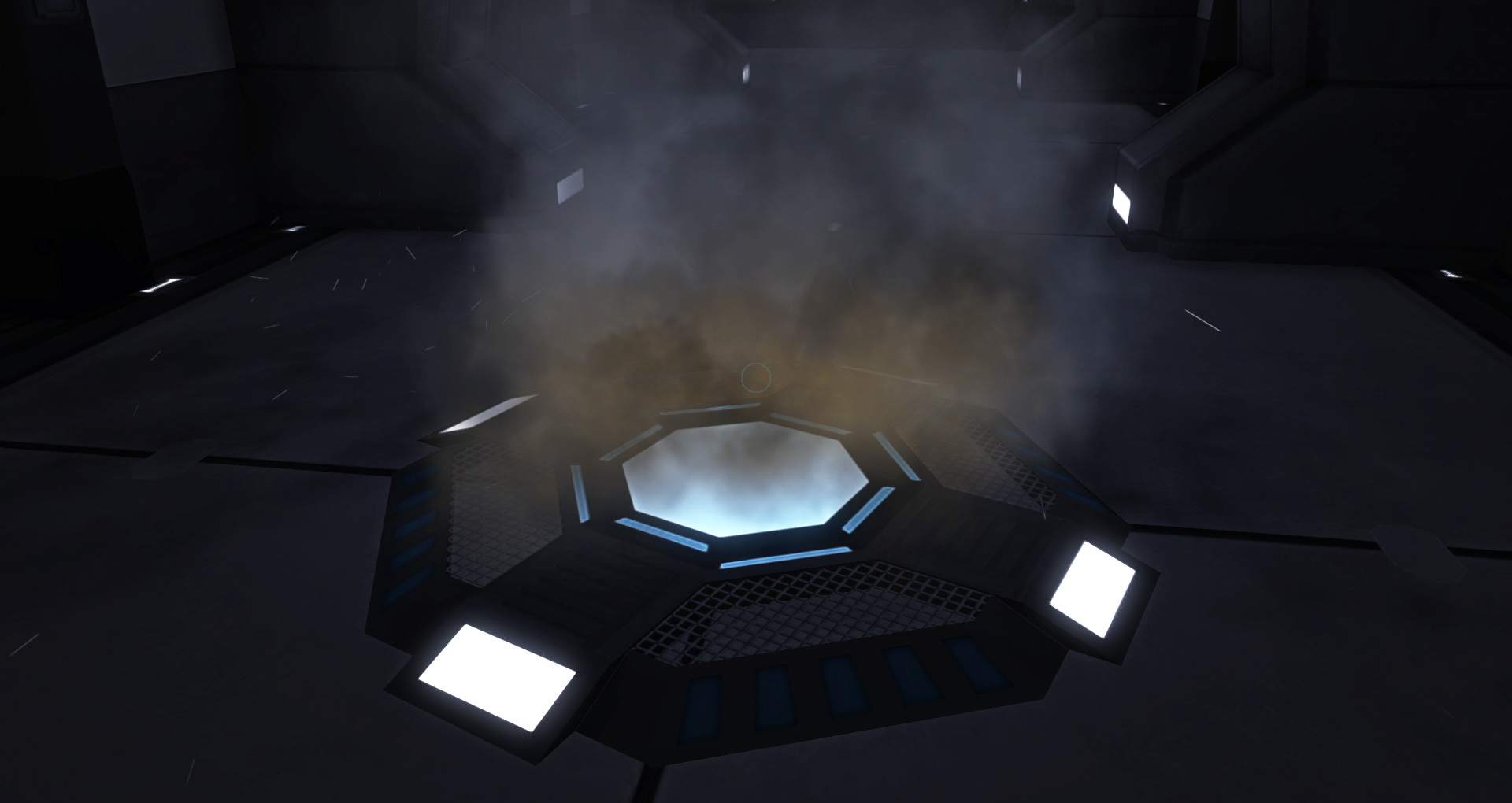 GRAPHIC
- New Emissive System (colors still work in progress).
- New Animated Crosshair and new Feedback System (opens when aiming at an interactive object and gradually lightens while coming next to it).
AUDIO
- Sounds for christmas trees.
FIX
- Only 1 remaining contest panel.
- Optimized the way the broken FX are loaded into memory.
- Getting ready with Steam interface, for later implementation of the sdk possibilities.
____________________________________________________________________________________________________
Patch note v0.81:
GAMEPLAY
- Diseases and wounds are now marked UNKNOWN until you use the Body Scan (see below)
- Body Scanner (R09, Medical Block): Use this to reveal the nature of you diseases and wounds. It takes 15 ingame minutes to be used.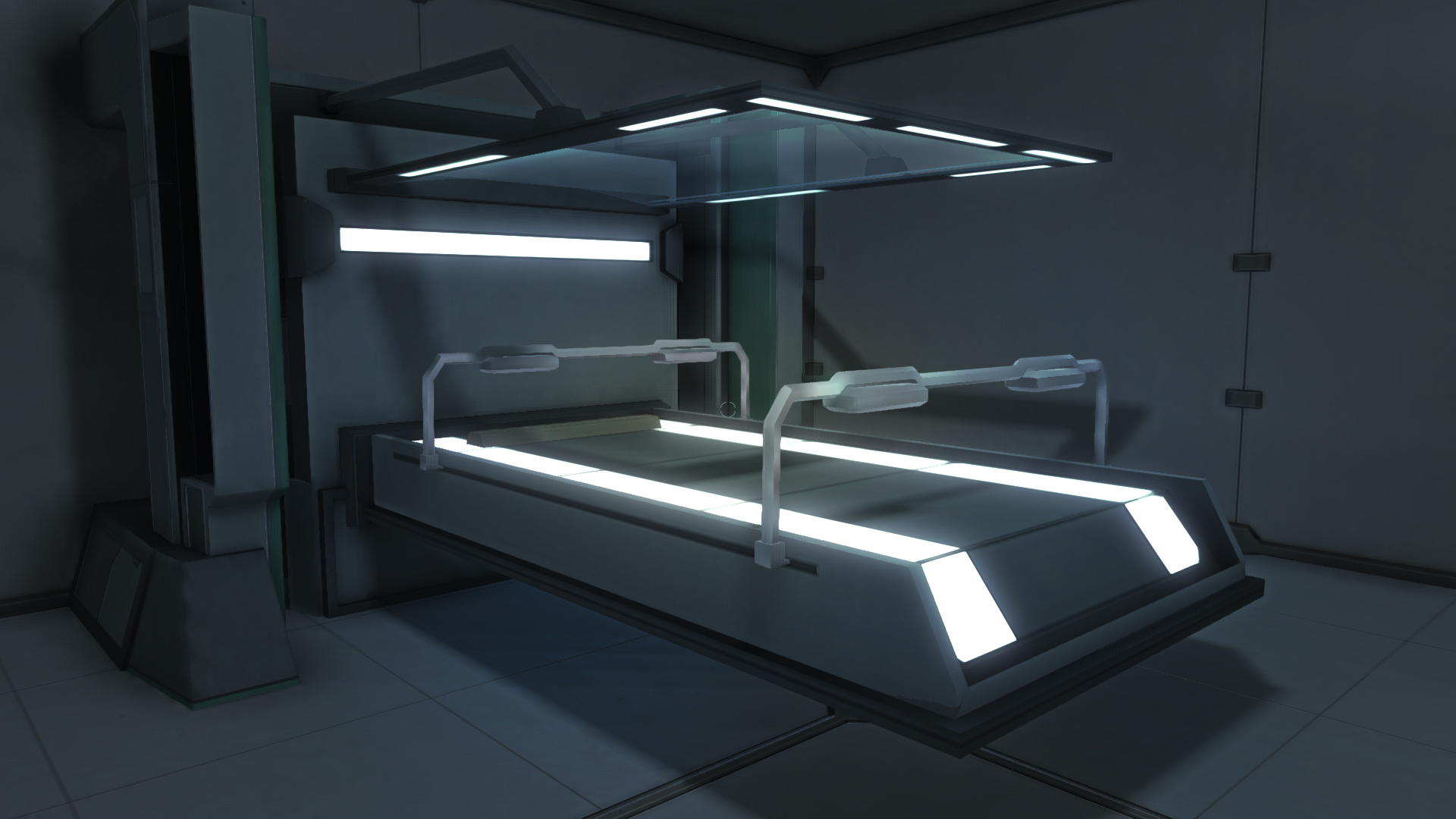 - Medpod (R09, Medical Block) : Use this to heal your worst disease/wound. Can only be used once per day. It takes 15 minutes ingame to be used.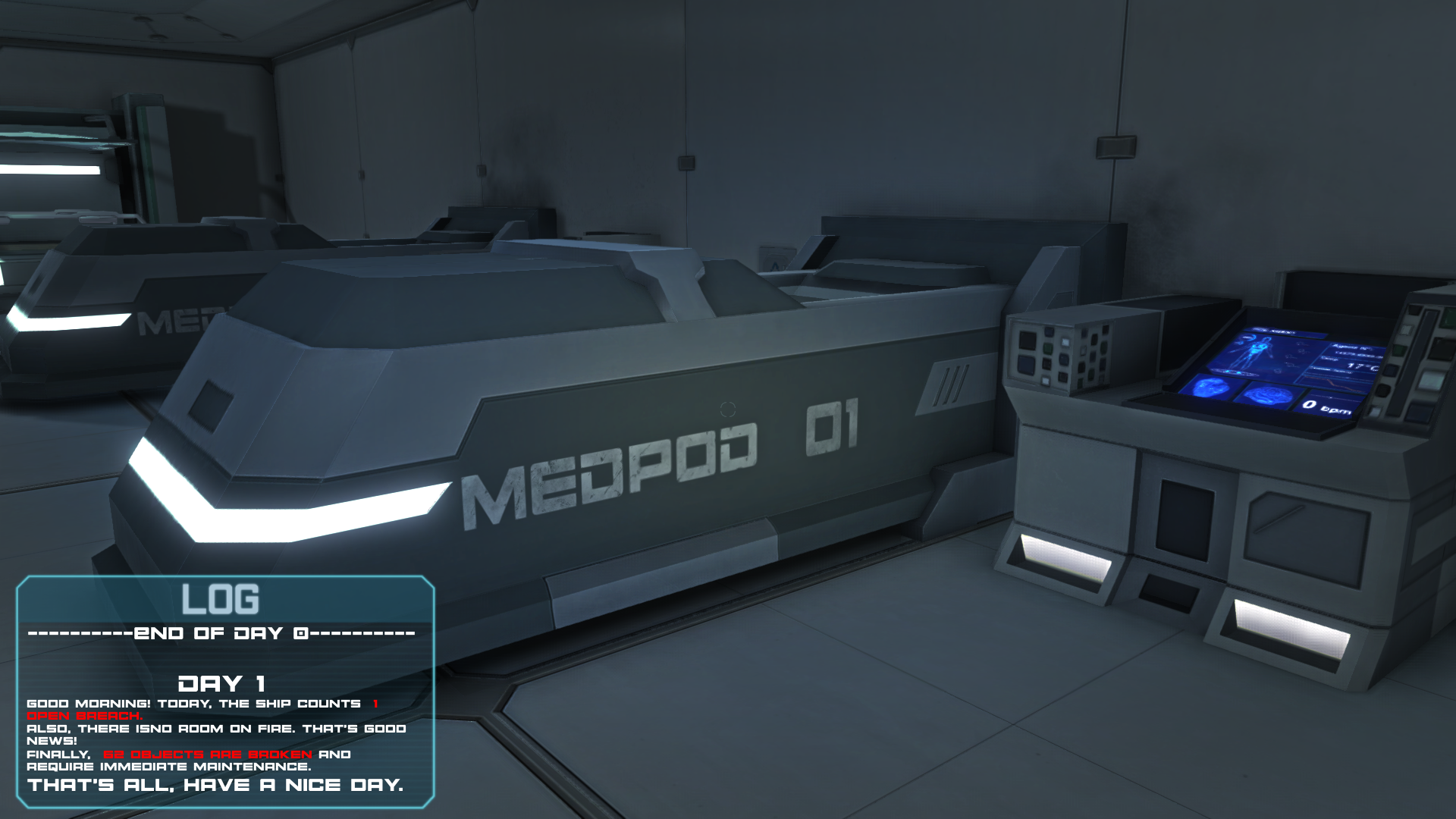 - The Scraper (in R06 - Repair Room). Every item in the game can be salvaged to produce basic materials.
- To salvage an item, find a recycle bin anywhere on the ship (there is always one near the shower/WC) and fill it with every item you don't need like this infected/rotten apple (gross!)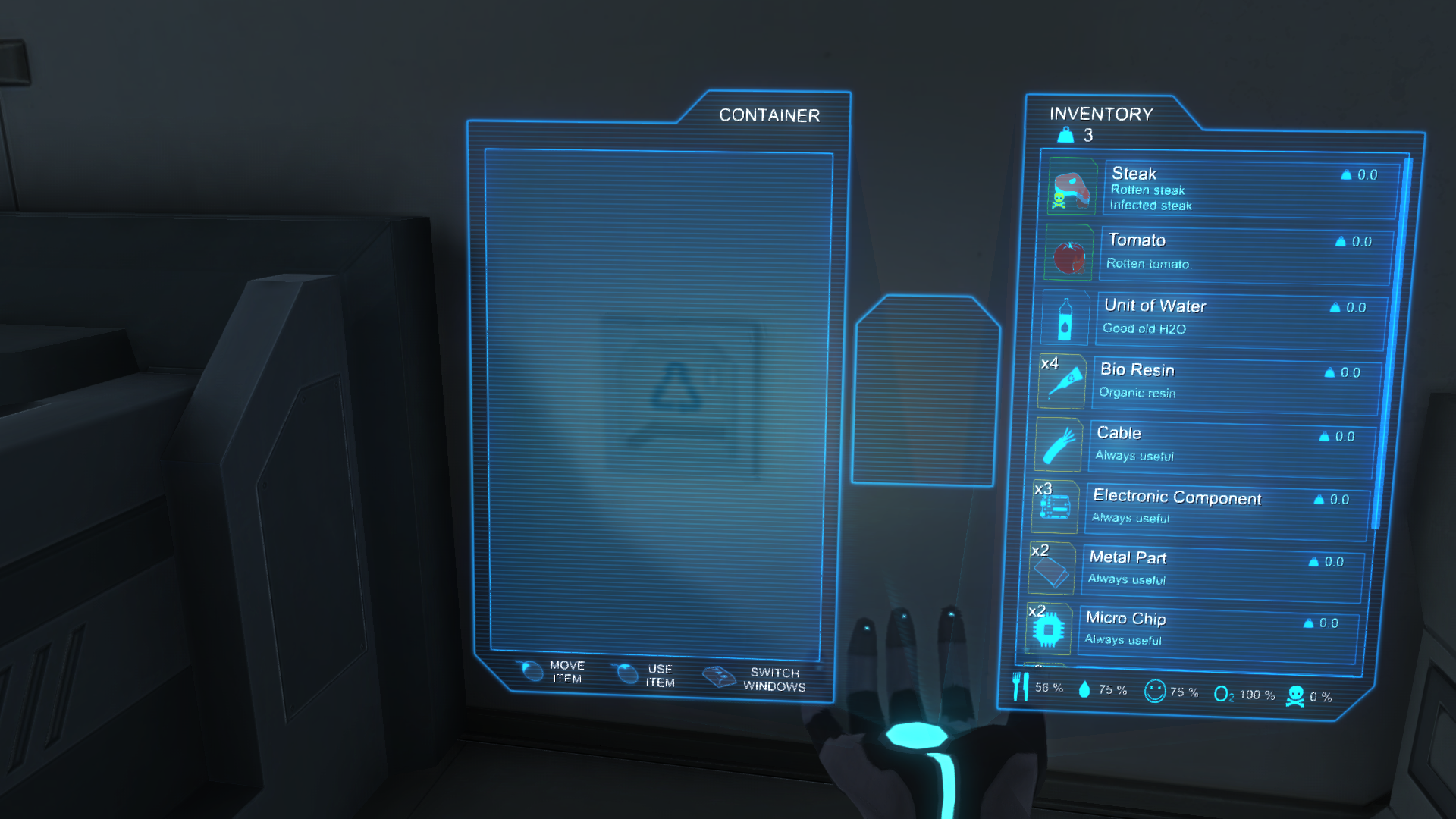 - Then go to R06 and open the Scraper container to find your useless items recycled into something else.
-If all scrapers are broken, the objects will be destroyed.
- Fire now lower the oxygen in the room.
- Oxygen regeneration now depends on the status -broken or not- of Air Recyclers. If there is no water left in the Water Tanks of the ship, the Air Recyclers will also cease to function. The visual feedback of the whitering flowers will come next update.
- Water Recycler now generates some units of water everyday when they are not broken. These units can be found in the water tanks in the same room.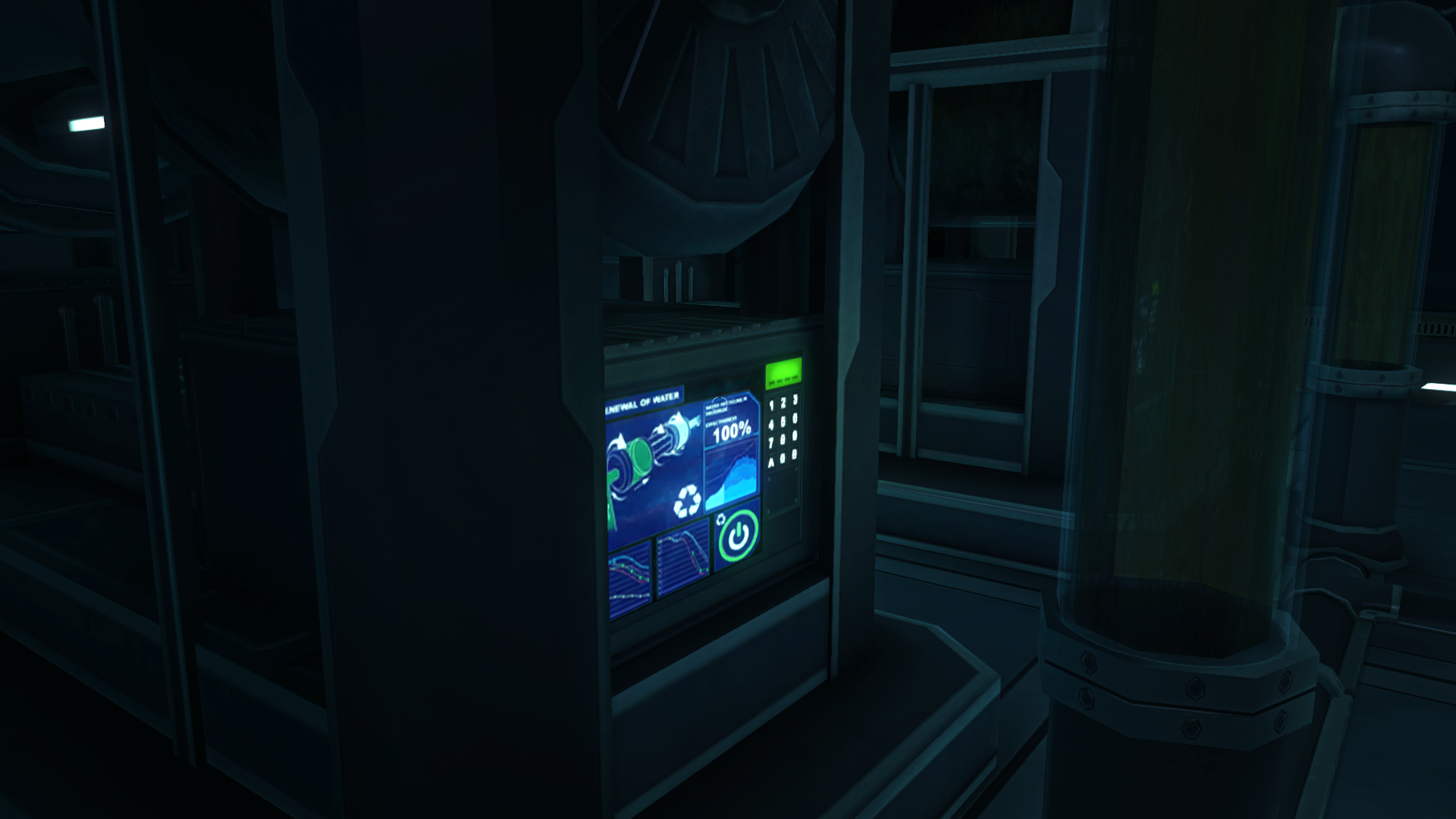 - If the plants of the Air Recyclers are correctly hydrated, they have a chance to spawn a root. Just be sure the Water Tanks are filled.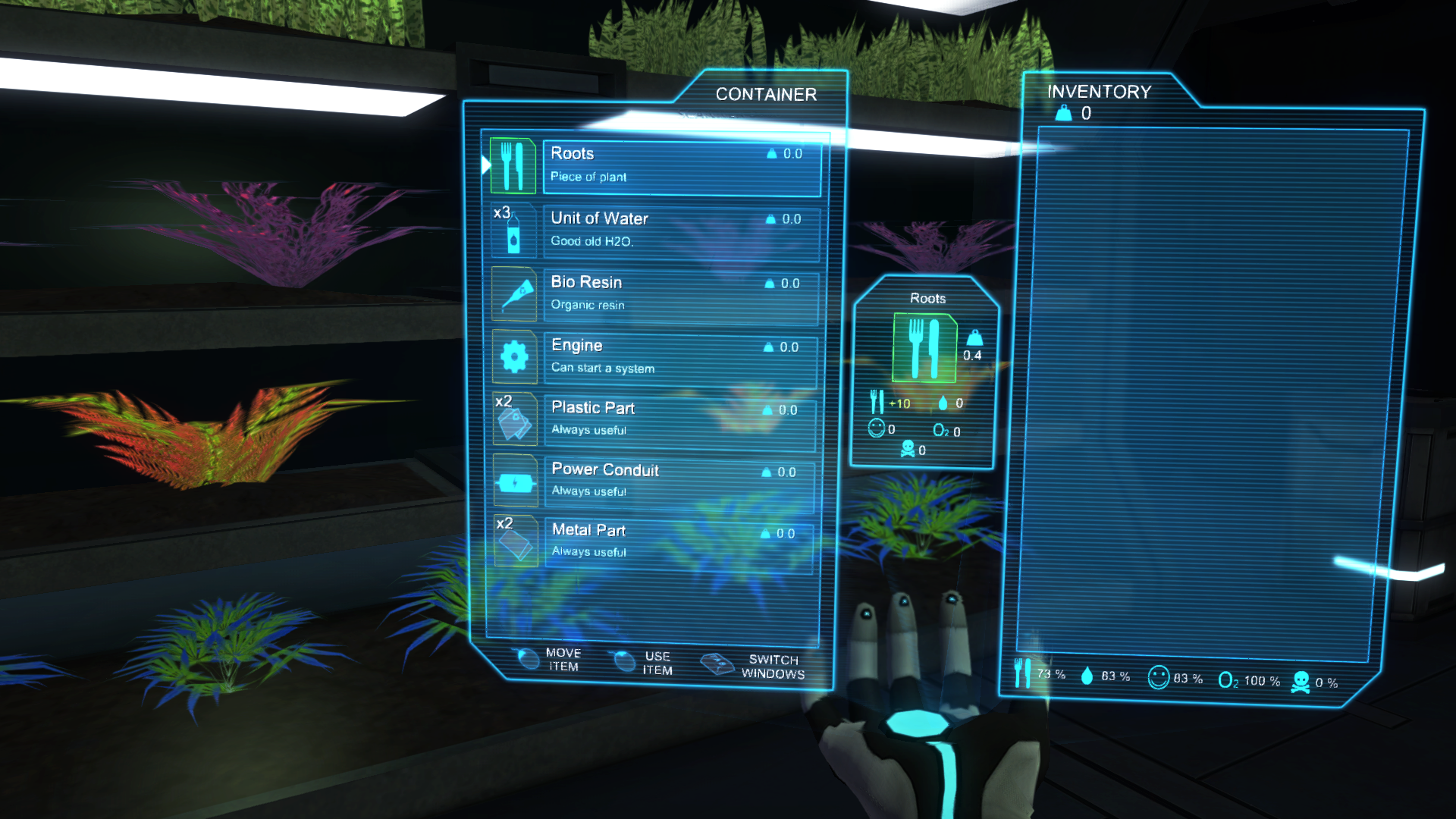 - If a fire reaches its maximum level in a room, it can spread to adjacent rooms, even if the doors are closed.
- Storage Bay R12 (x2) and R13 (x2) at T1.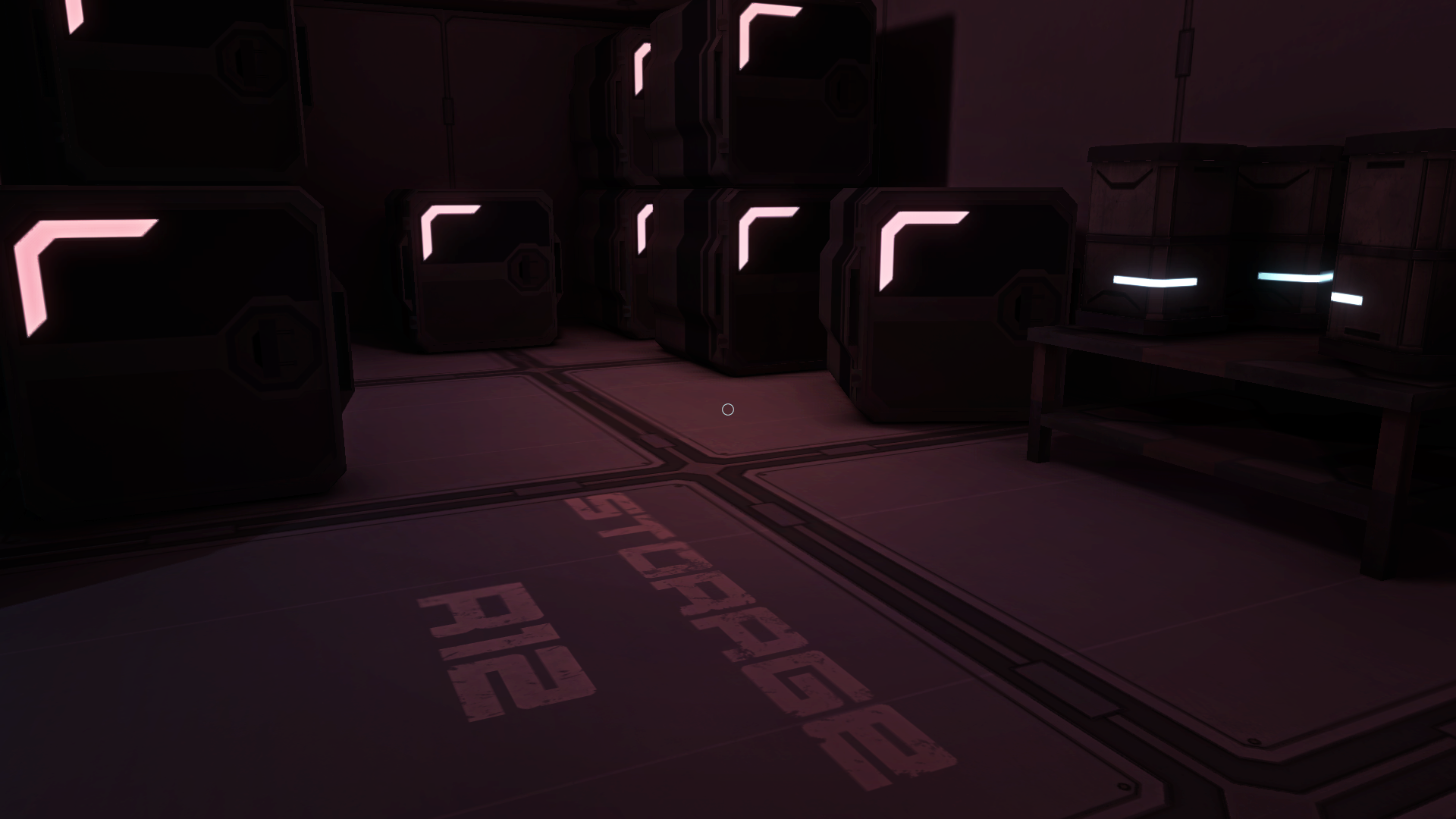 - Running is now slightly slower. Walking speed doesn't change.
- Steam SDK : Worldwide Leaderboard of survival time.
- The Log will now warn you when you have a new disease or wound.
- We can know how the character died to make a summary of the problems encountered at the end. Visual feedback to come in future updates.
- The Shelfs of the Air and Water Recycling rooms are now full of objects.
GRAPHIC
- New "End of day" pannel.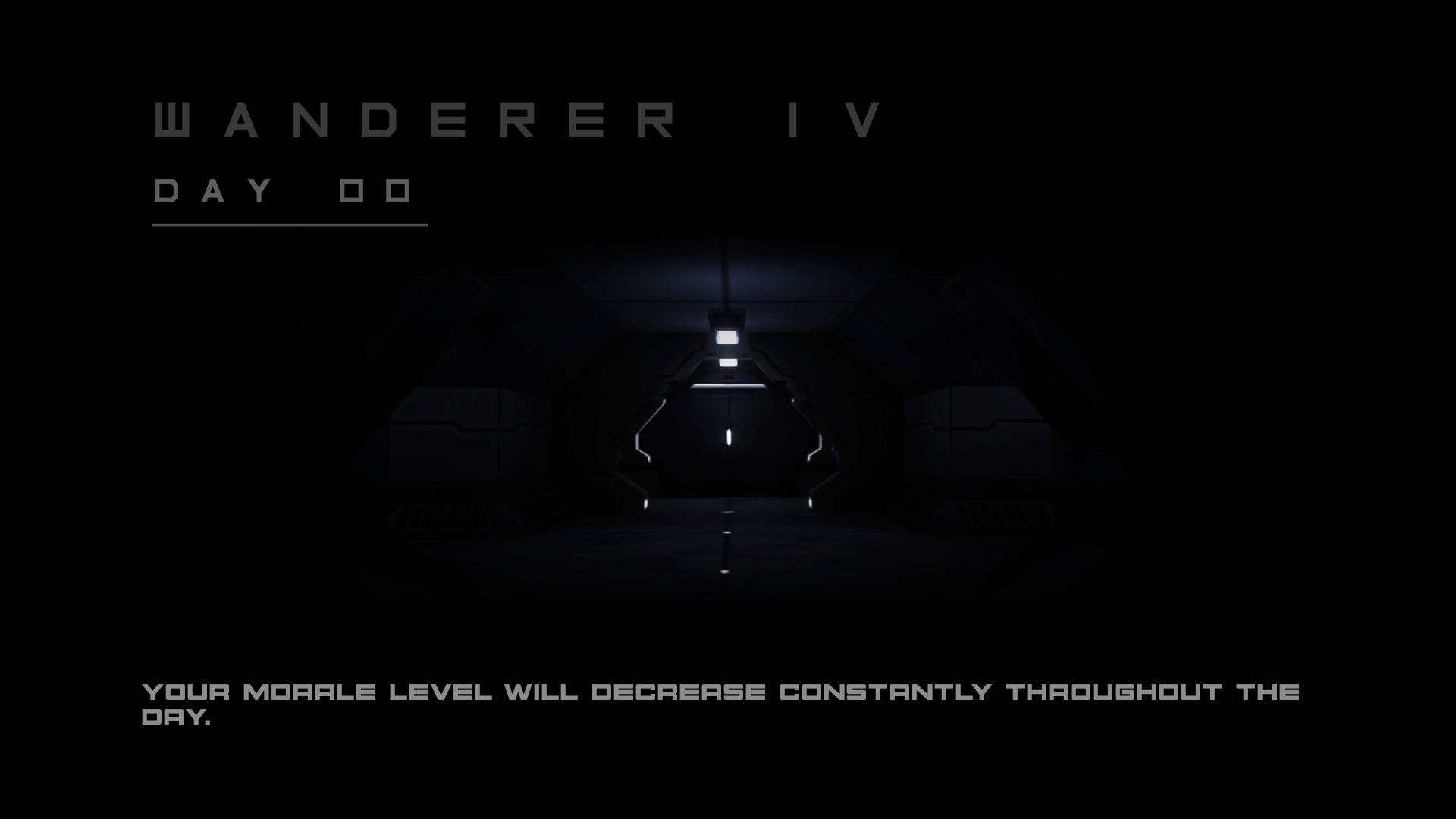 AUDIO
- Alarm sound added.
FIX
- Debug : "Switch Inventory" and "Take All" key bidings now works as intended.
- Debug Flickering lights. The material was set null and so nothing could be seen. Now works as intended.
- Crosshair animation will no longer lags.
- Crosshair size reduced
- Crosshair has been outlined to enhance its visibility.
- Crosshair opening/closing animation is now faster.
- Crosshair now interacts correctly with the main menu buttons.
- Crosshair debugged on big doors and optimized layer.
- Changed description of health items for a shorter one.
- Corrected orientation of several room spawners at T-1.
- The display of Diseases and Wounds "severity" now has an uppercase first letter.
- Corrected colliders size in T01.
- Emissives have been colored.
- Debug : Opening a container will no longer consume the first selected item.
- Debug : You can no longer open a container by aiming at a door/room.
- Debug : Door colliders will no longer desactivate themselves.
- Med Block now has Big Fires like all the other rooms.
- Little corrections on Occlusion Colliders.