This blog post comes out a little late, but for good reason. Last week we found ourselves working on two very cool features: animating water in the main map and making the AI of the Governors who manage your Settlements a lot more realistic. We did manage to wedge some examples of the water animation in this blog post, but you'll have to wait until next week for the scoop on the Governors' AI. We gotta keep you on your toes somehow, right?
Previously, we explained a few things about the Main Map and the very important role of the Settlements scattered all over Koth. We'd like to start this post by bragging on the progress we've made so far on the visual side of things, and then in the next one (coming soon) give you an explanation of the events you'll most likely face in Empires in Ruins.
Unfortunately, although we have been planning to say a few things about Alternative Missions, working on them has fallen through the cracks as more important tasks cried for attention – like the workload required to give our AI officers their erratic and disturbing personalities. From the first few examples we got by testing them, they came out as bigger bastards than we'd thought they'd ever be, so we must be doing something right.
But onward to the juicy details…
Main Map Asset Changes
As we were happily prancing around Koth's valleys, contemplating what would lead Koth to the events behind Heimer's campaign, we slowly had a clearer picture of what the Empires in Ruins universe looks like. Becoming more detailed in our minds, we wanted to make sure that it'll be as "colorful" to you as it is for us. In addition to taking detail to a whole new level, the assets have been revamped from the ground up to give Koth a darker and more mature feeling. This would make Koth seem a little less joyous and more uninviting, pretty much explaining how that many peculiar characters made it there in the first place.
With more detail making its way to the main map, the level of the surroundings fell a little behind. George quickly saved us from this predicament introducing water animation to the map! Yeah, well, we knew that there can't be any life without running water, but compared to what most of Koth's inhabitants consider as "living," even that'd be a luxury.

Look at how the Western Marches looked like during last May...
...and look at how they look now, quite a difference, ain't it?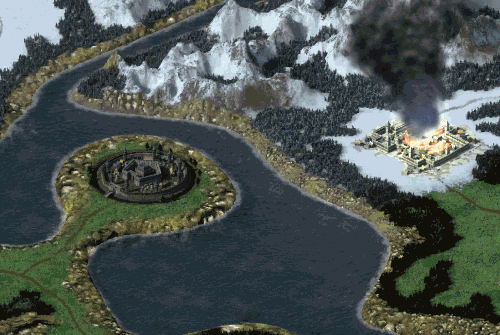 As game development might have it, a few hours before this post went live we also started flirting with the idea of adding a bit more visual bling on the main map. Emiliano threw in a bit of tilt-shift bokeh on the main camera when zooming in, and it looks quite promising!
See you soon for another news about the Rebellious and Random events that will make your war days in Koth warm and colorful (i.e. Arson, Writing on the walls, etc etc).

Cheers,
Yannis, @ypatras
Emiliano, @DokHgn