Vote
Cry of Fear have now reached top 100 for the Mod Of The Year 2012 competition, which means that you people have to vote for your favorite mod in this top 100 list.
Help us reach the top on the list, help us win!
In order to vote, all you have to do is to go to this link Moddb.com and click VOTE.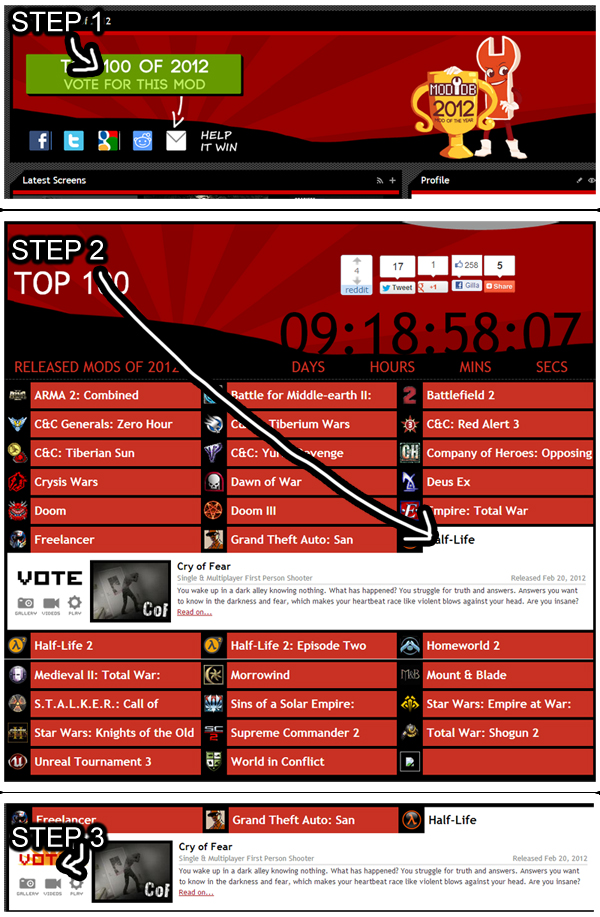 Motivation
This will also help us finishing the standalone build for Steam which will be released for free. How it helps is simply the motivation we get from winning. It will make us work faster!
Here's a trailer to remind you why we would appriciate your vote:
Cry of Fear v1.0
For you who have not yet tried Cry of Fear, please download it from here down below. We recommend you follow this guide if you are not sure how to install Cry of Fear:
Cry-of-fear.com

Simon's Hoodie
Another announcement is that Simon's Hoodie is now for sale in our merch shop. Find it here:
Conclusion
Please leave a comment on what you think, and why not follow us on Facebook? We almost post news every day on it, and we have a lot more going on in our Facebook. For all of you fans, we recommend it! Simply click on the facebook icon to head to our facebook.

Anyways, see you out there, and hopefully you will cry of fear.
/Team Psykskallar