The general idea is the world map will have zone and all regions in that zone will share a certain kind of map terrain.
Right now we want to make these kind of terrain:
- Unstable: Obstacles will keep exploding after few thousands time points, causing damage to nearby units. This will make sure you can't stay in one formation for too long and the path to tactic point keep changing because of that. And the damage is quite sufficient so you may want to avoid that. This Type is basically finished at the moment.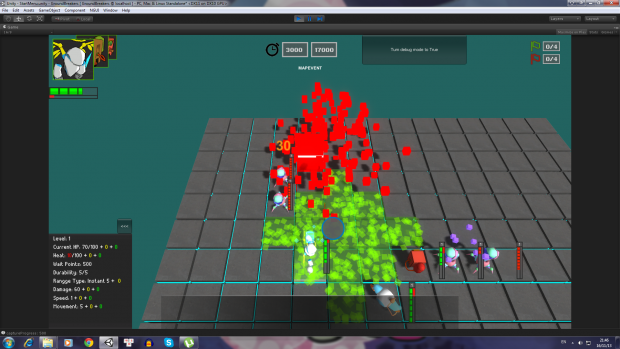 - Spring: No, it's not a season, it's the spring that make objects bounce. Basically, spring is hidden in one of the Floor Brick and it only reveal after you step on it and get kicked to a random position (maybe in the middle of your enemies).
- Tide: The floor is covered in water. Every few time points it will go up a few times then down, when the tide is high, all units movement are reduced.
- Desert: Will bring some kind of Arab vibe with mud floor, sand storm.
Everything is not settled yet and we want to here your idea about these features if you are interested,
This version will again be release to our windows server so if you had the windows client, you could just run the Launcher and it'll auto update to our newest version. As for Mac and Linux we will wait until we finish all kind of terrain.
Here is the progress in number:
- Single match core mechanism: 80% (still the same)
- Map Design: 40% (20% from last week, we added Unstable Map)
- Chip system:
+ Core: 90% (Lack combine action)
+ GUI: 95% (Need some finishing touches)
- Craft system:
+ Core: 100%
+ GUI: 100%
- Multiplay: 0%
- Campaign: 10% (5% from last week, added some small things that is noticeable)
- Effects for single play: 90% (It may stay that way for a long time)
- Animations for single play: 90% (It may stay that way for a long time)
What's Next?
- More Map Type
- Chip system
- Campaign