I've completed some work around controlling the running speed of the game. This is currently done through a slider control I've positioned at the top-right of the screen. This will likely be a placeholder until UI graphics are finalised. It allows four settings - paused, slow, normal, and fast. The effect each setting has is pretty self-explanatory!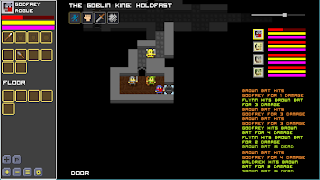 Although the speed control was fairly straightfoward to implement, there will be some further work in this area to enable a turn-based mode.
I have also now tidied up the log text, which is a bit more neat and tidy and can also be scrolled up and down with the mouse wheel to a certain extent, which is nifty.