Of Guards and Thieves - FREE WEEK END and Map Browser Preview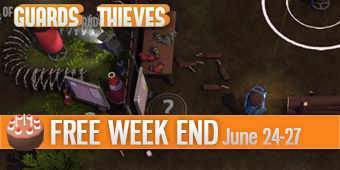 OGAT is 3 years old! Free Premium weekend for everybody.

Happy birthday Of Guards And Thieves! To celebrate it we're giving every Demo/Free players the opportunity to try all the premium features during the weekend. You'll be able to use all the maps, classes, gamemodes and map editor, enjoy ;-)

* Free Week End event will last until Monday!

In other news, we're working on a better way to build and share custom maps that will be published at the end of the month. Here's a little preview about the Map Browser.

Map Browser Preview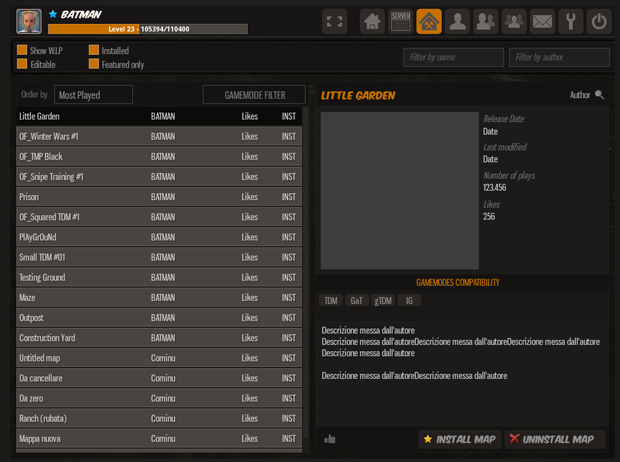 FULL RESOLUTION IMAGE HERE

The new in-game Map Browser will allow you to share your custom maps with other players and install any public map to use in your games.
Also, maps now will be saved and downloaded from our servers to avoid any type of issues related to peer to peer connections when users host their game.

Features preview
Selectable filters
-Show W.I.P (Show/Hide unfinished maps)
-Installed (Show/Hide already installed maps)
-Editable (Show/Hide editable maps)
-Featured only (if ON shows only featured maps)


Maps list, order and filter
Maps can be ordered with various filter,
-Most played
-Top rated
-Newest
-Recently updated


Maps can be filtered by gamemodes and game type,
-Competetive
-Fun/Casual
-Multiplayer
-Singleplayer
-Co-Op


In the top right section additional filters are available in order to look for a specific map name or author.

Map Details
The map details area on the right contains all the details for the selected map.

General Information

-Map Name
-Author
-Release Date
-Last modified date
-Number of plays
-Likes


Gamemodes Compatibility
Show which gamemodes are compatible with the selected map.

Description can be edited by the author directly inside the map editor gamemode.

Install/Unistall button are self-explanatory.
Installed maps will be available in the map selection screen in your game Lobby.

Daily Reports !
Daily reports consists in daily publication of something new on which we worked.
This kind of report are more focused and includes small tasks like 3d art showcase as new gun, skins, map editor new content, new features and content explanation, game design ideas, and more.

Daily reports will be published on Facebook page/Twitter and on dedicated monthly thread here on the official forum.
Usually there will be one publication per day.
DEDICATED FORUM THREAD HERE

[h1]NEW DEVELOPMENT ROADMAPS AND PROGRESSION ![/h1]
Here our new development schedule

DEDICATED FORUM THREAD HERE

That's all for now!
More details about the Map Editor and the Save/Load/Sharing process will be available with the dedicated update.
DIRECT LINK TO PLAY THE GAME ON FACEBOOK
==TeamSpeak server reminder==
Official TeamSpeak server official launch (ts.ofguardsandthieves.com)
"Of Guards and Thieves" official Teamspeak server is now up and available for everyone.
To connect use this address: ts.ofguardsandthieves.com
---------------------------------------------------------------------------
You can find the Teamspeak rules HERE
---------------------------------------------------------------------------
If you need a private channel for your Clan/Friend Groups read HERE
More info soon! Stay tuned.
Thanks all for the support and see you in game!

..or Play directly on your web browser on Kongregate. and Join our Forum to take part in the development!