We've got another video for you!
This week, John and Matt give you a quick peek at the Free-running mechanic in Eden Star, enabling you to traverse the world in a smooth, flowing, athletic way thanks to our procedural mantling and wall-jumping system.
Sorry about the poor-quality video capture. Trust me, it looks much nicer in-game :) Also even though John is playing here with a controller, it plays just as well on mouse and keyboard.
NOTE: ALL FOOTAGE IS PRE-ALPHA AND IS SUBJECT TO CHANGE (Pending YOUR feedback!)
There's also a bit more wanton destruction thrown in there for you, including some updated Tool PFX. We're in the process of overhauling everything, making sure we deliver the best possible experience for you at the Eurogamer Expo this September!
As always, check edenstargame.com for more updates, chat, comment, or ask questions to the devs on the forum and if you're a Redditor, check out our subreddit! Also Twitter, Facebook, carrier pigeon, smoke signals, message-in-a-bottle, email, snail-mail, Daily Mail or Christian Bale.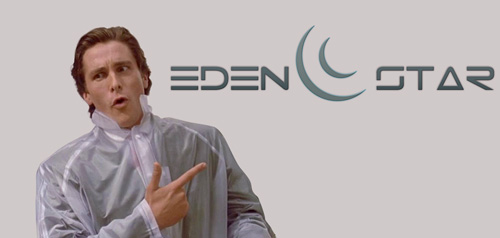 Disclaimer: We do not have any association with Christian Bale