Another week has rolled round and it's time for a shiny new blog post, shiny. First things first a massive thanks to everyone who has been voting for Eden Star, because of you fine people we are currently in the IndieDB top 100! As a semi-reward/semi-we haven't released any images of this yet, this week I'll be showing off the first images of characters in Eden Star. First a quick intro I'm Toby, lover of Firefly and lead character artist at Flix Interactive, but now on to the image.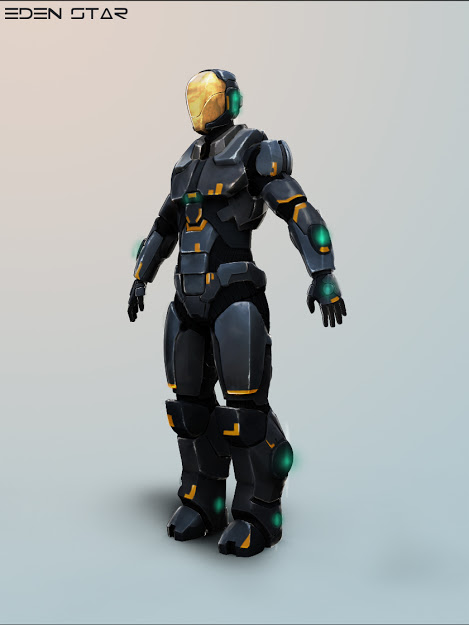 I don't want to give too much away just yet, but I can say that this character is a design for a friendly NPC in Eden Star. When we begin creating a character we gather reference materials and loosely sketch out a variety of ideas. Because we are a small team and I'm more 3D focused I like to get the model under way as fast as possible. Thanks to zbrush's fantastic features I can create a concept model in a short time, even without kit bashing. These models can be used as a base for other concept illustrations before being further refined into the finished high polygon model.
I am fairly happy with the overall forms of the character, so I decided to create a piece of concept art to get a feel for how the character will look when it's textured. This lets me see what sort of colour schemes work which often helps highlight areas of the model that need further refinement.
When I'm creating a piece of concept art from a 3D model I like to cheat as much as I can, to save time. I begin by setting up lighting for the model which forms the base of the image. I then render out a series of passes using different materials in zbrush. These materials will range from highly reflective surfaces, to more matte rubber-like materials. I bring all these separate images together and begin to combine them. I then start to block out the colours and add wear and tear as well as additional lighting effects.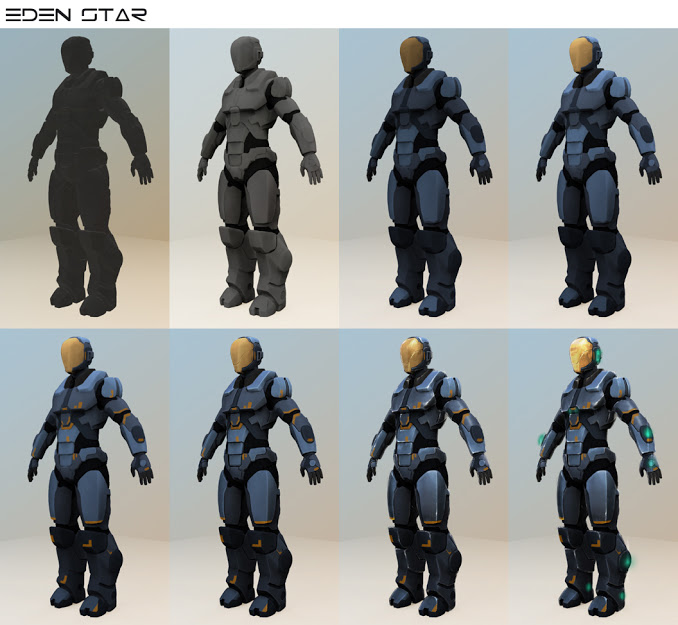 I hope you enjoy this brief glimpse into the visual aesthetic of characters in Eden Star. We'll keep you posted with more images over the coming weeks so please keep checking back for more news posts, comment and share with you friends! Now I'm off to watch the Hobbit :)