What's up Deities?
With this post we want to start a series of character profiles which give a small insight of the background of each playable character in our dark fantasy/sci-fi singleplayer and multiplayer real-time strategy & rpg hybird LIQUIDATION a game in which you take the role of a Deity to bring back balance to the devastated and war-torn world of Vea´.

We are also planning to reveal some addtional gameplay information about them in the future which will include their abilties and role on the battlefield for the people who are more interested in gameplay.
Today's character profile features one of our latest created characters which is one of the leaders of the Scourge faction an alliance of poisonous reptile creatures which excels in early harassing attacks.
---
High Priestess Celeste Xelsius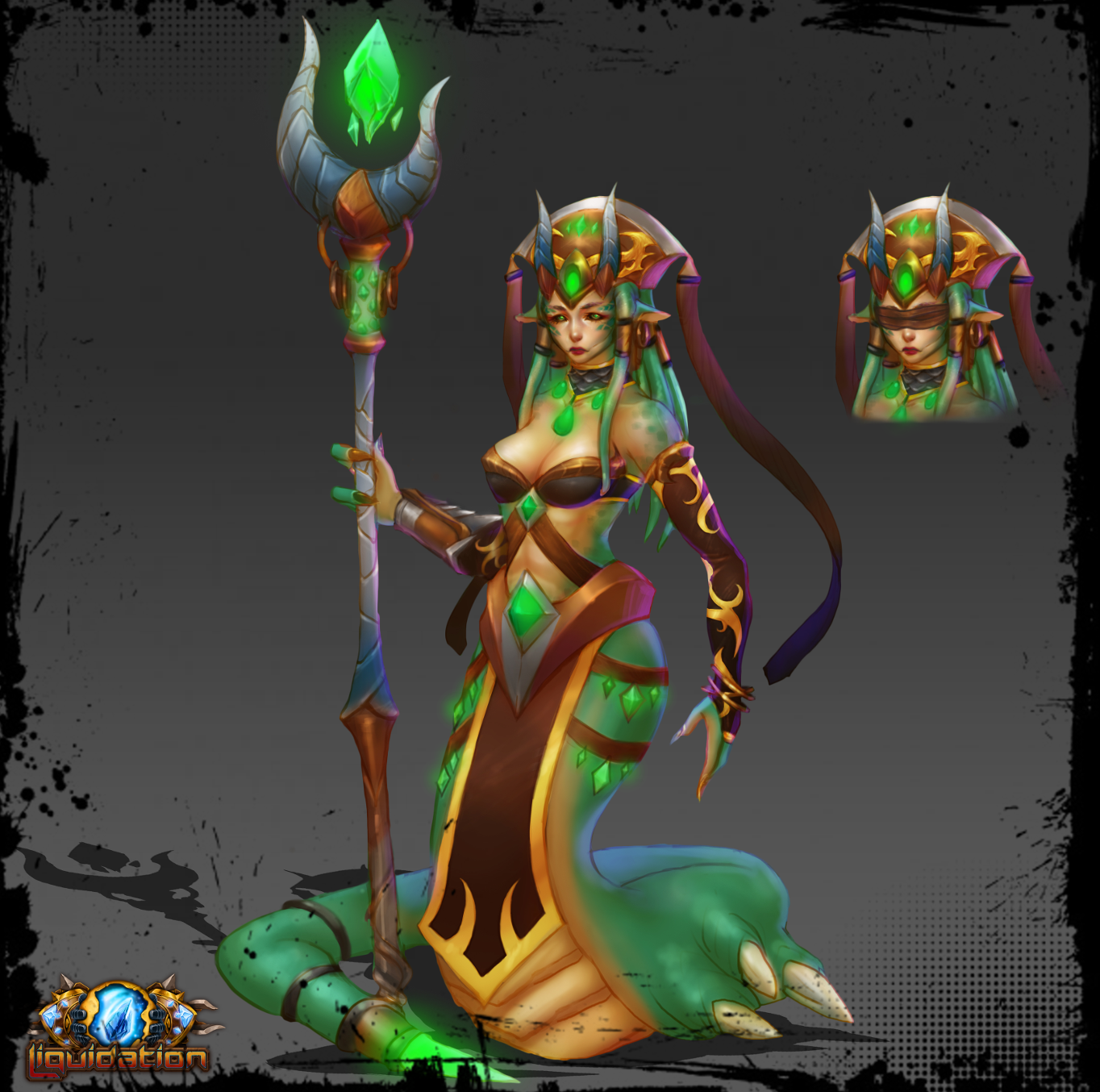 Race: Basilisk Lamia
Age: 107 years
Origin: Vrathor
Height: 254 cm
Weight: 198 kg
Gender: Female
Bloodtype: AB-
Affiliation: Scourge Alliance
Occupation: High Priestess & Advisor of the Scourge Alliance
Relative(s): Aeternus (Husband)
---
Personality: Celeste is a very religious person. Having spent much of her youth in a temple, she found enjoyment in praying and healing magic. She has a motherly personality, and so can't ignore people in need, being always prone to help her people if there's a problem. She tends to let people tell her what to do, rationalizing this to be the will of the Gods.
Likes: Praying, Herbalism, Singing
Dislikes: Violence, Herself
Background: Celeste is a rare lamia basilisk, the high priestess of the Scourge Alliance, the wife of Prophet Aeternus and a sorceress capable of casting magic through her voice.

Throughout her youth she struggled due to her paralyzing gaze, unintentionally inflicting pain upon others which caused her to embrace solitude to protect those she held dear.

Holding unto her faith and the enjoyment of singing she tried to overcome solitude until a fellow lamia who was able to resist her gaze gave her the hope she needed to escape her despair.

After the cataclysmic event of the Splintering she united the races of the hollow worlds alongside her husband, forming the Scourge Alliance.
With the appearance of the resource of quenrium, the Scourge Alliance went to war against the Twilight Crusade despite her plead of resolving the issue peacefully.
In case you own a Discord account feel free to join our community
here!
Twitter
Facebook
Instagram