After reading this article
I decided to do a little calculations on our expenses and budgeting so far with Prisonscape. Our pie chart so far looks VERY simple, here it is: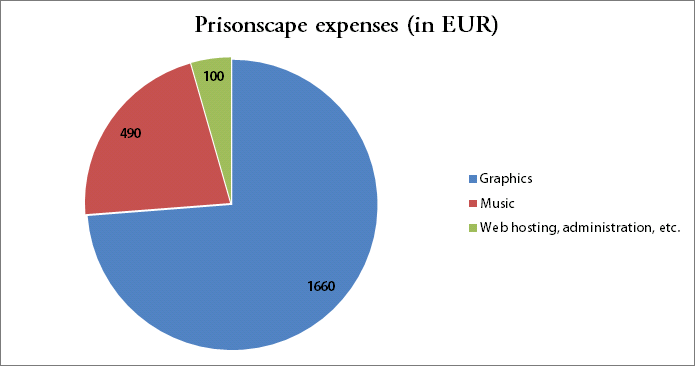 In total we have spent 2250 euros which is about 3000 dollars. As you can see, most of our money has gone to graphics. We outsource all of our graphics and music and we started working with David on graphics as soon as we realized how shitty at drawing I was. Case started doing music much later, after we had early alpha version and we were sure about the style we wanted to go with. We had a lot of luck when we assembled the team, since we all were extremely interested in making games but had practically no previous experience in the field.
I made some rough estimates about our future expenses, and we'll probably have to spend about 6000 euros (8000 USD) more to finish the make. This is the bare minimum, and it would not contain all of the planned cutscenes and scenarios, but the game would still be playable and goddamn excellent. So far all of the money has come from our own pockets and savings, but we are still considering crowdfunding.
Crowdfunding would also give us the opportunity to do some presales of the game and give the fans the chance to participate in beta testing and giving feedback during the development. We wouldn't have any physical awards because it would just take out time from the actual development, but we would probably include tiers for people who want to contribute to the actual game on different levels - it could be as small as writing a graffiti on the wall or adding a book to the library or something bigger, such as creating your inmate with desired background and personality.
My point with this babbling was actually this: making games is pretty expensive, especially if you outsource some of the assets. There are of course people who are able to do all by themselves, but if me and Tuomas did the graphics and music for the game, nobody would EVER play it. It's better to buy these things from professionals who know what they're doing!
Let me just show you how this game looked before David took over the graphics: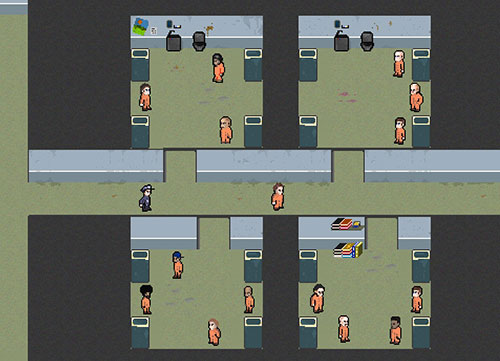 You wouldn't play this, would you?