In the past week, we have made an important decision to change one of vital core mechanics of the game. That thing is to add ability to the ME in order to allow it to do "sticky jump" on top of the stone block from any direction.
First of all, if this is the first time you have heard about So Many Me then it's about right to let you know that this is a puzzle game. A game that focuses on using the number of friends so called the ME transforming into a platform in order to let their fellows stand on top and go on along the journey. This feature is a design that we really want to let them know that actually they never experience it before from other games. The most challenging task is how to design mechanic to allow players to be able to learn and control the game with ease without a steep learning curve or even have to be familiar seeing the game before. From day one starting this project, we decided to let the ME walking abreast. Whenever players press to activate transformation, the front most instance will quickly becomes a stone block allowing others to stand on top. One of the limitation is that a target platform just created has to be in a lower position for the next in a row instance to jump on top of it unless all others will fall down miserably.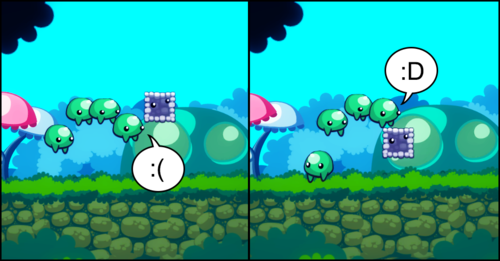 … as you may guess
The follow-up problem is that players have to be really good in timing the transformation in order to let it happens in the latter phase of jumping-down. After we've collected feedback from play-testing for such a long time, we've concluded that this is a major limitation causing so much pain that makes the game to be in not-so-smooth condition and annoys players rather than gradually forms challenges. Not to mention that we also tried some other implementation approaches such as pushing the ME up or even make it sticks to the stone block whenever transformation is activated by players. Fortunately, we've come across to find the solution and finalized this mechanic syndrome. We will allow the ME to stick to a stone block from any direction.
Let's do jump, Pal!

And just in case, you wanna see more of the proof, CHECK THESE NINJA(s) OUT!
Stay tune for more!