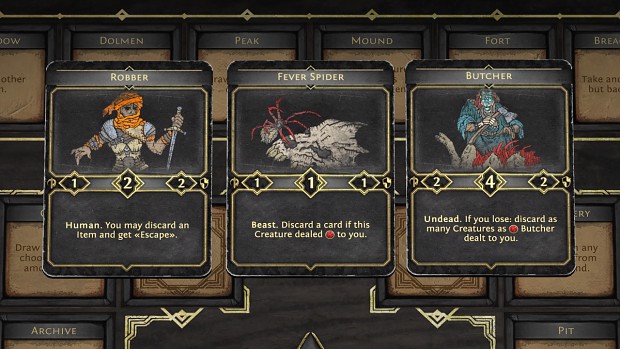 Version: 0.6.35.187.
Download Size: 56 MB.

This update may be called one of the last steps to long-awaited release of Fated Kingdom. We again added new content, improved game balance and worked on technical issues that prevented normal playing. We want to thank everyone who reported errors and bugs, without you we would have to be a much harder!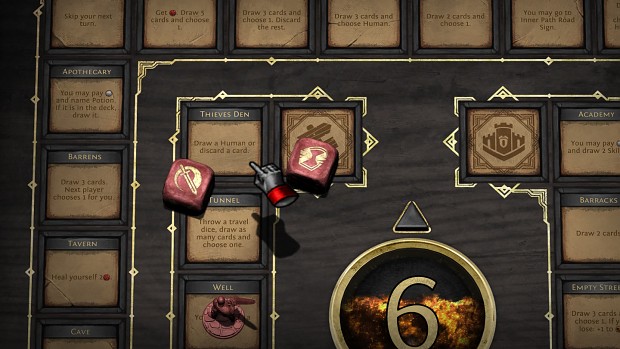 New Content:
3 cards: «Fever Spider», «Robber» and «Butcher».
Board square - «Guard Post» (Heal yourself a wound. If you have no wounds, draw 2 cards and choose 1.).
Flavor text for 4 cards: «Tasty Pie», «The Empress», «Dreamcatcher», and «Shapeshifter».
Cards:
«Berserk Cannibal» gives an «Escape» instead of avoiding the combat.
«Giles the Traitor» gets a fixed attack bonus in exchange for a fixed amount of coins.
The values ​​of all the «Shapeshifter» parameters are 0 by default.
«Hunting Bow» deals a wound before the combat, and not before a roll in combat.
«The Fool» is triggered when 4 or more wounds are received and at the same time heals the player completely.
Bug Fixes:
The combat and movement dice could be taken together.
The cursor of one of the players could disappear and flick during a four-player game.
Card counters on Inventory might not work when playing a four-player game.
The mechanics of taking objects have been reworked, this should solve the problem when they become «inactive».
Hand interaction with the cards has been reworked, this should solve the problem with the appearance of duplicate cards.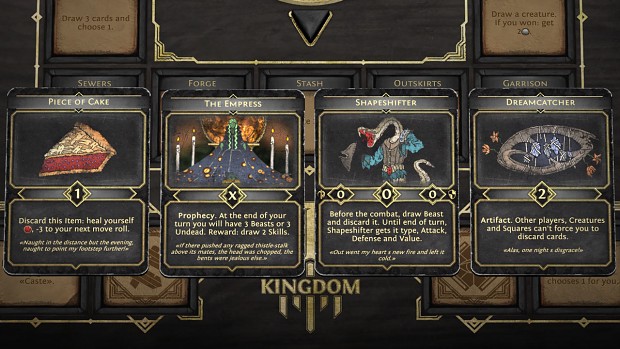 Other Changes:
Fixed errors and typos in descriptions of more than 15 cards.
Four-player performance improved.
Fixed incorrect display of illustrations and videos in the Rulebook.
Minor text and localization fixes.
Thank you for playing Fated Kingdom!