The prototype, namely Prototype #4 was released for selected testers with purpose to check the overall features and contents. It also used as an evaluation material, as there were changes applied in the game.
First, the storyline. Final evaluation of the game concludes the story revamps. It doesn't need story makeover at the moment, but there must be some adjustment in storytelling since the information given to player are massive even at the beginning of the game.
The information in this game are still vague and there are some mistakes in telling them to players. Wall of text, inconsistency and some of the contexts are out of the place. Thee problem becomes main priority as Eremidia: Dungeon!'s main content is the story itself. Later, a page that dedicated to show the lore of Eremidia will be made.
Second, the mechanics. The game still has some artifacts—leftover from previous versions—which are obsolete and caused some glitches in the game. Prototype #4 made it to demonstrate most of the reworked mechanics, but still there are artifacts that should be get rid of, or altered into compatible ones.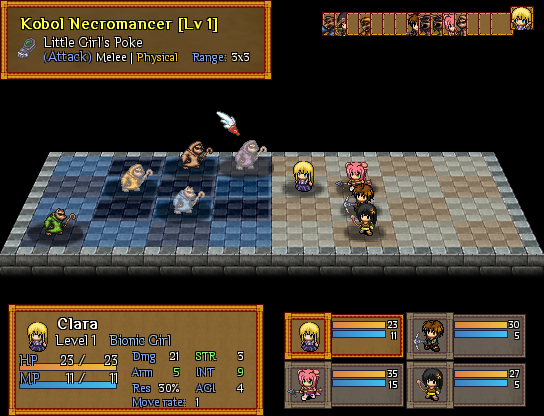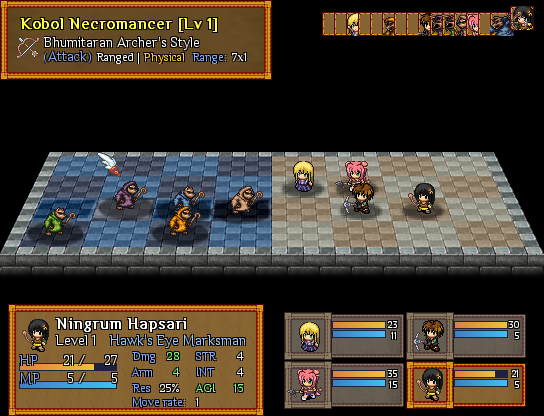 As you can see in screenshots above, the targeting system has been altered; Melee units now can't attack units that hide in their allied units' back, while ranged units are able to attack anyone in their attack range. This is a result from Prototype #4 where some artifacts were left in targeting system, and removed for the public release.
Enemies are kinda silly in Prototype #4, usually move at their own without rules and sometimes annoying as hell. Then, simple AI introduced to alleviate the 'silliness' of enemies; enemies will act and react based on their type, which classified in four types:
> Aggressive: Enemy will always move forward to party
> Cowardish: Enemy will always move away to party
> Strategic: Enemy will move forward when their HP is full, and flee when HP is below 25%
> Supportive: Enemy won't move beyond the second row of their area
...and targeting trend which also divided into four types:
> Offensive: Enemy will attack party member with highest aggro
> Defensive: Enemy will attack party member with lowest aggro
> Strongest: Enemy will attack party member with highest HP remaining
> Weakest: Enemy will attack party member with lowest HP remaining
Third, the Collections. Players don't know that there are some Artifacts in some dungeons, awaiting to be found by them. In Tome of Artifacts screen, now shown the possible found artifacts. The found ones are shown while the rest are marked with '?' mark.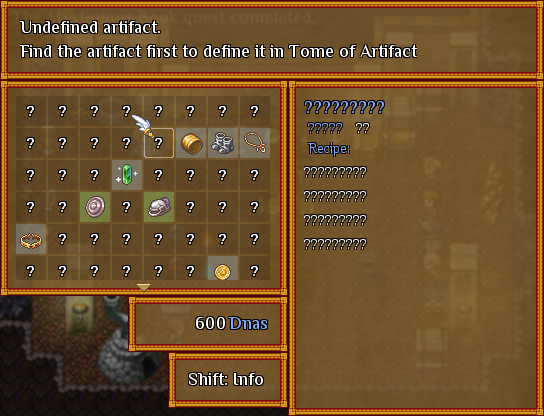 ---
It'll take some time to apply all of the fixes, by the way. Also, the Prototype #4 isn't available for public.
However, if you want to give it a try, just send me message and I'll give it to you. The listed features above aren't available in the prototype, by the way.
That's all for this month's devlog. Sorry if I didn't come with the demo, but I'll post an update if it's already up for public.
Cheers~