Finally getting down to proper business here. Now that things are rolling again we've got some progress to report. I've been working away at creating a new playable level for Sprout in Unity, but we've still got a lot of tweaking to do so I'm not going to show you a video yet. Right now, the main problems are that the gravity is way too low, giving the game a kind of floaty or "underwater" feel. The speed also needs to be fidgeted with a bit.
We're slowly adding these options into the Unity project so that I can quickly make changes to them whenever necessary. We also had a meeting a few nights ago where we banged out all the details on the event system Matt will be putting in. This will make it easier for me and Murilo to go in and make things happen without having to individually get Matt to ready each one for us.
In the picture below, you'll see, on the left, how poorly organized I am becoming on Unity. I swear I'm going to clean that up. Probably.
In the center, you'll see a really rough version of a split in the level. Places like these were a staple of the SNES era platformers and its worth playing around with them as Sprout slowly morphs more and more into a platformer heavy, puzzle-light game (the exact opposite of what I had intended). On the right, you'll see the beginning's of our value system for controlling the player and the player's world. Hopefully very very soon, we'll be adding a gravity field in there so that I can get the spacing between each platform a little more accurately.
One of the great things about working with Matt is that when I am going over the list of features needed with him, nothing ever shakes him. I swear I could give him a hundred page book of tasks and he'd look at it and go, "Nothing in there to give me any trouble." The Chesty Puller of programmers.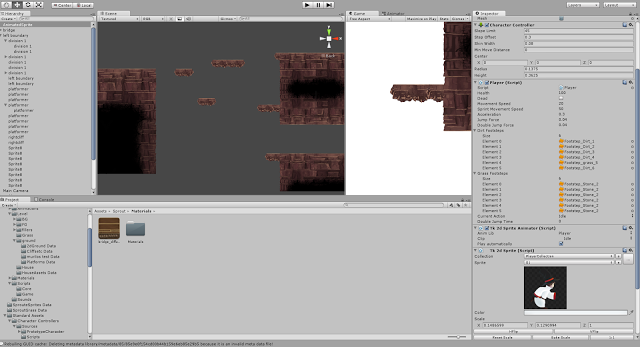 Meanwhile, as the wheels of Unity begin to turn, the wheels of, uh, penmanship or something, also do what pens do. Murilo's Sprout promo image is shaping up into something very interesting. We setup a Google Hangout so I could look over the direction of the thing and it was fantastic talking to him about his plan. Someone who actually has education in art design really knows how to put a picture together. I don't want to ruin anything, but there's going to be quite a bit of subtlety going on in this thing.
Since I can't show it to you now, I want to at least get a sketch to you to fill the void. Below is a fairly clean version of the line sketch that Murilo used as the base. The end image is going to be really high-red, so we'll probably make it into posters to give away or, dare I say, sell?
Look, I'm no millionaire. Posters cost money!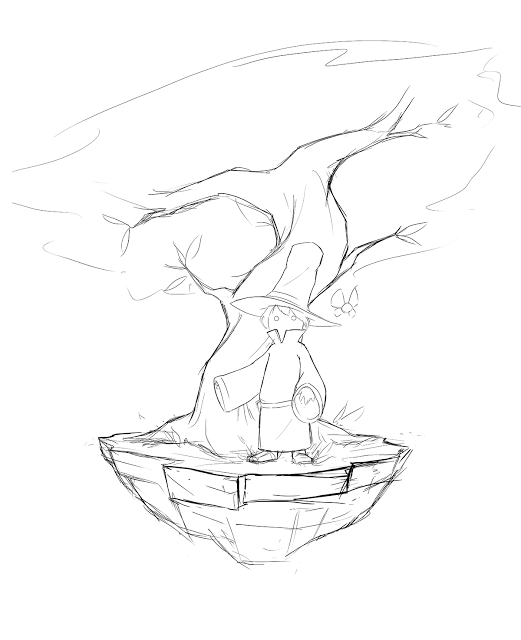 Not too shabby! Stay posted for the final product!
Alright guys, that's all for now. Like I said, we'll try to get some proof of the fairy implementation to you by the end of the week. Til then, sit tight and continue to be patient.
<3