DevLog #8
It's time for some spring cleaning! However with these boiling temperatures it seems everything has spun around into a mess.
What has happened this week?
Chama is was turning out messy due to all the work just randomly being placed on folder mindlessly. This got to the point where both the Game Designer and 3D artist got lost with their own files.
Before: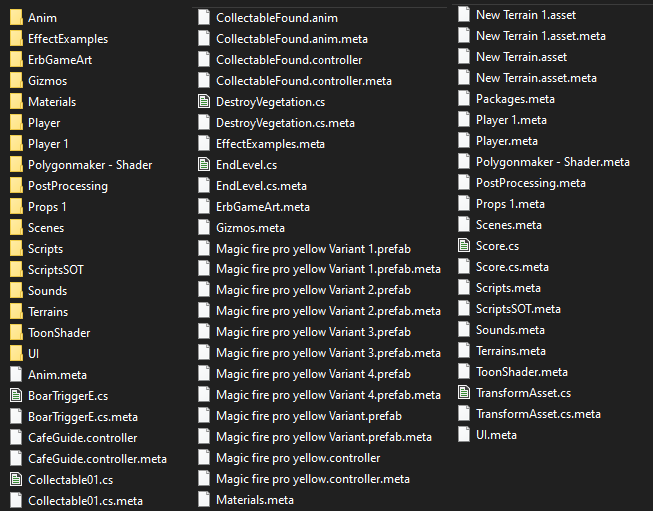 After:
So we decided to take some time off the project to work both on organization, pitching and working on a budget as well has get in contact with some other indie companies and ask for suggestions.
Our target is now to reformulate what we got so far and make it more appealing and more user friendly. We have made a build and tested it out, and has it stands, Chama is a very buggy game. It's crashing when we attempt to open both the Pause Menu and the Notes Menu with the mouse and keyboard. There are some other very specific errors that are to be fixed in this time. After all that's done, then it is time to take the project on full development for the rest of year and what's to come.
Organization, Remodulation and all the -ions!
Organizing isn't going to be easy. And it's proving quite disastrous, has most of the files haven't relinked back. "Look at how they massacred "our " boy!". Movie quotes aside it's time to relink everything back only then it truly get ready for the future plans.
On the other side Chama also had a change on it's members! With a new addition of a Concept Artist! Here's a link to her portfolio!

Behance: Behance.net
And last but not least, we're now on more social medias! Having a Youtube page, Instagram, Twitter and LinkedIn accounts.
Youtube: Youtube.com
Instagram: Instagram.com
Twitter: Twitter.com
LinkedIN: Linkedin.com
Conclusion
Despite not having much to show of progress we feel like chama is heading the right way. Taking these weeks for remodeling, reorganizing and rethinking in general is proving to be a evolution to all team members and being taken more serious about it's development. Everyone seems to enjoy more their work and passionate too!
Oh, it's the end of this week's article! Don't worry! Next week we will bring more shenanigans to share with you! In the meantime you can check us out on our new social medias!