Well hello there, you Handsome henchmen! Welcome as usual to the Handsome Dragon Games Devlog! Just to shake things up a little this week, I'm Jack, Creative Director for Handsome Dragon Games, and I'm the one that's going to be taking you through things. As the hour of judgement approaches, we're still going all out to make Dyadic the most incredible game it can be! So again, we've got plenty to talk about. Let's get to it.
Let's get things started with audio. We've got multiple new tracks in the game yet again, and yet again they're sounding fantastic. We had Sam put together a couple of new pieces to replace some of the original one he composed back around March last year! As nice as those old tracks were, they simply didn't fit the current game. But now, we've two more awesome new ones! On top of that, Sam's also put together a lovely little intro for both the game and Handsome Dragon Games itself.

Sam's latest piece which you'll hear as you play through Zone 3.

Prepare to hear this little number every time you launch the game (if you don't skip it).
Next up, let's take a look at art. Angelica's been putting an incredible amount of effort into both brushing up some of our older assets as well as making new ones to fill some gaps we've had. Some of the notable ones are some tutorial diagrams to help players understand how everything works down in the underground. These are designed to look like they've been carved into the very walls themselves, and should give players some helpful hints on how to use whatever it is that blocks their path. Although, playtesting has already shown that even if players know how to use something, that doesn't mean they'll work out how to use it properly…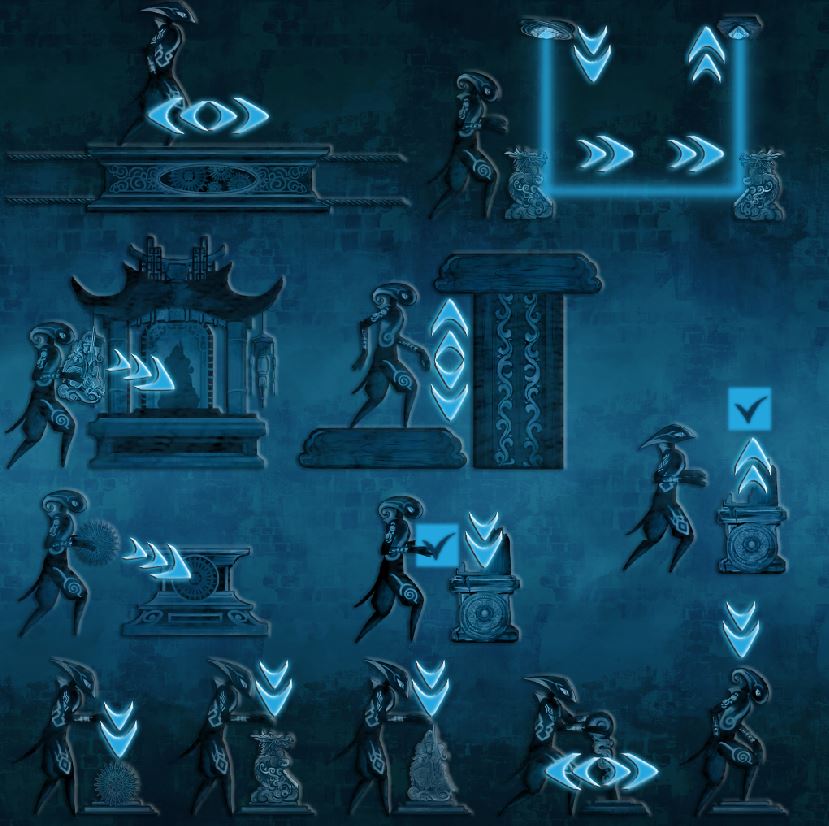 Pretty straight forward, no?
Angelica's also restyled all of the game's connectors to help make them easier to see and understand, and has added a whole collection of new grasses, cracks, lanterns. What's more, she's even created animations for the game's water and lava! There's so much art it's astounding!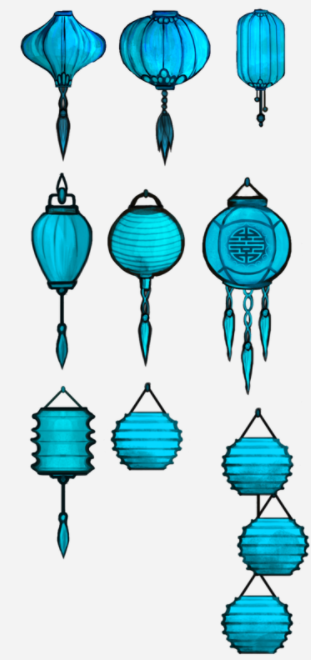 Remember these from last fortnight? Now there's so many more choices!
Programmers in the meantime have been working on a wide variety of things. One of the most major points of focus is all things relating to Steam. Yup, that's right, we're on Steam now! No only have we got an awesome looking Steam page but we've also got achievements, trading cards, badges, and emoticons all set up too! All of which make use of Angelica's incredible art as well. Aside from that, programmers have been working on fixing bugs, improving more of the antagonist's pathing code, and revamping the game's credits. All important things that are (mostly) hard to show you.
Lastly, let's look at the design front. Here my top priorities have been to ensure that all the levels are playable from start to finish with as few issues as possible. On top of that, I've also been taking feedback from playtesting and using it to try and refine the experience. This means I've spent my time adjusting puzzles, tweaking the layout of the visuals, and patching holes and smoothing bumps in the levels. Now I've just got to keep getting people to run through these level and improve them even further.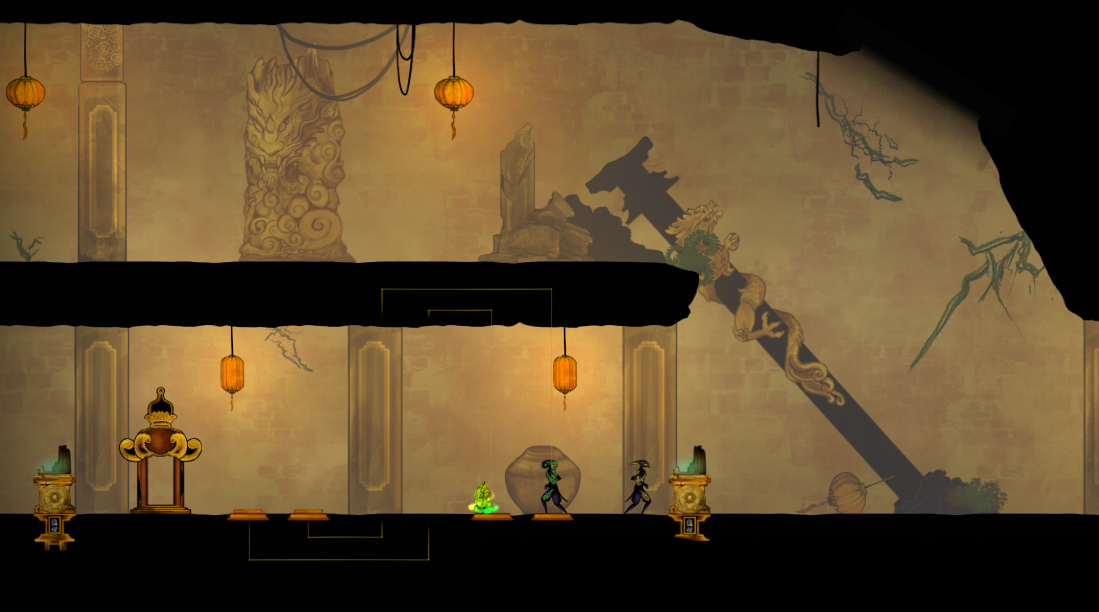 A shot of the opening of Zone 2's final level. Why would the two players be brought together...?
That's everything that's been going on this fortnight. Don't forget that Dyadic releases on the 26th, just TWELVE DAYS AWAY! This means that next time you're reading one of these, the game will already be out! Make sure you don't miss it!
Until next time,
Jack
P.S. Check out this awesome new trailer we made too!
For more Information on Handsome Dragon Games:
Our Website: handsomedragongames.com
Our Steam Page: store.steampowered.com/app/442140
Our Facebook Page: facebook.com/handsomedragongames
Our Twitter Page: @AHandsomeDragon