DevLog #15 - News
Welcome to this week's article of Chama!
During these past weeks chama has been working on a more relaxed place. While temperatures kept raising and reaching peaks (45ºC/113ºF) above natural of our countries standards. The crew decided that we should take our time with our progress has it gets more difficult to focus with the heat.
So what was it all on snail's pace? No. In fact the group of Chama also took this opportunity to get in contact with the media and the world.
The Media
Chama has been interviewed andand invited to participate in a few media events. Here are two of those events:
Starting with the apparition on the national television on the program "TecNet" (RTP).
The interview is in our countries language (Portuguese) but to sum it up, it's about the fire spread incident that happened in the village of Mação 5 years ago. For those of you who have accompanied our devlogs this name should be familiar, has the game's origin and inspiration comes from that exact incident that was lived by our 3D Artist and the residents of the village.
One of the events Chama was invited and has gladly accepted was a livestream podcast with 8Bits called "NewGen". While it has been streamed on the platform Twitch on the 12th of July, the recording of the entire podcast can be seen on Youtube with the following link:
The podcast is also in Portuguese has it is the focus of 8Bits has a national gaming focused news website. Several matters were discussed with our group, mostly about our experience and background while always reminding about how pressing and worrying these fire sprouts are.
St.Studios was asked about it's background as well has each member had the opportunity to talk a little about themselves. Explain how hard it is to make a game and complete it, how much experience we have and how it's been useful to us and how we plan to continue to work on the project.
We also had the opportunity to show gameplay of the game and while it looks a lot different from the trailer and more unstable. We find that it's being very important to progress and give the game more characteristic as well has to polish more loose ends.
The World
Following the previous topic, one of our members talked about how resurging this topic gets and how every year the same thing keeps happening despite all of the warnings given. This was proven to be same this year has a day prior to the podcast another fire sprouted in Mação.
Not only that but the following week there were several more fires across the country all over the news. With the temperatures rising so were the fires and the warnings coming across in Portugal. Landmasses were devastated by fires that had natural habitats for the animals. On another news factories have been targeted and several people lost their jobs. And even fireman's have had their lives taken while fighting these surging occurrences.
The National Authority of Emergencies and Civil Protection has launched several warnings and statements regarding these incidents and how catastrophic it's being and is dealing with them cautiously while also providing information about them.
This can be verified in their official website linked below.
Chama
Has we hope for the best in the fight of these fires, we continue our work on redesigning Chama.
With our 2D and 3D Artist working on the new look for our fellow Lynx, coloring options and suggestions thrown and tested and also a rework on our heavy working Boar.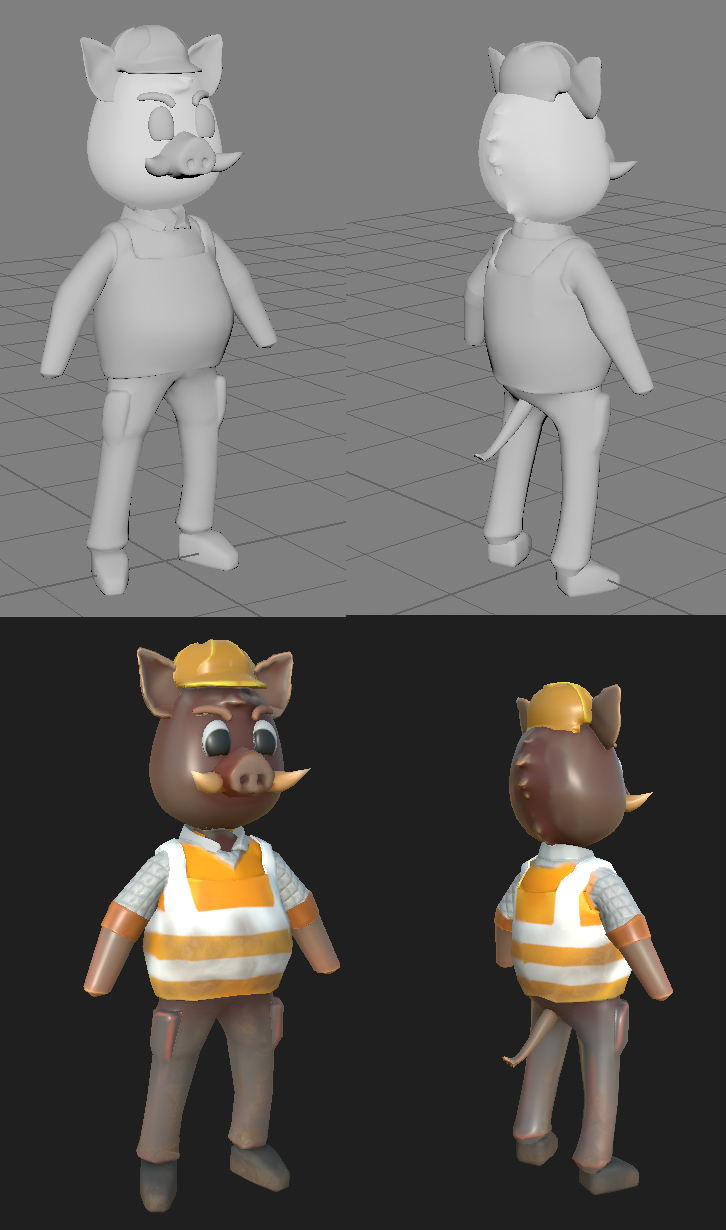 Some performance tests were made as well has works with older hardware. We tested out with both a build of our game and a 3D Sphere on some computers that were given out to 4th graders in the past by the brand name Magalhães. While we didn't expect them to be powerful laptops has their only focus was on initiating students to working with computers we felt like that should still be a focus to look at since their our target audience. Alás we didn't get good results and after searching and talking with video game making community members we found out that the problem is related with how powerful engines are nowadays. This has nonetheless setted up a new focus and line to follow on performance.
Conclusion
While the weather and temperatures seem to have no stop and showing itself merciless, several fires have sprouted as so did the losses, not only regarding population but also natures both animal and plants.
Has of Chama, our work keeps going at it's pace with the continuous look at performance as well has redesign. And with it also the apparition on several events and interviews!
That's it for this week's article of Chama. For more news follow us on our social media's we'll link them below!



We hope to see you next week! Goodbye for now!