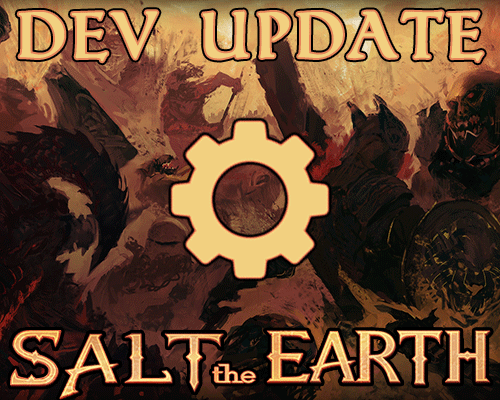 This article covers three recent events concerning Salt the Earth and the development of Salt the Earth.
Life Update
Article Link
Due to PC problems and a career transition, development of Salt the Earth has been delayed significantly. However, the real-life issues have been resolved, and development is back at its usual pace. Check out the article for more information, and stay tuned for more updates.
Replay Video
Article Link
After many hours of recording and editing footage, our first complete start-to-end match replay video is up on YouTube. If you've ever wondered what Salt the Earth looks and plays like, make sure to check out the Article and watch the replay. Any feedback is appreciated!
Developer Streams
Article Link
Recently I've been streaming my development sessions on Twitch. I've pushed all the videos on YouTube, so that if anyone is interested, you can see how Salt the Earth is made, and all the different things that go into making this game a reality. Check out the article for links and more information.
Coming Up Next
We've recently finished updating all of the Dwarf abilities (this being part of our comprehensive five-race update), and we'll be sharing an IndieDB post on this very soon. Stay tuned for more updates and changes!

Make sure to follow us on: