The demo will be ready in two to four weeks.
We had a little setback caused by personal reasons.
Full time job, family and indie game development is a bit much for planned deadlines.
Family first.
Anyhow,
Work has been progressing nicely despite missing the deadline. Work has come a long way with missions and dialog windows.
Also many models and textures have been added to the game. Ships, weapons, weapon satellites, stations and asteroids.
Optimized code has increased the FPS, which of course will allow for bigger battles and bigger explosions and more junk in space.
Some Images: (Click on the images for a larger image) :)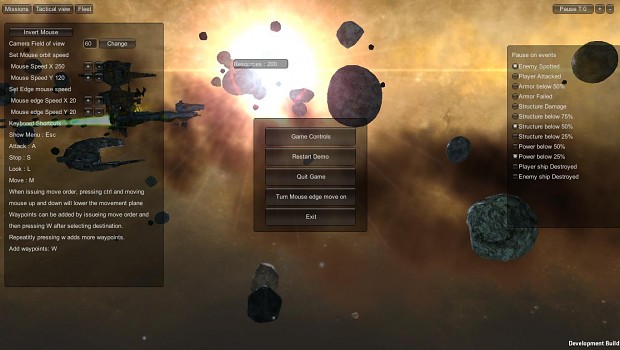 Here you see a game option window for the game. This is still a work in progress of course.
Here are control options for events that pause the game pauses.
Enemy spotted, damage threshold reached etc.
Also control for camera, sensitivity, field of view, some keys etc.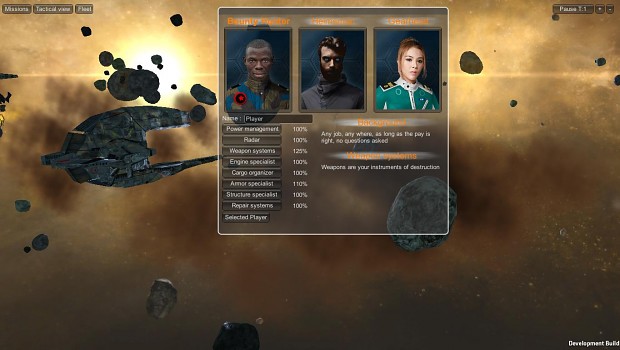 Here you see the Demo character selection screen.
You can select from 3 different characters, each with their strength and weaknesses in skills.
Each skill affects the performance of your ships. For example Weapons, Armor, Structure, Power is important for a aggressive playstyle. Special perks or abilities and more skills will be added in the future.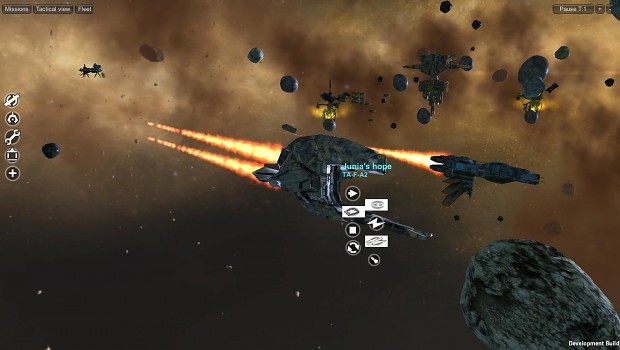 We have also begun work on a new GUI system. One that will replace the old button and text buttons of old. This is of course a work in progress and is subject to change.
The controls of the ships can be a little bit complicated. You can for example control the power levels of your systems, control behaviour state (Aggressive, neutral, evasive), what side you turn towards your enemy, Primary target types, torpedoes and speed.
You can also control the simple A.I. in the game. For example, when will the A.I. retreat, activate damage control systems and so on.
You don't need to utilize all these controls options , but its fun to have them.