Wow, can you believe that Bushido has been in development for a year already? For anyone not in the know, our game started as a TC mod for Chivalry: Medieval Warfare (here's the original forum thread: Tornbanner.com). We've certainly come a long way in that time and feel that we're just about starting to see the light (Green light?) at the end of the tunnel.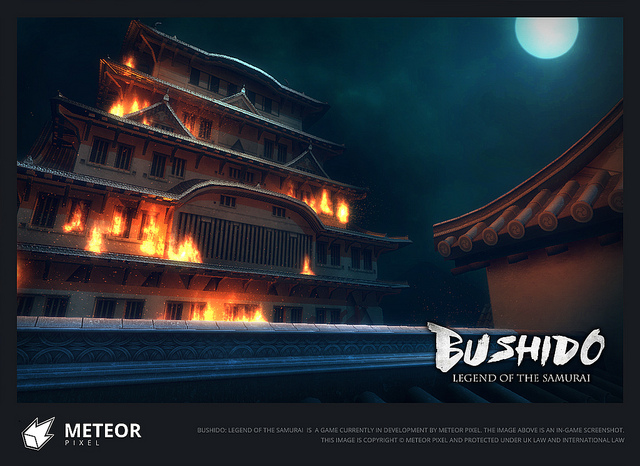 This week we're talking about the many and varied environments that players can expect to see in Bushido. Bushido is set during a fictional period in Japan's history, loosely based on the Sengoku period (15th to the 17th century). Although many aspects of the game are firmly grounded in history, choosing a fictional period allows us some flexibility when designing architecture, weapons or armor. We made this decision because we thought people would probably prefer a more 'cinematic' experience rather than a 'Feudal Japan War Sim'.
So far we've got 4 major environments nailed down. We've shown some of them already, but wanted to use this opportunity to show off our new 'Castle Siege' map [above] and a work-in-progress shot of our 'Buddhist Temple' set in the mountains [below].
Japan's rich history and geology provides us with a varied and exciting palette for crafting new levels. These shots show off just a small portion of the range of environments we're hoping to include in the final version of the game.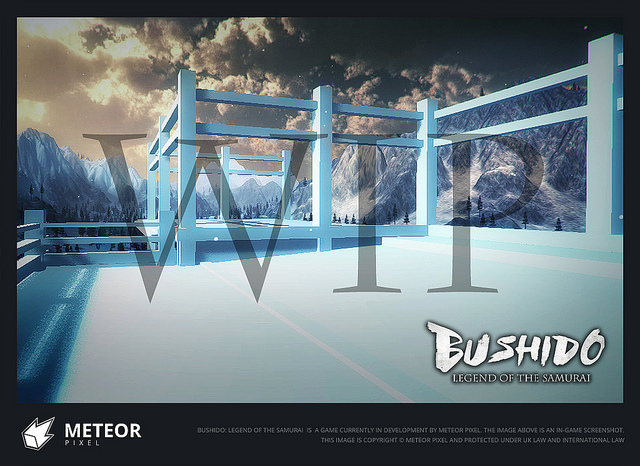 We've also be posting some screenshots of our newest environment in the very near future- that being our Dojo interior (which is a little too 'WIP' to show off at this point). This interior level also serves as the setting for our Character Customisation component, which we'll be doing a video on soon.
The programming team have been busy transforming our FPS prototype into something that actually works/looks like a real game! They've also made some progress on implementing 'sliceable' props, such as Bamboo or paper doors. Not every object in Bushido will be able to be cut in half, but certain elements of the level will be destructible- allowing the players to block paths or open up new areas.
We certainly aren't aiming for anything as grandiose as Battlefield 4's 'levolution' mechanic- rather its just another way we can enhance the overall experience and help the player immerse themselves in the game (after all- what kind of paper door could stop a fully armored Samurai warrior wielding a No-Datchi!!).
A lot of these features are still in the very early stages, but we'll certainly be able to include it in our KickStarter demo. If you think these ideas sound good/bad then let us know using the comments section below- we read every comment and genuinely appreciate your feedback.
That's it for this week - check back soon for some updates!!
Thanks,
Team Meteor Pixel.