The third demo is finished!

I will touch on the most significant things in it in this post. To give you an overview, they are:
Performance
Score keeping
New player actions
Restrictions (realism) and sandbox mode
Performance
The game should not speed away any longer as it has for some users. I have made improvements that should take care of this, but if there still are problems I would love to hear about it! The other half of the performance changes is that a lot of stuff has been added since the previous demo. There is simply more going on, more to be computed, so overall performance compared to the previous demo is probably lower. I hope that it's still OK, and it is on my machine which is not very new. Nevertheless please leave me a line how it's running for you; fast/slow, responsive/sluggish. I'd appreciate that!
Score keeping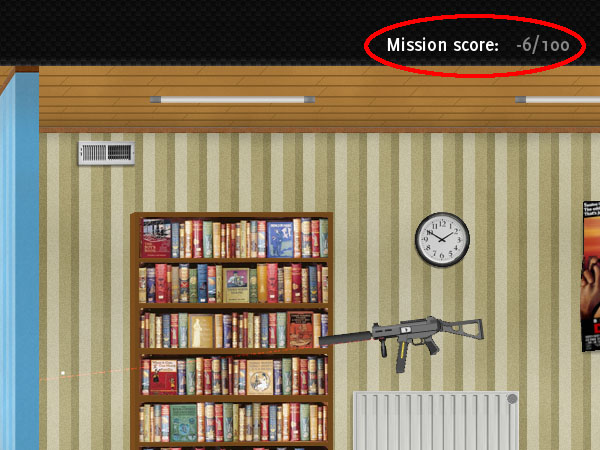 The score display now added in the top right.
The game now displays a score that updates in real-time throughout the mission. The highest achievable score is 100 points. The score is based on the player performing the new actions restraining, securing weapons and giving first aid.
You lose 1 point if you deploy weapons.
You lose 5 points for each unsecured weapon.
You lose 5 points for each unrestrained, conscious individual.
You lose 5 points for each injured individual.
You lose 10 points for each critically injured individual.
You lose 20 points for each dead individual.
New player actions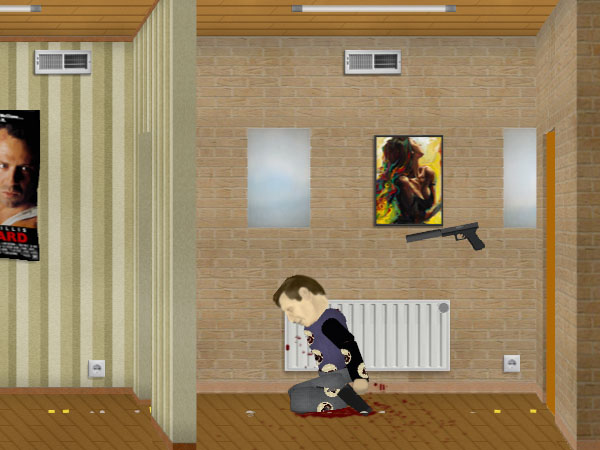 A suspect that has been bandaged to slow down blood loss from injuries.
The space key is now the interaction key. Like before you can open doors with it, but now you can also open them just a small bit by holding space pressed. This allows for tossing grenades into the room on the other side without exposing yourself or individuals behind you to those on the other side. This is perfect for the concussion grenades. You need to restrain individuals you encounter to keep them from getting in harm's way and to make them unable to hurt others. You need to collect the weapons that subjects drop so that they can't be picked up and used again. And when bodies are bleeding you can give them first aid in form of bandages. This will slow the bleeding down and give you more time to complete the mission without them dying on you. I need to add a good interface for performing these actions as it's not working perfectly with all of them directly on the space key. You will notice that opening doors has the lowest priority so if a body lies close to a door you must perform all actions available on the body before the door will open. The sandbox mode alleviates this until I have implemented something better.
Restrictions (realism) and sandbox mode
I've introduced some restrictions in this demo as well as a mode where those restrictions are lifted. You don't have more than three concussion grenades and one fragmentation grenade. You also have five bandages. When activating sandbox mode (by entering "sandbox" in the console) you get 100 of each, and at the same time more suspects and hostages will be spawned in the level as it's quite sparsely populated otherwise. Also I've added indicators for the equipment in the interface. To the left bandage and concussion grenade, to the right the fragmentation grenade is used up:

New icons in the user interface.
New audio cues
Also, sounds are now played when a body changes state to unconscious and to dead. You will hear these regardless how close you are to the body in question.
Removed "terrorist" texture
And the suspects don't have a terrorist like texture any more. That was over the top. They will look more like ordinary people from now on as that fits most of the mission scenarios I have in mind better.
Thank you for reading! Please try the demo and give me your thoughts!