The New Year has finally come and our first PC title, Atriage, is finally in its last phase of development as we prep for its late January launch.
A taste of Atriage's gameplay~
Recently, Carlo Rodriguez and Daniel Sierra did a video on how Atriage's gameplay works. We had some folks online asking us to elaborate on how the game actually plays, so we went ahead and recorded some gameplay footage from the beta version with some commentary. In the video, we highlighted each ship and explained each of their quirks. We also provided a glimpse of how the game flows and what to expect in the offline mode.
Beta Bits~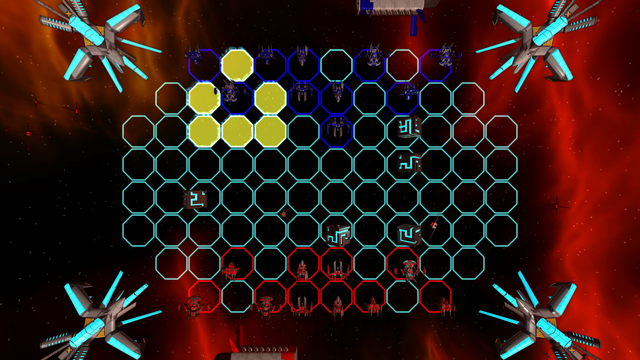 Late December we conducted a beta test with our local community. It was a great experience and in general, we had a positive reception. Thanks to the feedback, we found out some incredibly silly things we missed during development that made our eyes roll. The game lacked a bit of extra info to aid the player, stuff like displaying an opponent's patterns and better pointers for newcomers to figure out which ship is which, among other things. These kind of issues just flies over your head when you've been crafting a game for so long! As a result, we fine-tuned Atriage's interface and added some more pointers to help players get the hang of the game's systems. With some new GUI, we should have a new development build to roll out soon; hopefully, a final draft of the game's interface and utilities!
Oh so Pretty Particles ~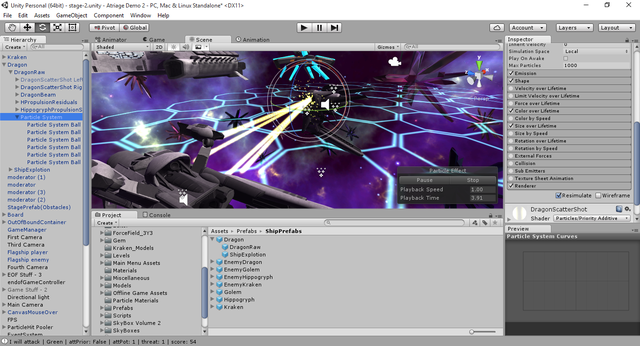 Ah particles… what a pain to get right! Throughout development, we've had to made various animations for all the different ships. Each ship has between two to three unique animations, and a lot of trial and error has gone into trying to craft the right animations. Of course, by right animation, we mean animations that look pretty, fit in the scope we're using them, and don't cause our computers to produce their own particle effects and explode in our faces! In the beta (same major build we used to record the gameplay video), some animations were still lacking polish and others were just left in as working placeholders. Now that a few weeks have passed, we finally brushed up on particles that needed an overhaul. The Silverwind being the worst offender particularly with its overhead shot that occluded the ship from view. Shield collisions were also beefed up, and speeds were adjusted to make some attacks and animations faster in order to make the pacing of the game more fluid.
Atriage is cruising along nicely with much of the core game hammered down and tons of stuff we haven't even gone into detail yet! For us, of course, it's crunch time with less than three weeks to go, and lots of content we need to polish and squeeze in for the final release. Currently, we're on Steam Greenlight polled with over 50% of the way to the top 100, so if you like what you see, please give us a "yes" vote so we can sell our game on Steam. Or just vote "no" and further scare us to death as the eleventh hour approaches. A special Thank You for all those who have supported us so far, and please stay tuned for more updates as the release date fast approaches!
Vote for Atriage on Steam Greenlight Here!