It's time for Crimson Sunrises's fifth update! We have a bit more of a modest showing this time around, but we hope you appreciate it all the same. Introducing a new character, different outfits, and as always, little bits and pieces about who they are. We hope you enjoy!
Update #1: Indiedb.com
Update #2: Indiedb.com
Update #3: Indiedb.com
Update #4: Indiedb.com

General Development Progress
It's been roughly a year since our last update, our public alpha is on the cusp of completion and we hope to have it available sometime within this next year. Development has been heavily affected by recent events, as have many of our team members. Our hearts go out to everyone affected by 2020, and we hope the new year brings new opportunities for all
That being said, we're happy to announce that development will continue at a much stronger pace going forward and we hope you're all as excited as we are. We're putting our all into bringing you the most ambitious visual novel experience we can!
New Character & Outfits
Like last time, we have a new character to introduce you to. We are very excited about finally getting to show him off! In addition, new outfits for returning characters!
Zang Chung


"In war, what do you think it takes to win? At the end of a battle… what defines a victory?"
Zang is Principal Komoda's lifelong academic and political rival. The two attended Hinode Military Academy in their younger years but never had the chance to set foot on the battlefield. However, the lack of field experience failed to dull the wits of this professor. He has been fighting with and struggling against his own personal wars that threaten his life and the future of his people. Zang is unafraid to test and temper the next generation with harsh lessons, even if it kills them.
Cheri Himura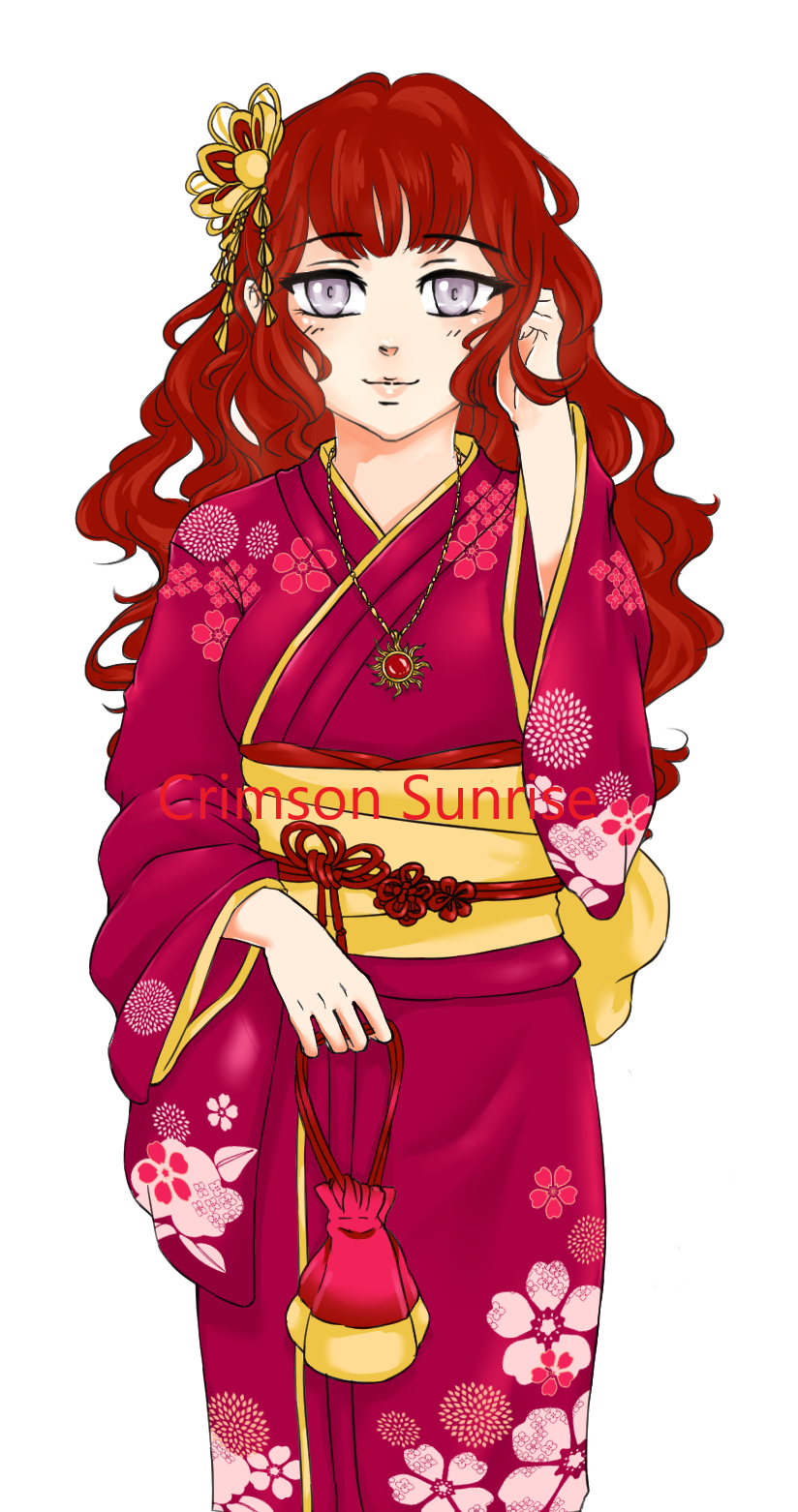 "I know it's been rocky between us, but... I'm looking forward to our date and I'm ready to do it right this time!"
Cheri wants to attend Shinku City's renowned festival where the Oracle is said to predict the future and wellbeing of the coming months. Students are encouraged to use this event as a great romantic opportunity and such budding couples are commonplace. She's planning to go with the boy she's fallen in love with, hoping it'll spark some fireworks between them.
Shizuka Yamazaki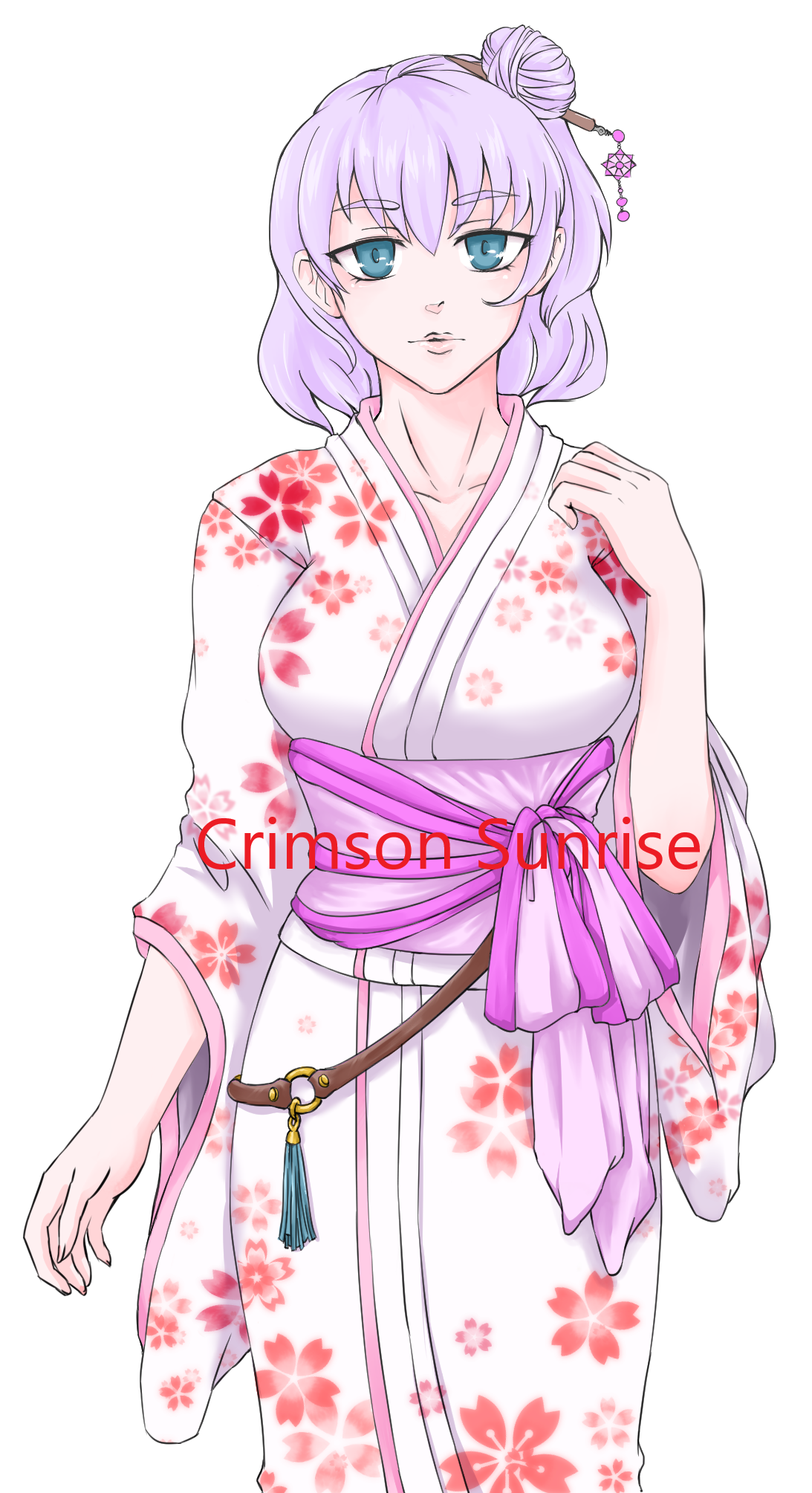 "My father, patriarch of the family, has never had good relations with Hinode Academy or Principal Komoda… But I know he appreciates all that they do."
Shizuka attends to and manages much of the families responsibilities to their shrine's traditions, in addition to ensuring the safety of her clairvoyant sister and the success of the festival held in her honor. The Yamazaki family demands much from her, all in the name of honor and tradition, a thin veneer over shallow truths.
Renga Oshiro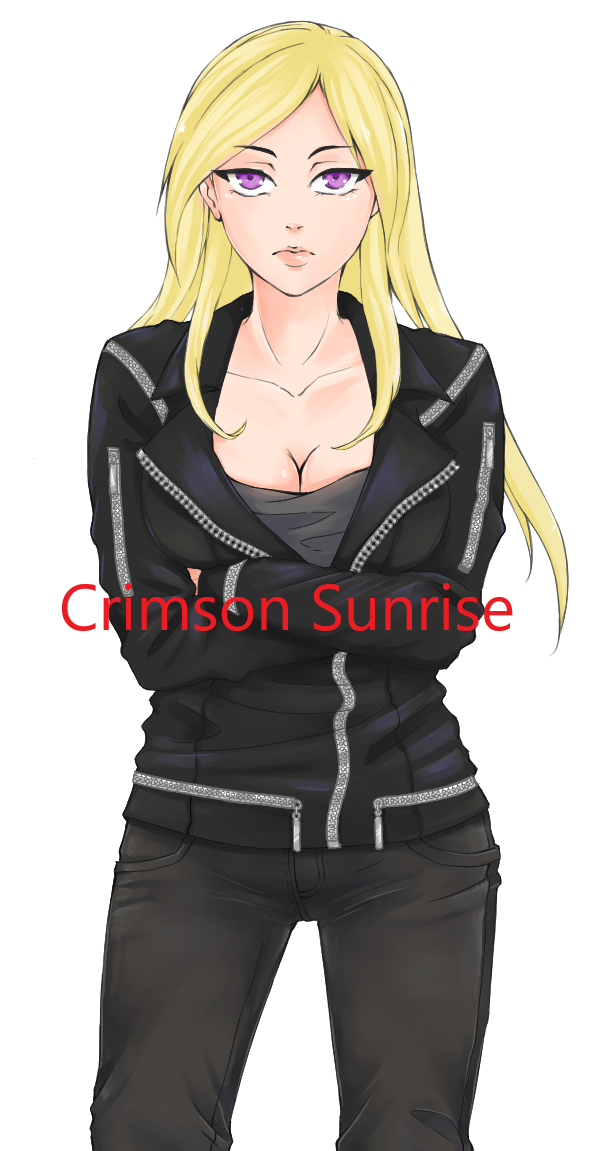 "She can bite me, I'm not her prisoner. I'll go wherever I want, with whoever I want."
Renga isn't often seen around school, instead preferring solitude where she can find it. Her myriad of juvenile and delinquent activities put her under the constant watchful eyes of her 'friend' Tomi. She bides her time, waiting patiently for the day she can take off in a motorcycle and ride away from all the troubles in her rearview mirror.
Orenji Tachibana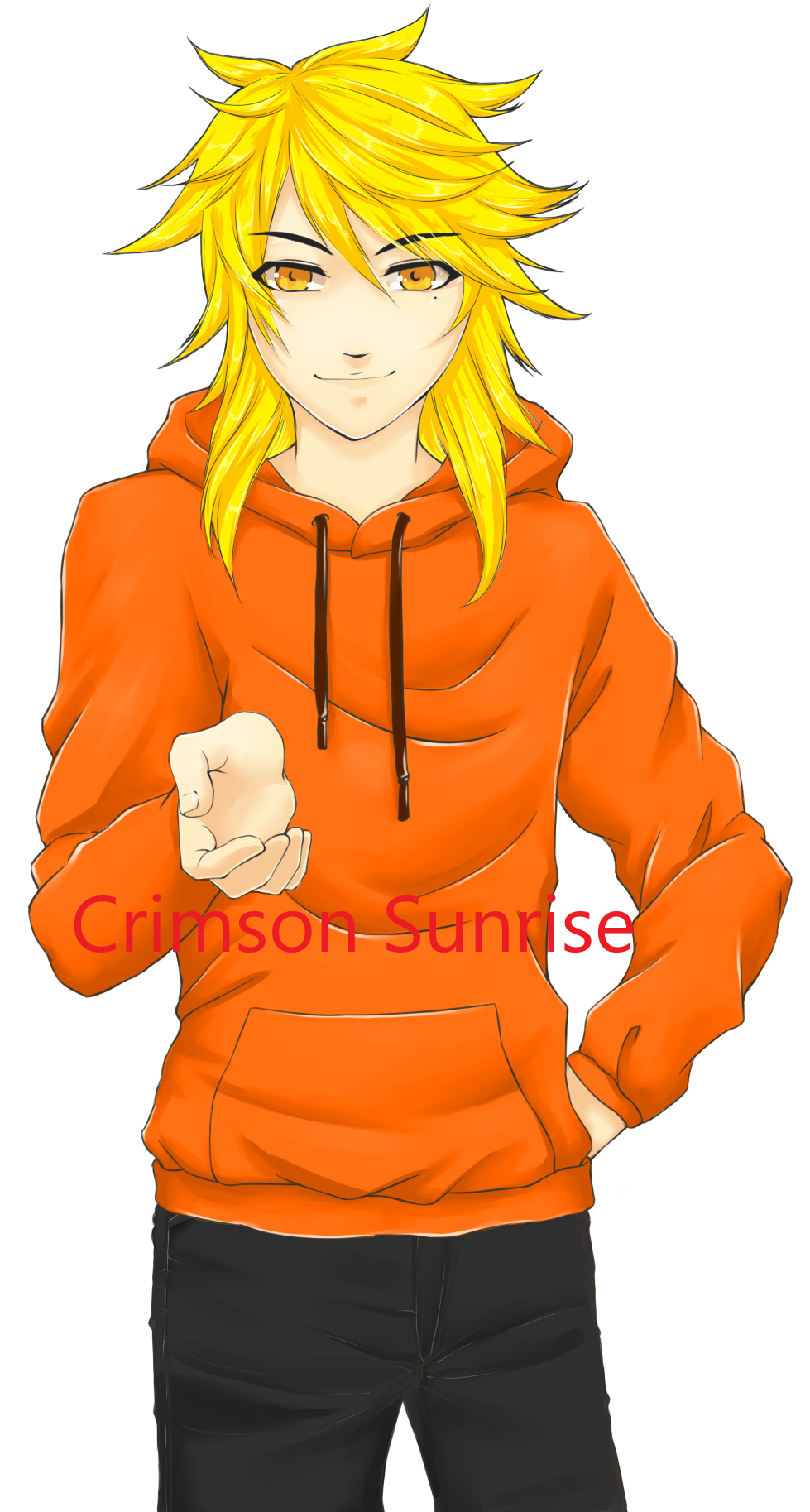 "Maybe since you're new, I can show you around and be your guide to the city! How about it?"
Orenji was born and raised in Shinku City and knows many of its well-kept secrets. In addition, he's memorized the layout of the city like the back of his hand. His gung-ho insistence on being in everyone's business causes him no end of grief or lack of adventures.
Hideki Hayashida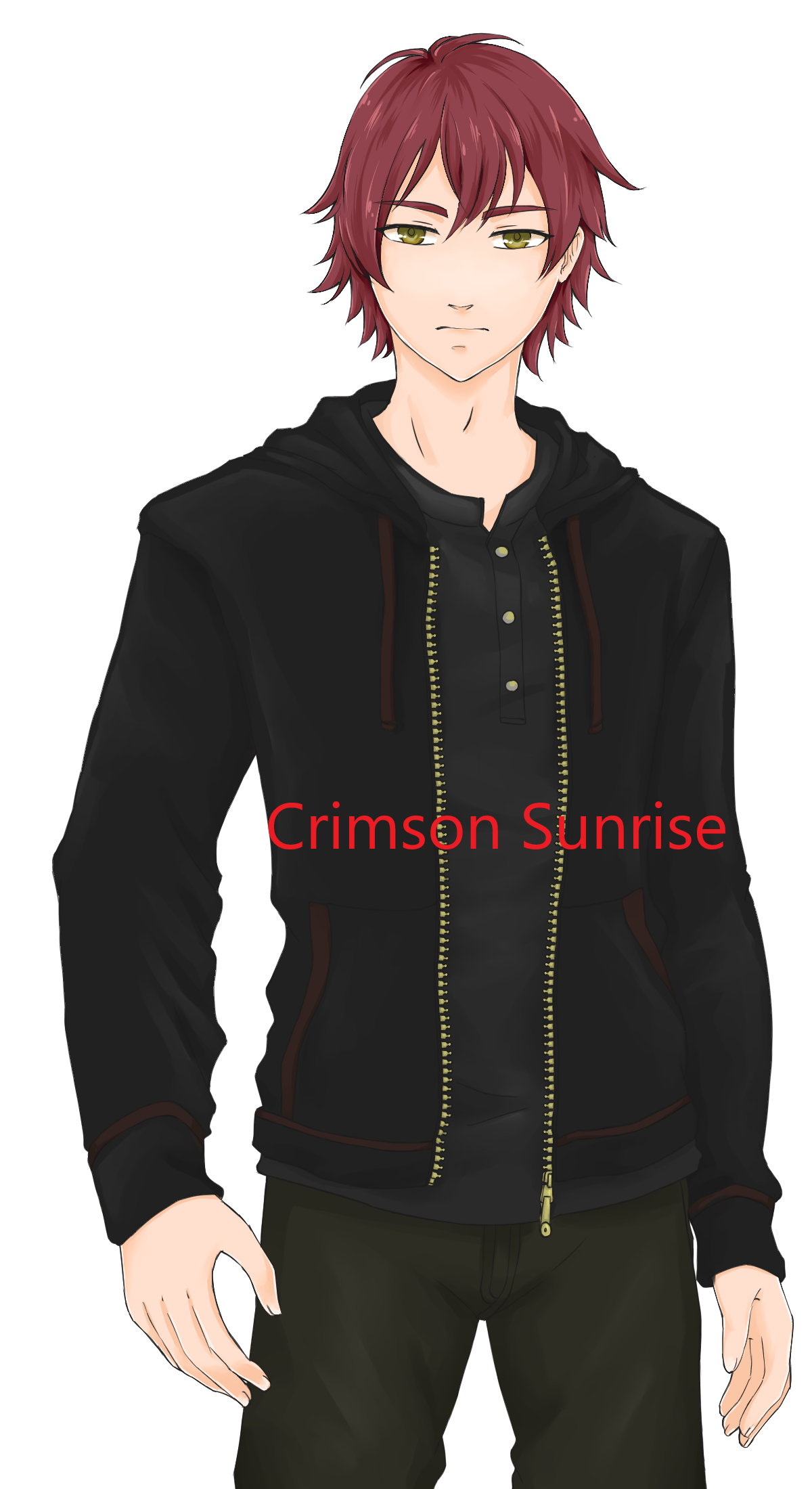 "Tomorrow is a brand new day and it doesn't have to be miserable. It's up to me to make that happen."
Hideki was quite reclusive before coming to Hinode Academy. The idea of making friends and indulging in hobbies or club activities was a novel concept to him. Just when he thought he'd be putting his academic career first, life literally came knocking at his door. Strangers became friends, and some friends might yet become lovers… Such is his new life in Shinku City.
Alpha Screenshots
You can see some screenshots below of various scenes from the game's Alpha build! Please keep in mind that these screenshots are not necessarily representative of how the final game will look, as we plan to make many technical and artistic improvements. This means that the UI, backgrounds, sprites, and dialogue may also be changed in the future for the sake of visual quality.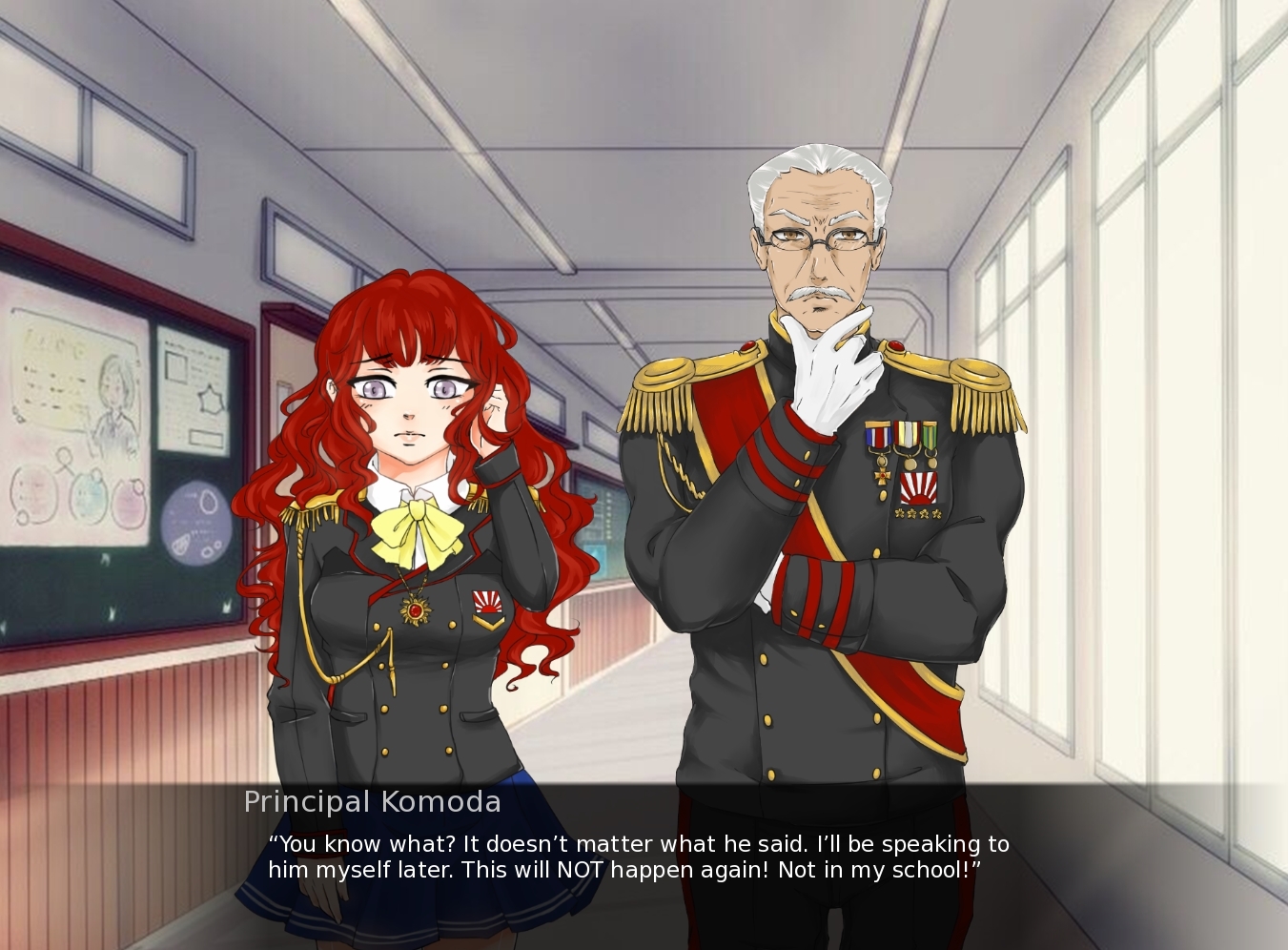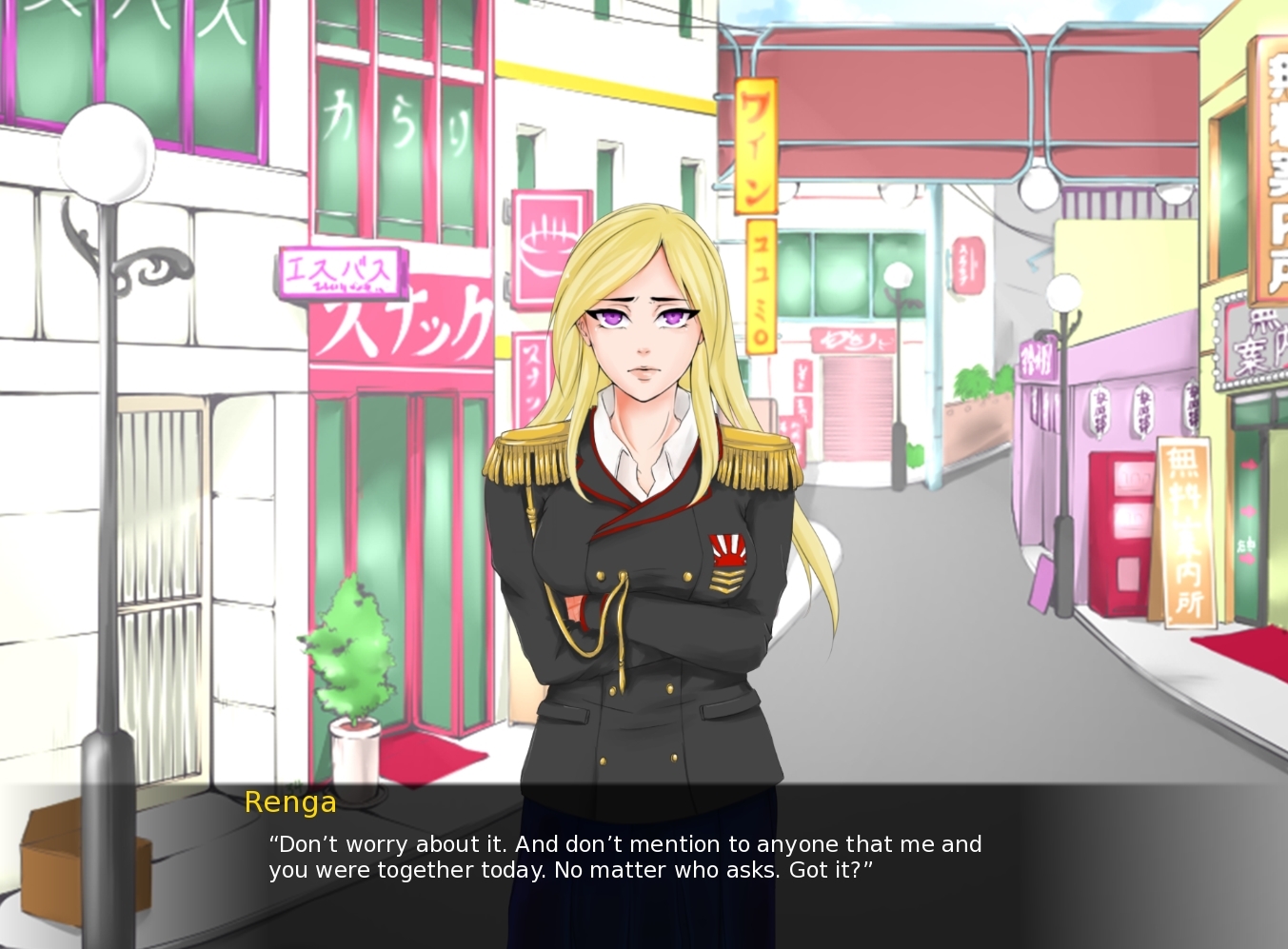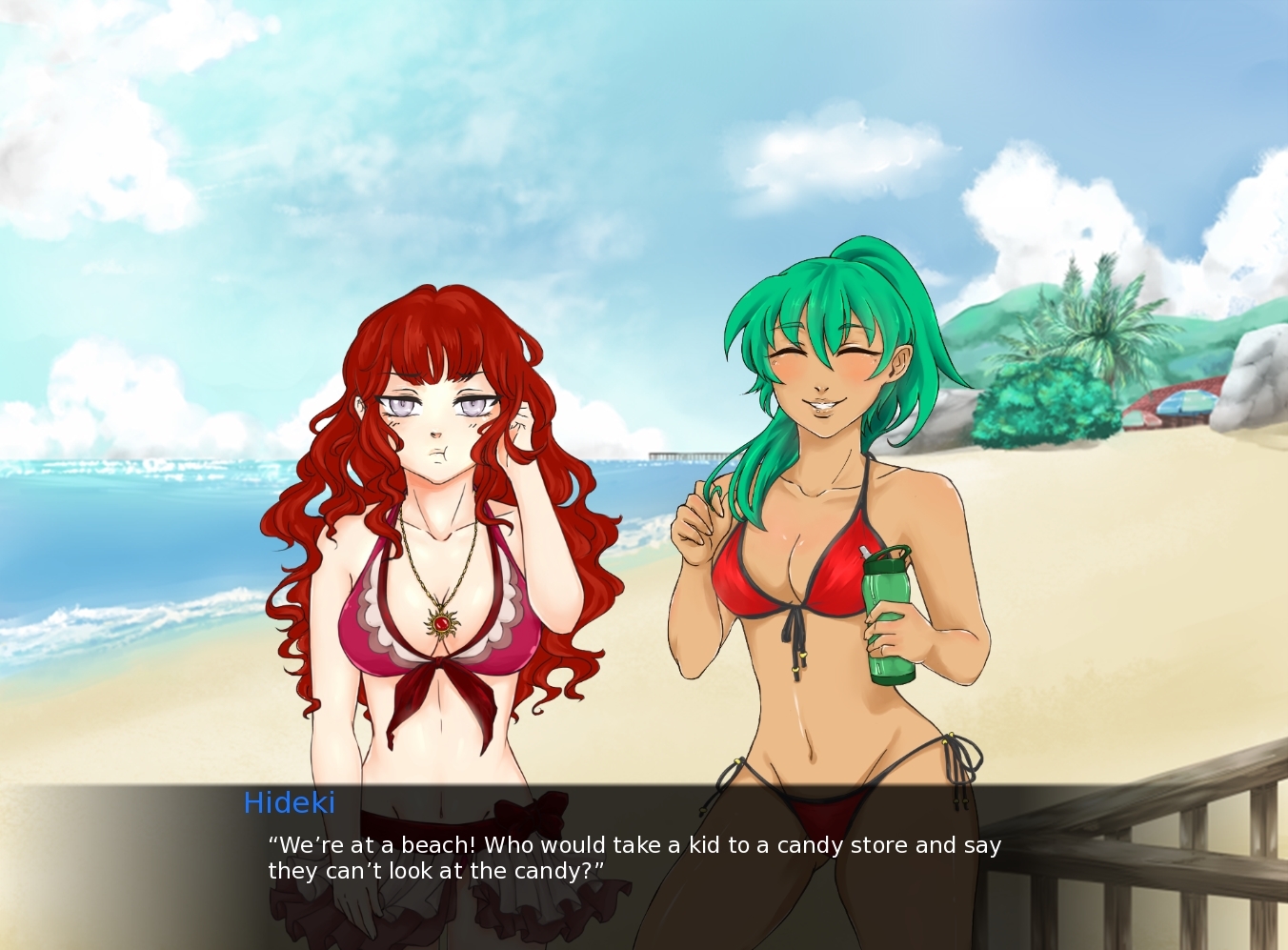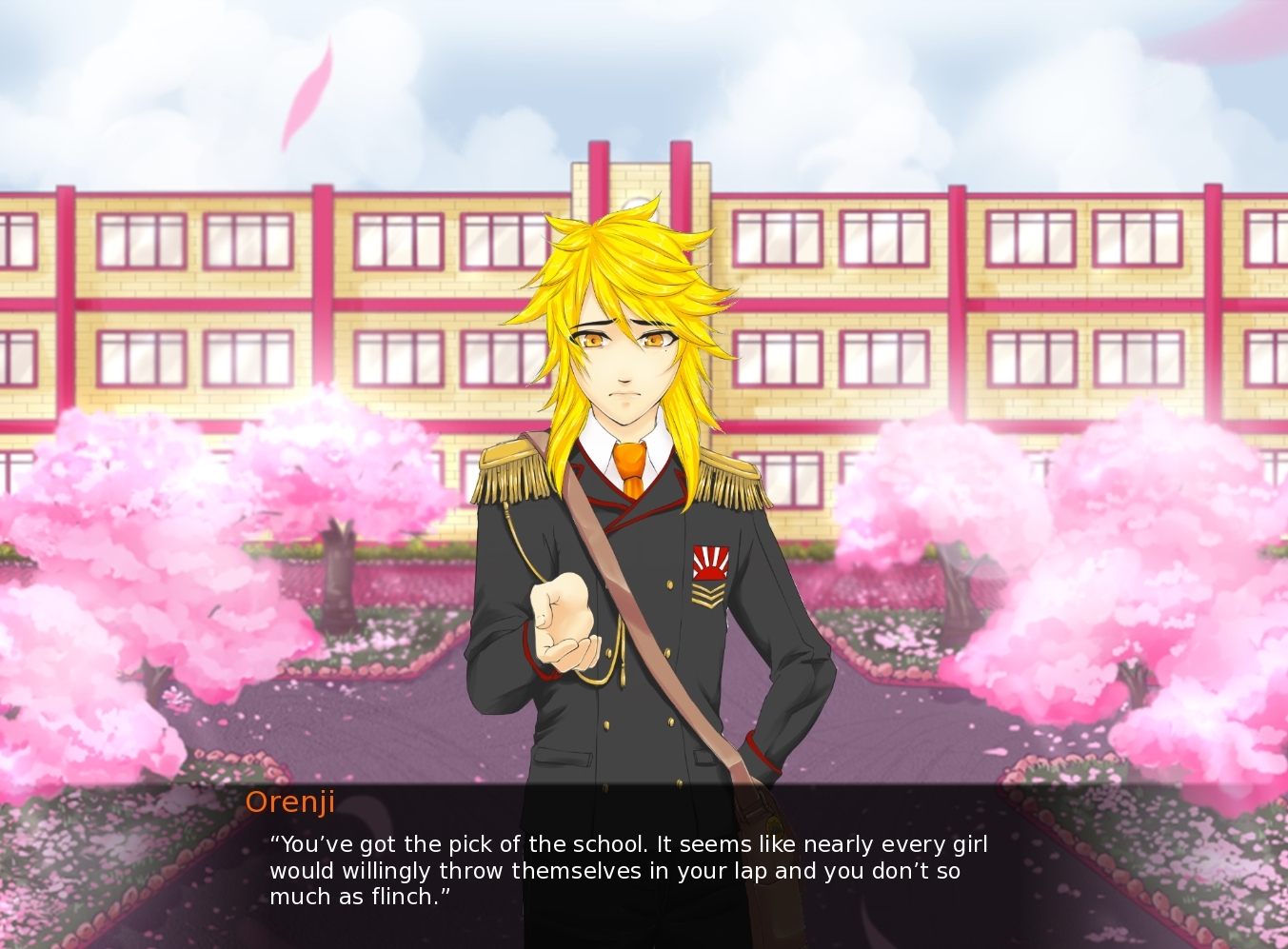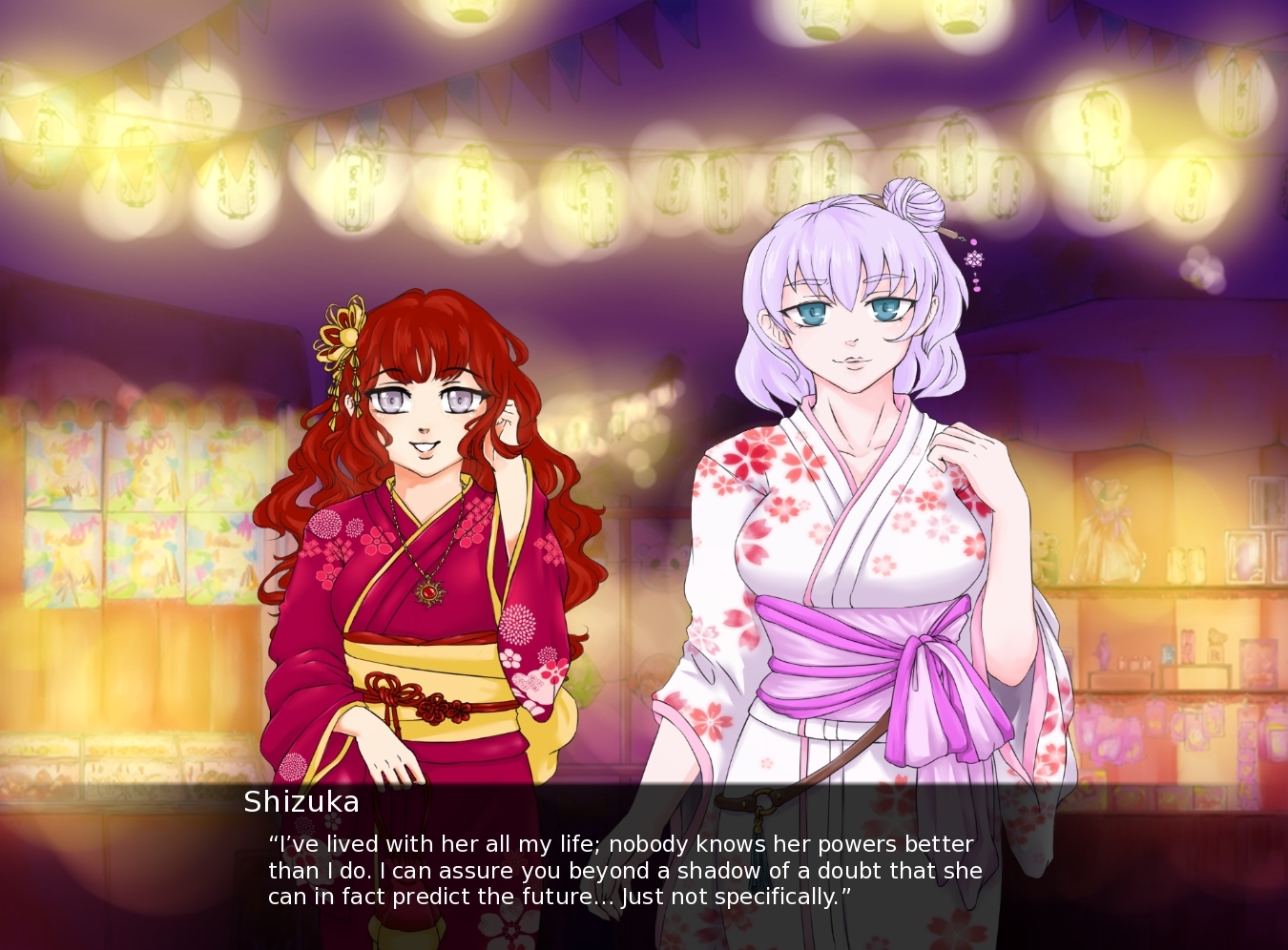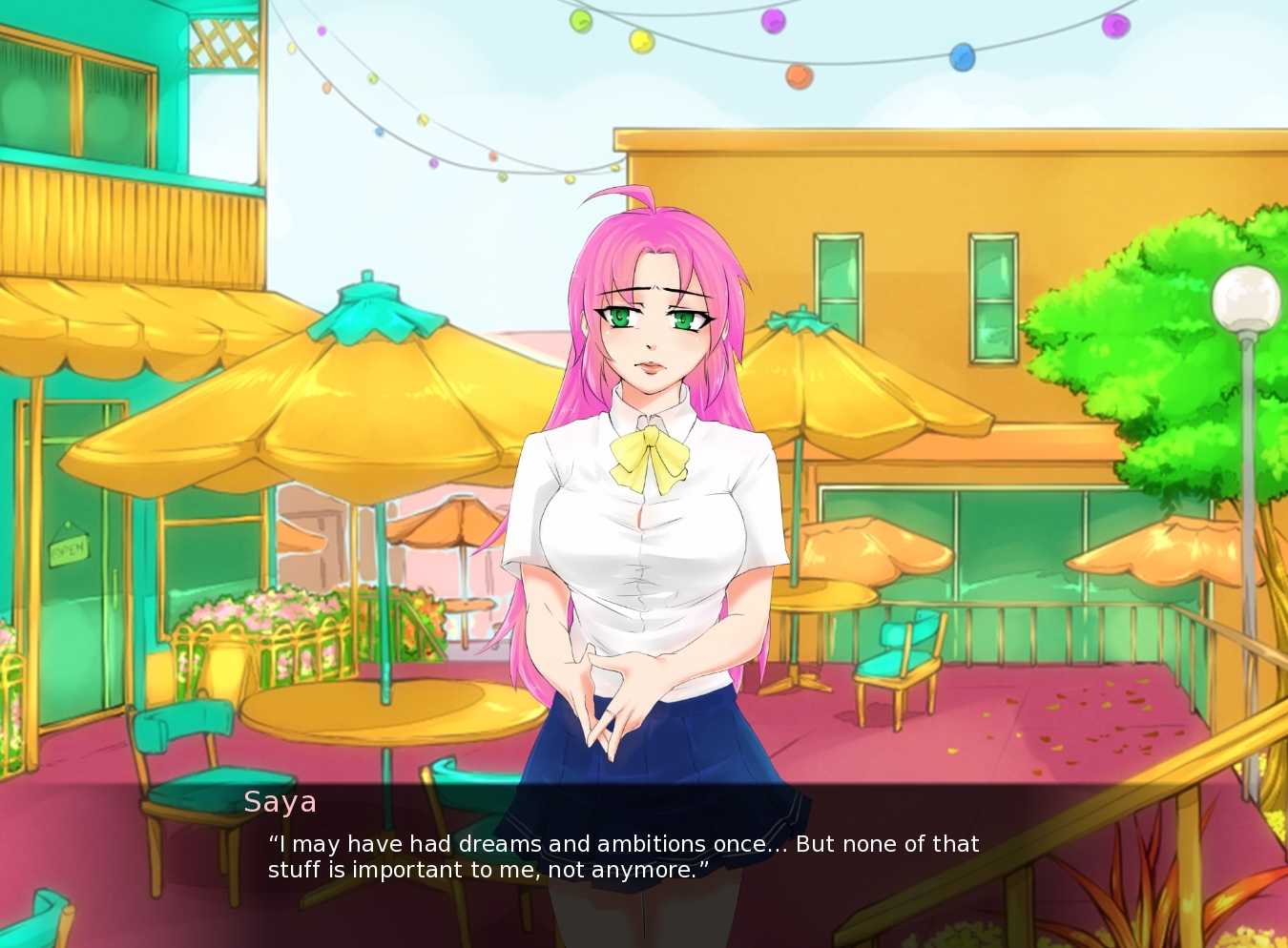 Background Artwork Samples
The backgrounds pictured below, along with all others posted in prior progress updates, were ones drawn in the earliest days of this project. We have since welcomed a new background artist onto our team whose fantastic work we'll show you in the next update!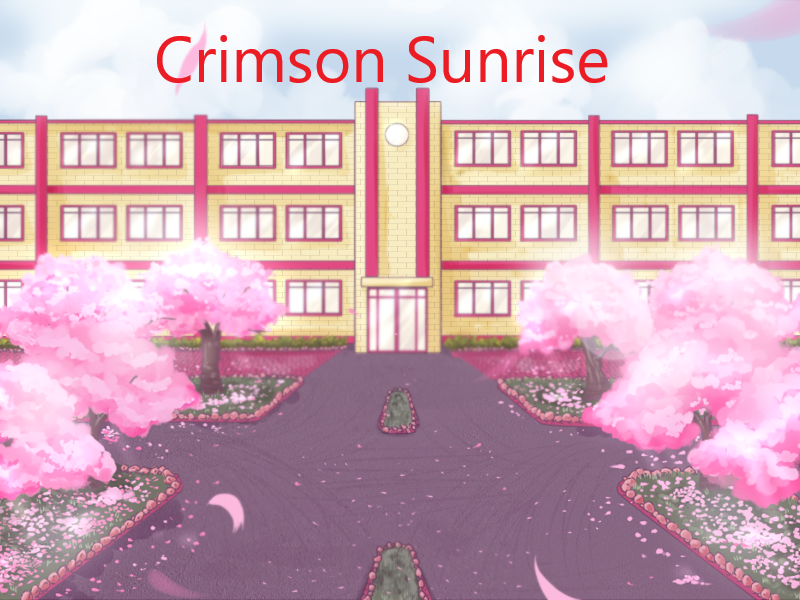 The grounds of Hinode Academy are lovingly maintained, and their sakura trees retain their petals longer than any others in the world.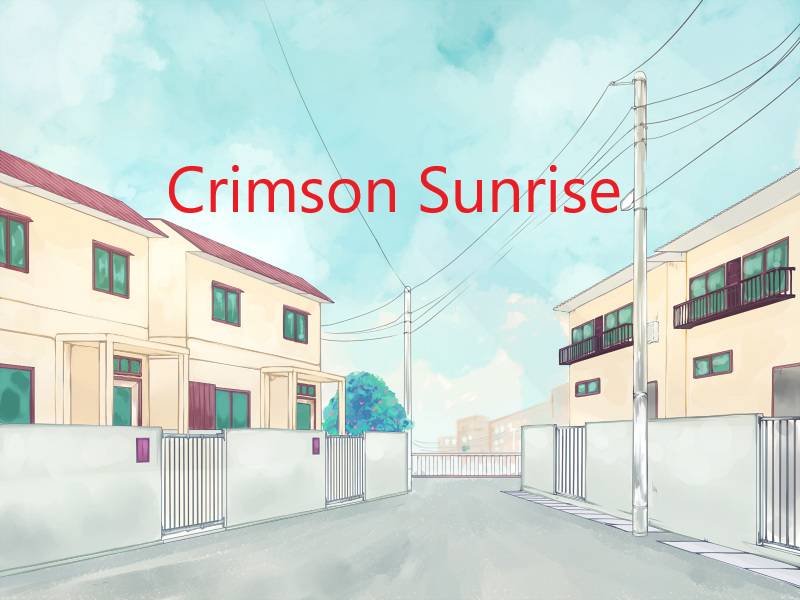 Student accommodations at Hinode are just a short walking distance from the academy, and are spacious enough to house the student's families if need be.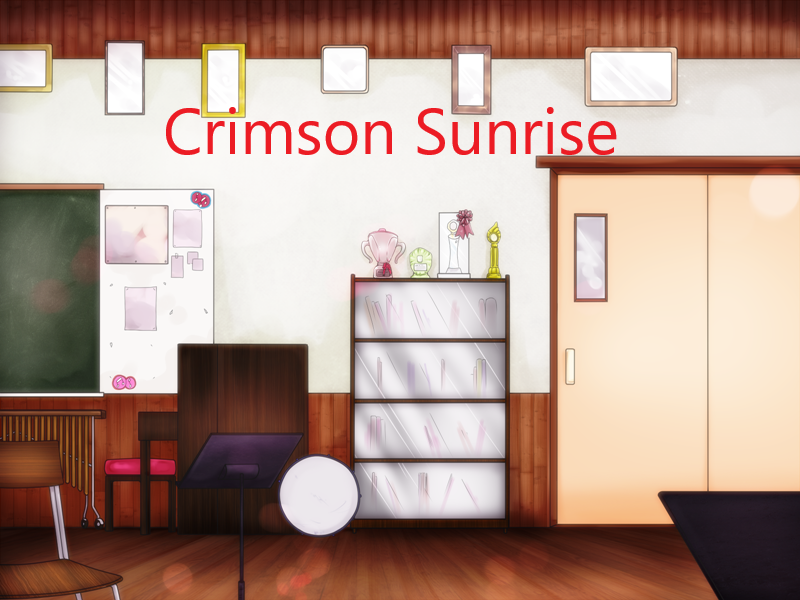 Music, dance, and several other artistic disciplines are studied at the academy. Many such artist alumni went on to achieve international recognition for their talented work.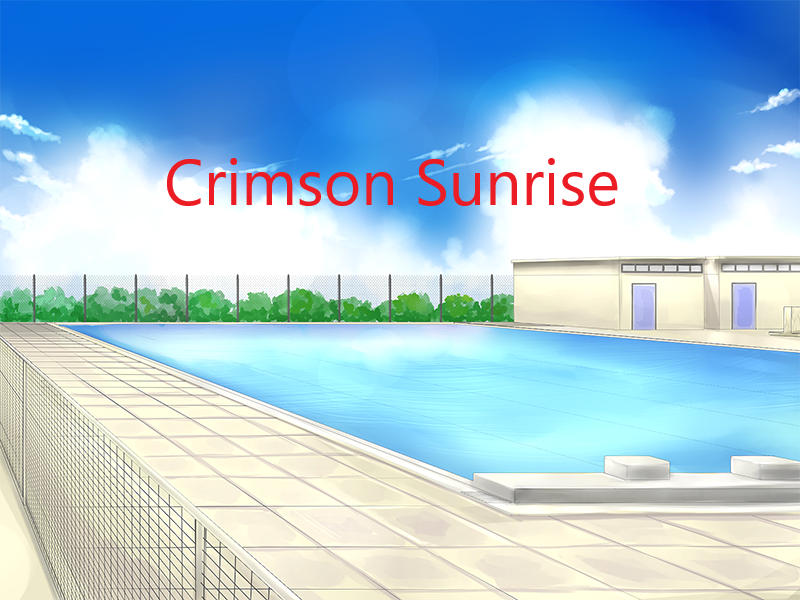 The swimming pool at Hinode Academy gets a great deal of use from regular students and student athletes alike. You'll always find someone here looking to cool off or training for their Olympic aspirations.
Music Samples
We also have some samples from the Crimson Sunrise OST for your listening pleasure, which we've been steadily filling out with more character themes and atmospheric tracks by our talented composer Juan!
Conclusion
Thank you for following the development of Crimson Sunrise! Please be sure to follow our Twitter, Instagram, Facebook pages, and follow us here on IndieDB as well for any new updates! We hope you had a merry Christmas, happy holidays, and a happy new year!
With love,
The Esoteric Legacy Team