Cranks & Goggles is a top down racing game set in the roaring 20s. Players find themselves as one of the worlds first auto-racing superstars and placed behind the wheel of a number of historically accurate cars. The game's engine utilizes real physics in order to mimic the unstable (and quite dangerous) nature of the period's cars. Gentleman racers will travel across all of Europe in order to compete in the most gripping of circuits, with prizes that will make them the envy of their fellow racers.
"Let's make this game just for the sake of it"
When this all started, we were just two guys who loved video games. Like most gamers there were a hundred and one games that we'd love to play if they existed, but we didn't have the slightest idea of where to start. Despite having played games since the 80s, we had no hands-on experience with actually developing games. Until, one day, one of us decided that such a thing shouldn't hold us back. "Let's make one just for the sake of it," we decided.
And just like that, our first game went into development. With the help of our friend and lead developer from Brazil, we threw ourselves into our work. We didn't know much when we started, and we had even less resources. But we had passion (and coffee), so we built a world in art-deco style with some 3d software, broke a few things with Unity, and made a whole bunch of mouth effects. And…
Here it is. Our first game. It's available here.
You can also check here for first gameplay impressions.
Why Cranks And Goggles?
Well, like we said. We're gamers first and foremost. So when we said how interesting it could be to have a game in the first true era of race cars, in a world that was partying from the end of a war, with simple graphics and ferociously realistic physics, we knew we had something.
It's taken almost a year for us to arrive where we are now, and an awful lot of that time has been working on the cars. We knew that we wanted a game that truly utilised the physics of the world, which meant that we couldn't just slap a different model and a few varying stats on our cars. So we put in over 100 hours behind the wheel and even more studying the race-cars of the 1920s.
It was hard work (though we can't lie, it was pretty fun) but the end result is a difficult, rewarding, and (we hope) amusing racing that we offer to you.
We hope you enjoy playing it as much as we did making it. We keep updating the game, so stay tuned.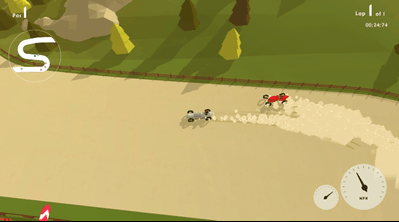 Some of the cars that are available in the game.