Hi Everyone,
Having worked on The Great Whale Road since April 2015 this is a major milestone for us. We have been discussing changes to the combat gameplay for a while and we were collecting feedback from the playerbase. Now four months into early access we are ready to share the new system with you. There will be a few more changes in the next updates: more warcries, balancing, and side effects will be reintroduced.
Less Randomness
Your heroes will no longer be part of a card deck. Your warband is placed during the first four turns of each battle. The relationship with the leader decides if they are there with you in turn one or if they tardy until a later turn. If you don't listen to their opinions while adventuring, why would they be keen to be the first to bleed for you in case there is trouble?
No More Deck
We actually went one step further and removed the deck altogether. Cards had limited gameplay value, so we decided to reduce them to what they mainly were - a user interface element.
Warcries
Each hero will wield three warcries. The warcries are class specific, and there will be rare hero specific ones later on. Once we have added character progression (around Christmas) this will evolve into a skill tree system, where you will be able to choose the three warcries for a hero from a range of warcry abilities per level.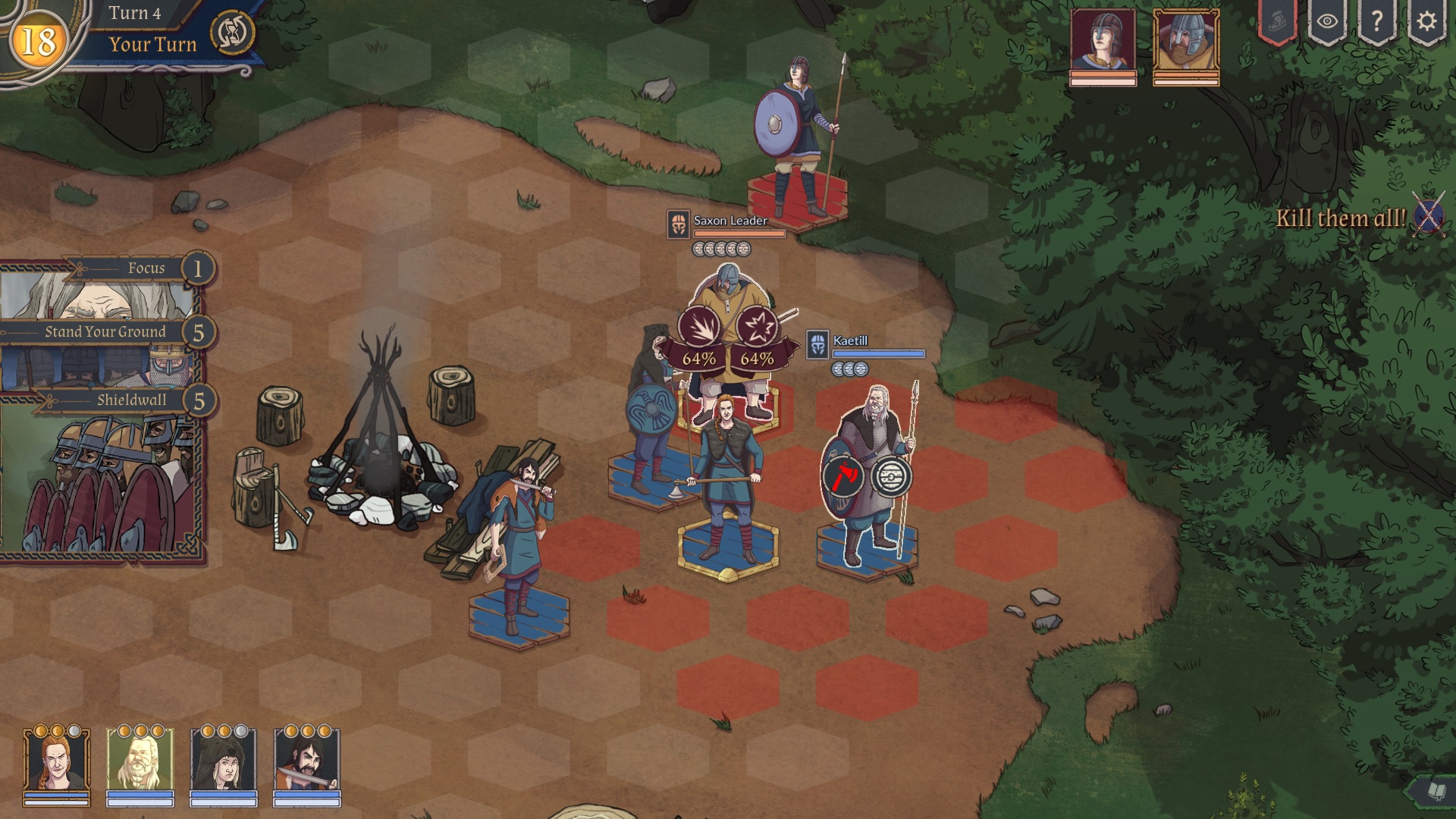 Warcry Points
You will start every fight with a pool of warcry points. You can use these points to activate warcries - they will not have a turn activator anymore but a cost instead. At the beginning the warcry pool will be fixed, but as we add character progression this will become dynamically linked to the levels of your leader and heroes. Killing enemies, and later other combat objectives, will replenish points during combat.
Defensive Stance
There are also a few tactical gameplay changes. The key one is that your heroes can take a defensive stance which blocks all attacks as long as the character has defence points available.
New Victory Objectives
In addition to the existing "kill the enemy leader" we have added a new objective: "kill all enemies". This is also becoming the new default objective. Enemies might call reinforcements, so you'll have to balance a careful approach with the advantage of winning a fight early on.
Visit Steam once the bell tolls 10 am in San Francisco and celebrate with us. Now also for Mac and Linux.