Table Upgrades
Table upgrades are now basically finished, what they let you do is decrease the crafting time of potions and or increase the maximum number of additives allowed per potion.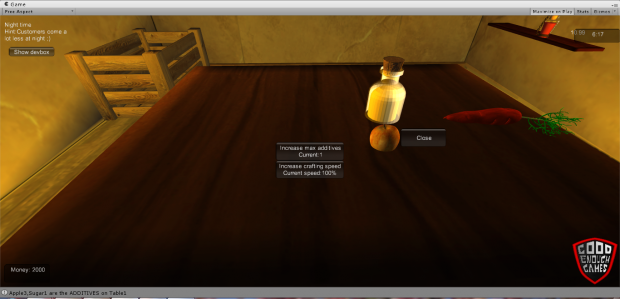 Potion sell by date
Brewed potions can now go out of date. What this means is that stockpiling potions may not always be the best of ideas. You can how ever increase the life of potions by adding preservatives as additives. Potions that go out of date loose all their stats and the longer you leave them, the more acidic they get, and will become slightly poisonous (which also means that poisons cannot go out of date).
Story
The first of many story lines is currently being worked into the game, there were major delays however due to me having to redo the entire brewing mechanic. Also the random AI customers are now almost fully functional, all they need are animations and then they're done
What's going to be worked on next?
Tom (Programmer) will work on completing the implementation of the story along with the transmutation mechanics and making the liquid in potions different colours depending on the type of potion and whether or not it's in date.
Sami (Head of art) will work on animations for the story as well as modelling the story characters and the rest of the ingredients.
Igor (Creative person) will continue to flesh out the story as well as finding more things for me to have to redo because he's come up with a "Better way to do it" ;)
Mirko (GUI Artist) will work on designing the brewing menu and table upgrade menu.
Other
Here's a picture of what the inside of the starter shop currently looks like: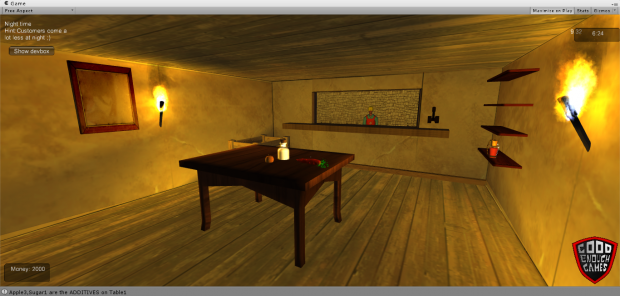 So, in summary:
Added a sell by date to potions,

fixed the customer AI,

more of the first story was added,

practically finished the table upgrades,

fixed a few bugs,

created yet more bugs.
-Tom