"One of the best video game trailers 2016.
It wins the Apple Pie award! 9/10"
– My mom.
If you haven't read first article, Changes is an online survival roleplay game with a focus on historical and folklore fantasy topic. The action takes place in Central, East and North Europe in the era of Barbarian Kingdoms. A player is involved in the atmosphere of early Middle Ages and trying to adapt to a constantly changing world. For more information please read first article.
---
As I promised before, I have added craft system. It allows you to create your own craft recipes based on some patterns (Example, you need at least 1 stone to create stone axe, handle for it and... experiment!). You will able to sell recipes, find suitable recipes for your in-game region and so on. This system gives you a lot of freedom. Because even simple axe could be crafted in different ways. And if you live in badlands, you can try to use less resources, but chance of success will be much lower unless you pick special perk/ability. So logic and imagination is the key on your way to success.
From now, different kind of weapons have different damage types. Objects around you have different resistance types and values. On the video you can see how much time required to overcome small rock with bare hands. But that is not all. Each weapon has it's own penetration factor. If it too small, then weapon can do nothing against items/objects with good resistance. For example, you can crush naked peasant with wooden stick but can't even harm knight unless you somehow stun him and take off his armor.
Also, I slightly improved interface, it shouldn't make your eyes bleeding too much. I hope. And added a lot of small things like destroying enviroment (soon with animation!), different items and craft recipes. Game now supports voice recognition. So to find recipe in the craft menu you just need to say "steel axe" and it will be highlighted. It wasn't mentioned in video because now it works quite obviously. But in future you just have to say "axe" and game will try to find the most suitable recipe based on your inventory and desires. Notifications. It will inform you about any actions and events related to your character: getting or losing items, taking arrow in the knee. You could see how it works on the video. However, if you find this annoying you could click on filter and turn it off: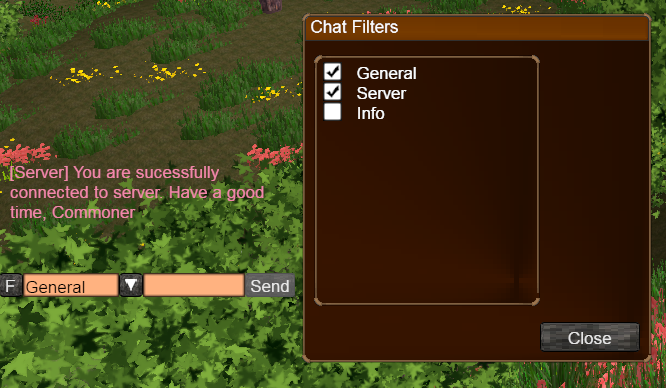 ---
Next
So in the next article we will present you:
Reworked roleplay system. It was described in the first article but now it would be represented in action (eating, drinking, getting levels, choosing your character's path, different kinds of interaction with other players like looting them) and so on.
Building. How you can build your own house and everything else related.
Locations and world events. You will be able to notice how world "Changes" around you.
Reworked player's texture (and maybe model). This one was just for entertainment purposes.
Please, tell if you enjoyed conception and content of the video or not. Thanks for reading and watching the video.