Now that the trailers are out it's time to go back to our weekly/fortnightly update schedule. If you only read the updates, yeah you heard correctly, trailers. We released a second one hours after the first. For those who haven't seen it, here it is.
Lots of stuff has been going on behind the scenes but the team figured that first you'd appreciate a chance to get a better look at the Battlestar Pegasus and Raptor cockpit as both flash by so quickly in the video. It should be pointed out that the Pegasus is still very much a work in progress and probably won't be ready for Shattered Armistice (our first release).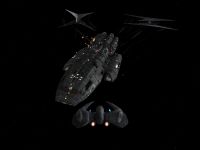 The Raptor cockpit is likely to get a few tweaks too but is definitely going to be included.
In addition to the Raptor cockpit we've got a nice work in progress shot of the Viper II cockpit. This along with the one for the MK VII is what you'll be seeing most of the time (The MK VIIe will share the same cockpit with only minimal differences).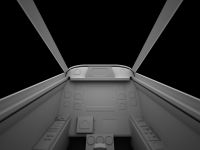 So far the series has been kind to us and not thrown in anything new we have to model immediately. If the show keeps being kind to us for the last few episodes we hope to keep making progress at the same rate or faster than we have been so far.