After working a whole week into some hilarious and at times, sad coding moments, I've made much more progress than anticipated. With all the recent global events and a ton of people staying home, I figured now is a good time to show my baby to the world.
In this demo you'll get to explore your way through Vaux Hills. A detail-rich natural environment that will feel very familiar to the average hiker. In the game you'll be spending a lot of time outdoors, the idea is to get you started somewhere in the western hemisphere and then get you all the way across the world. In case you're wondering how massive the world is, check out this video from a previous article.
Other cool stuff featured in the demo!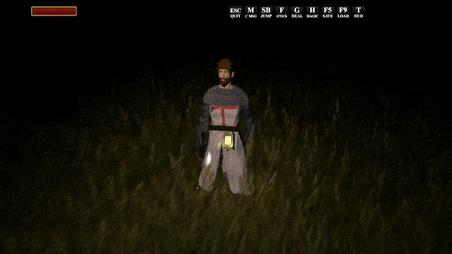 One of my favorite implementations so far, is the lantern. In real life a lantern is easily overlooked. But in the world of Ezora, a lantern is a precious handy item. It can be picked up from various locations in the world. If you wish to learn more about picking up and equipping items, visit the link above.
What the game lacks in current gen graphics it will make up for with its story. It's all too common these days, AAA games focus so much about realism (in a graphics aspect) that a engaging story is often overlooked. If you're checking K&L for the first time, I've transitioned from writing tabletop rpgs into 3D games. I'm a one man team, and delivering this game to the world is my mission. You'll be able to play it in its entirety sometime in early 2022. Enjoy the alpha demo! :)
Best regards,
Felix, J.