Written by Artists Ed and Keith Duke-Cox
[This is a catch up article on the development of some of our art, taken from a number of dev diaries]
After some internal review we decided that the lights in the game just weren't quite in keeping with the pixel art aesthetic, bit too much gradient/inner glow use and therefore too many colours so I went back and redrew the flames...
Old | New



Subtle tweaks have been made to the Torch bearing guard's Attack animation, adding a more recognizable tail to the flame as it follows the swing of the arm. Proof (if it was ever needed) that Leonardo da Vinci was correct: "Art is never finished, only abandoned." We are not abandoning this yet though!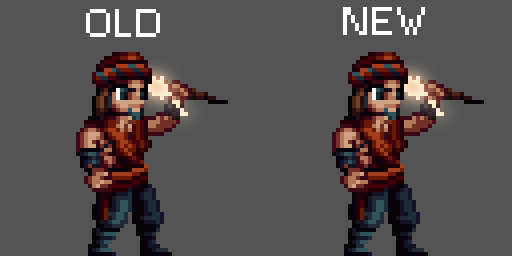 We're trying to be more faithful to the 16 bit era by using less, if not any, obvious transparent effects. This meant ditching the smoke effects we have and trying to come up with something more in keeping with our aesthetic. Ribbon particles seemed to be a cool way forward and so I have thrown something together and am quite happy with the result for now.

We are rolling with particle effects still as hand-animating everything is going to take a very long time and has the added problem of always looking exactly the same, the chaos of a particle system is much more natural. We could get around that a bit by giving each instance a random start frame so if we have multiple torches in one scene, they aren't all flickering in time with each other!
Other items to receive a bit of a buff are the doors. We felt they looked a bit too slim, unreadable to the player and when open didn't have any sense of depth as they kept the same 'lighting' as they opened or shut. At 8 frames, opening and shutting also felt a bit snappy when in reality, our hero would probably open and shut doors with a bit of care so as not to be discovered.
Old | New



With us looking to build in a nice tutorial area for preliminary outside play testing, I decided to have a go at blueprinting out dynamic control GUI elements that would fade up and down based on player proximity as well as be able to switch out sprites depending on platform being used (such as Xbox, PS4 or PC). I'm a pixel pusher by trade and logic always makes me cry but I was quite surprised how easy it was for me to thump this out and I was quite pleased with the results.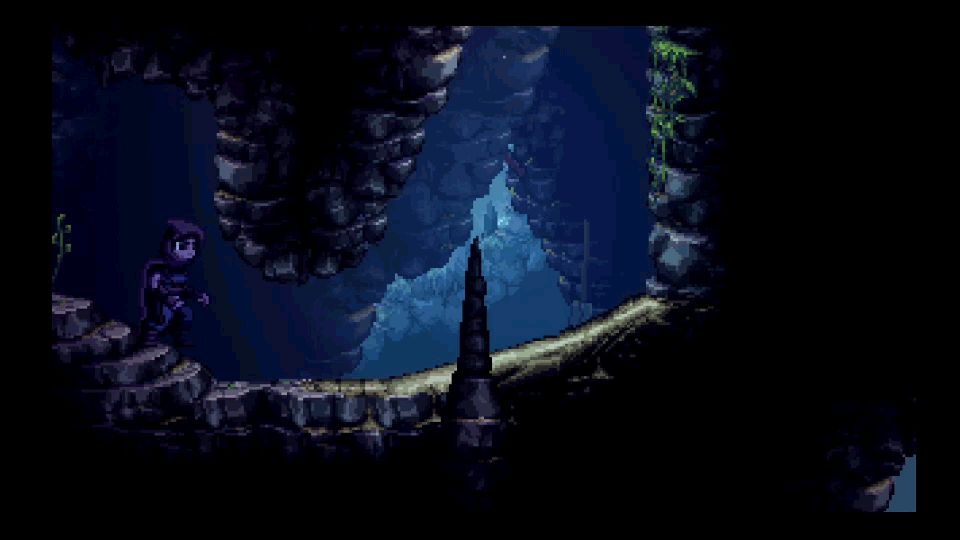 In other developments, I have always been a bit miffed that the dawn and sunset images worked so well and were far more interesting to look at than the night scene was; it came off as far more flat and dull. With this in mind, I went back to it and decided to give it a new lick of paint.