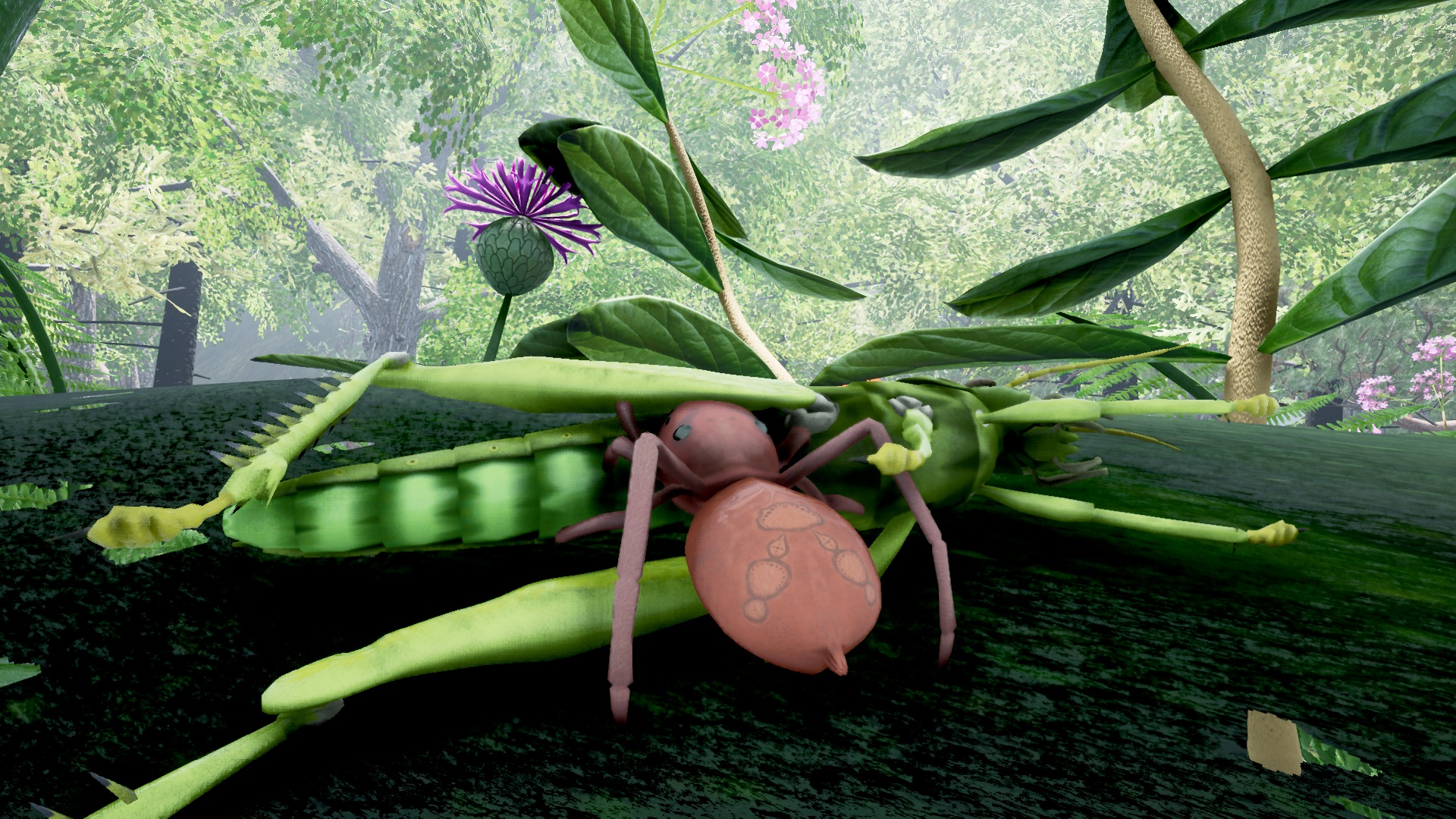 With new animations, visual bugfixes to the entire game and more intuitive controls, this is the best time to complete your Act 2 playthrough if you haven't yet completed all 9 life stages!

Numerous improvements to gameplay, camera and controls also come with this update, making it the definitive edition of the Jumping Spider lifecycle in particular and the best version of Drunk On Nectar (The Nature Simulator) in general.

Enough with words! As this is a visual update, may bright and colorful imagery fill your screens below!
In Picture Above: New topple animations for all creatures; the body and limbs no longer intersect with the floor
~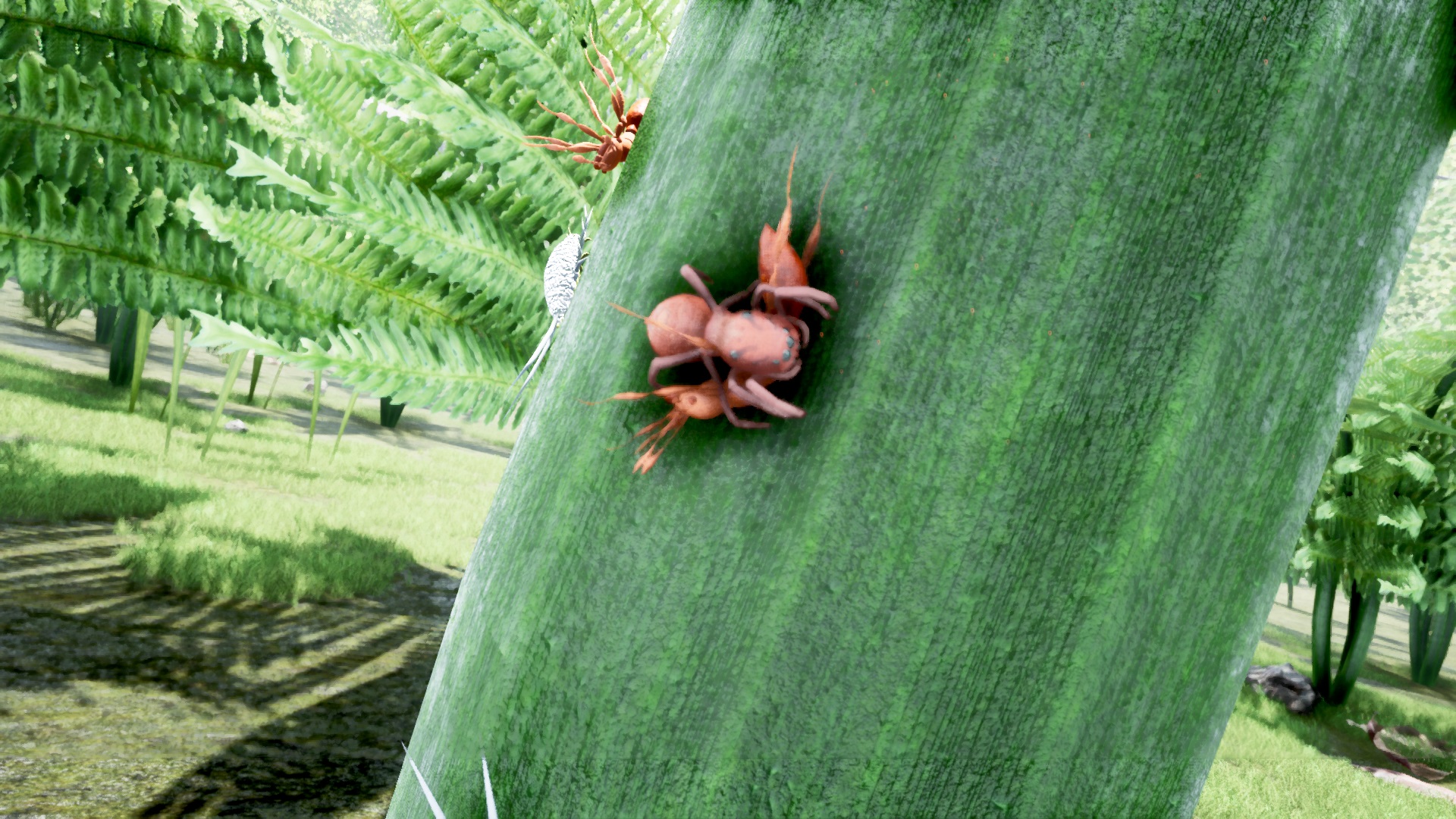 In Picture: Ants now behave far more convincingly while subdued. Several bugfixes have been made to their swarming/stinging behavior as well!
~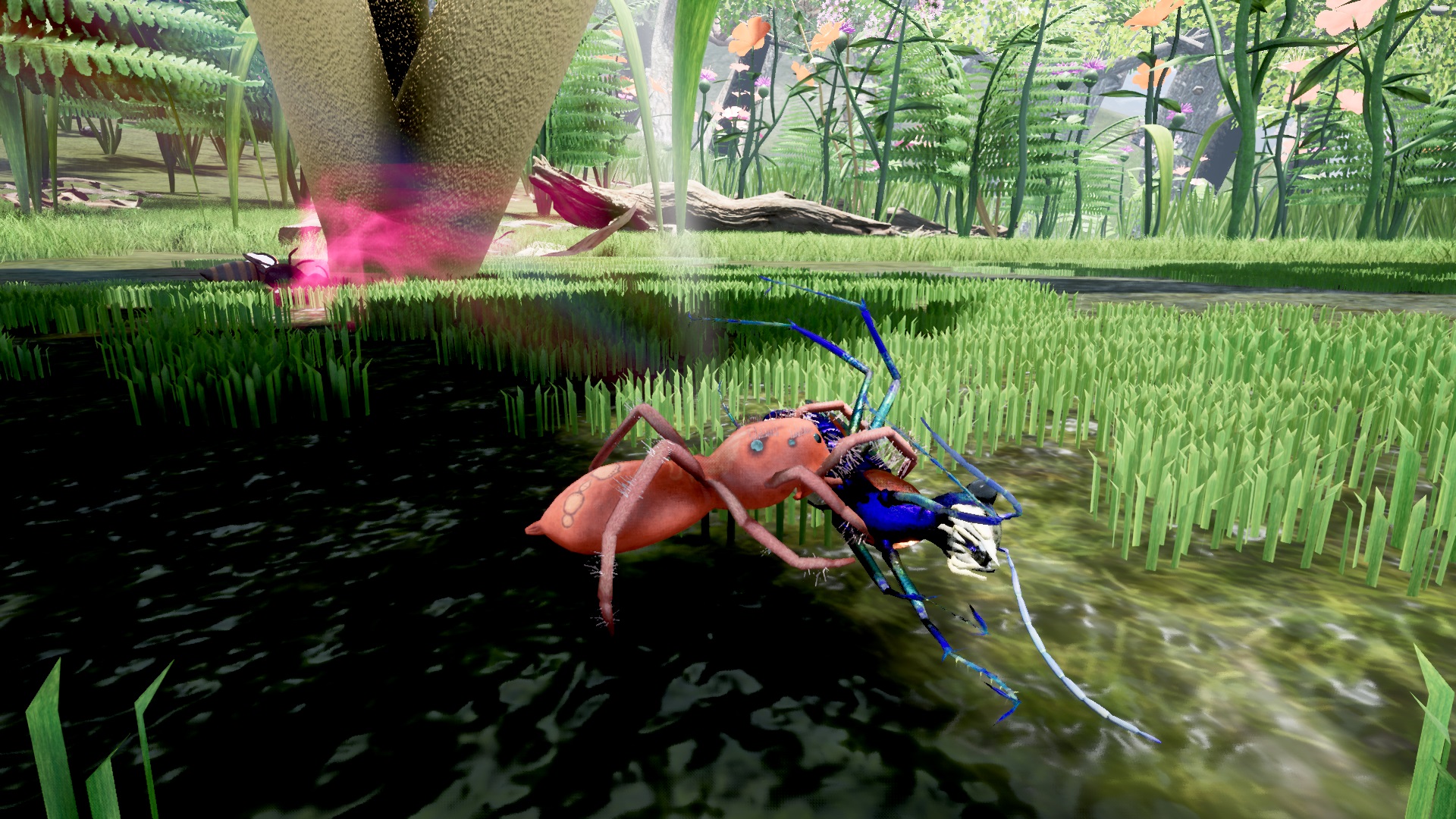 In Picture: The old rivalry between Tiger Beetles and Jumping Spiders now has added visual interest to it!
~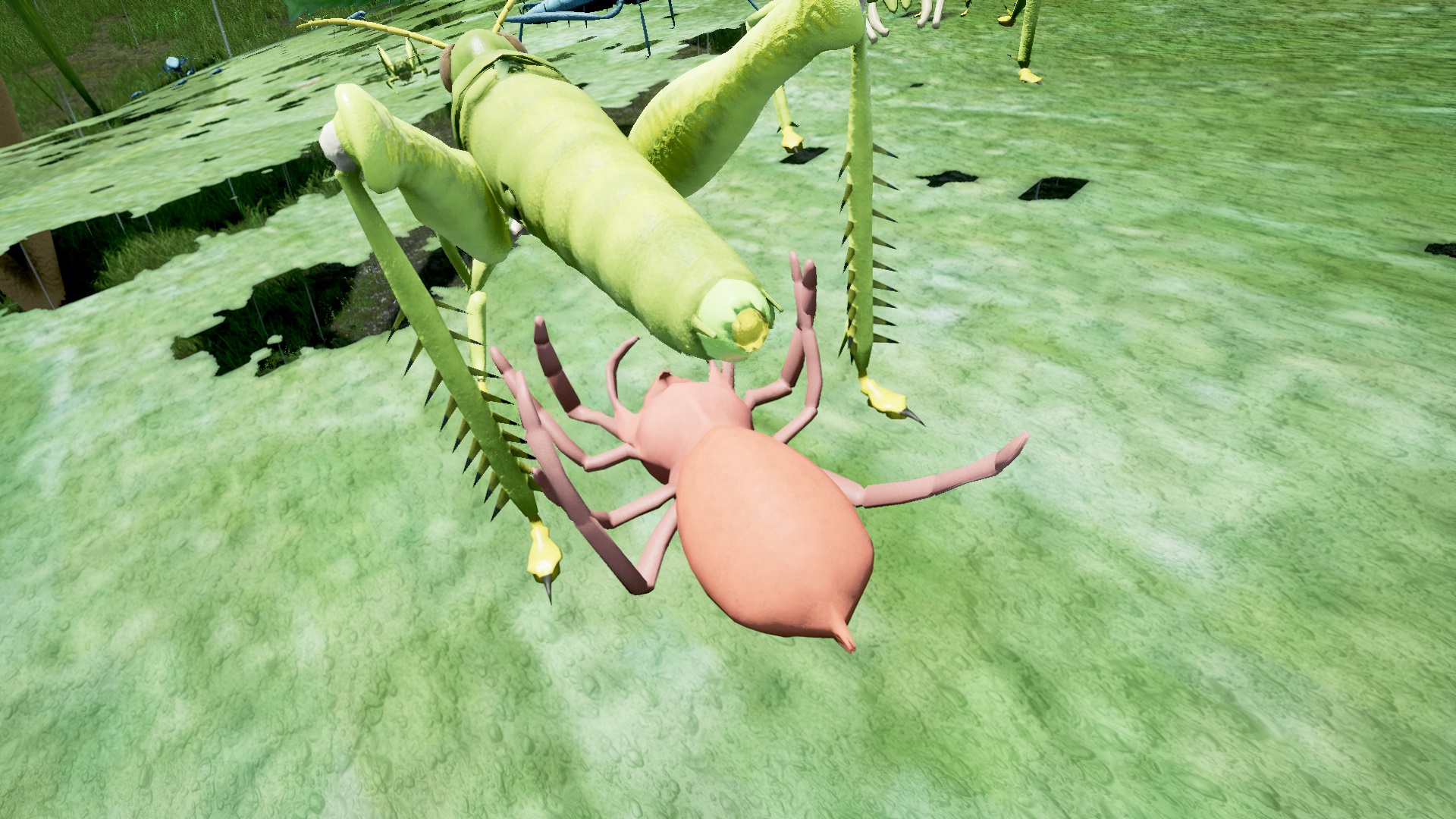 In Picture: Watch out for those hind legs! Those spiked & mighty Grasshopper limbs will flatten you in style!
(Pssst... Sneaking (with new animation!) comes to your rescue!)
~
Below is a more compact visual overview of all the new goodies: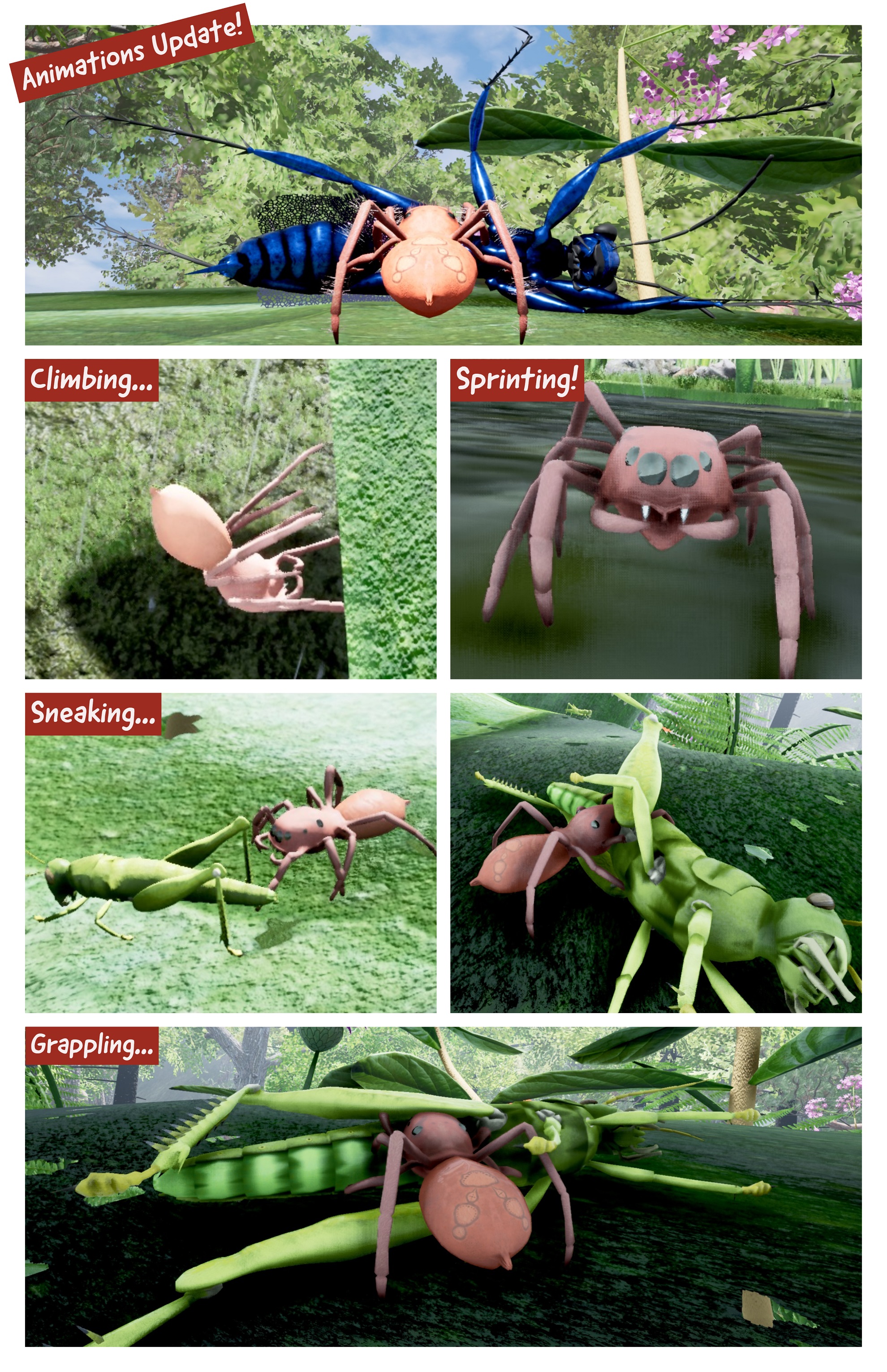 Some written text is also necessary to do justice to the vast number of improvements this patch brings :)
Visual Improvements
Better Locomotion:
Smooth Locomotion Animation: Creatures now turn and walk smoothly even across abrupt transitions! Previously this was visually abrupt.
Climbing system added for Jumping Spider! Flip under/over a leaf to see the climbing animations in action.
New Jumping Spider animations: Sneaking, Sprinting, Flip Over, Toppled over

Cleaner Confrontations:
Animations for grappling and consumption reworked and fixed (all creatures, all life stage permutations). It's all far more convincing now!
Ants now properly root to the floor surface after being thrown off by a rival
Wings folding: Fallen prey with wings such as a Dragonflies now properly fold their wings relative to the ground. Looks far more convincing now!

Misc:
Animation speed variety: Animals of the same species now animate at slightly different / staggered play rates for variety :)
New OST - "The Song Of Lifecycles Act 2"
An original music piece entitled The Song Of Lifecycles Act 2 has been added to the game :)

This is the longest music track in the game and perhaps the most lively one too. Drunk On Nectar now features a total of 12 unique music tracks written exclusively for the game. More music shall trumpet forth in the days to come!

Visit Extras -> Music of DoN to give it a listen!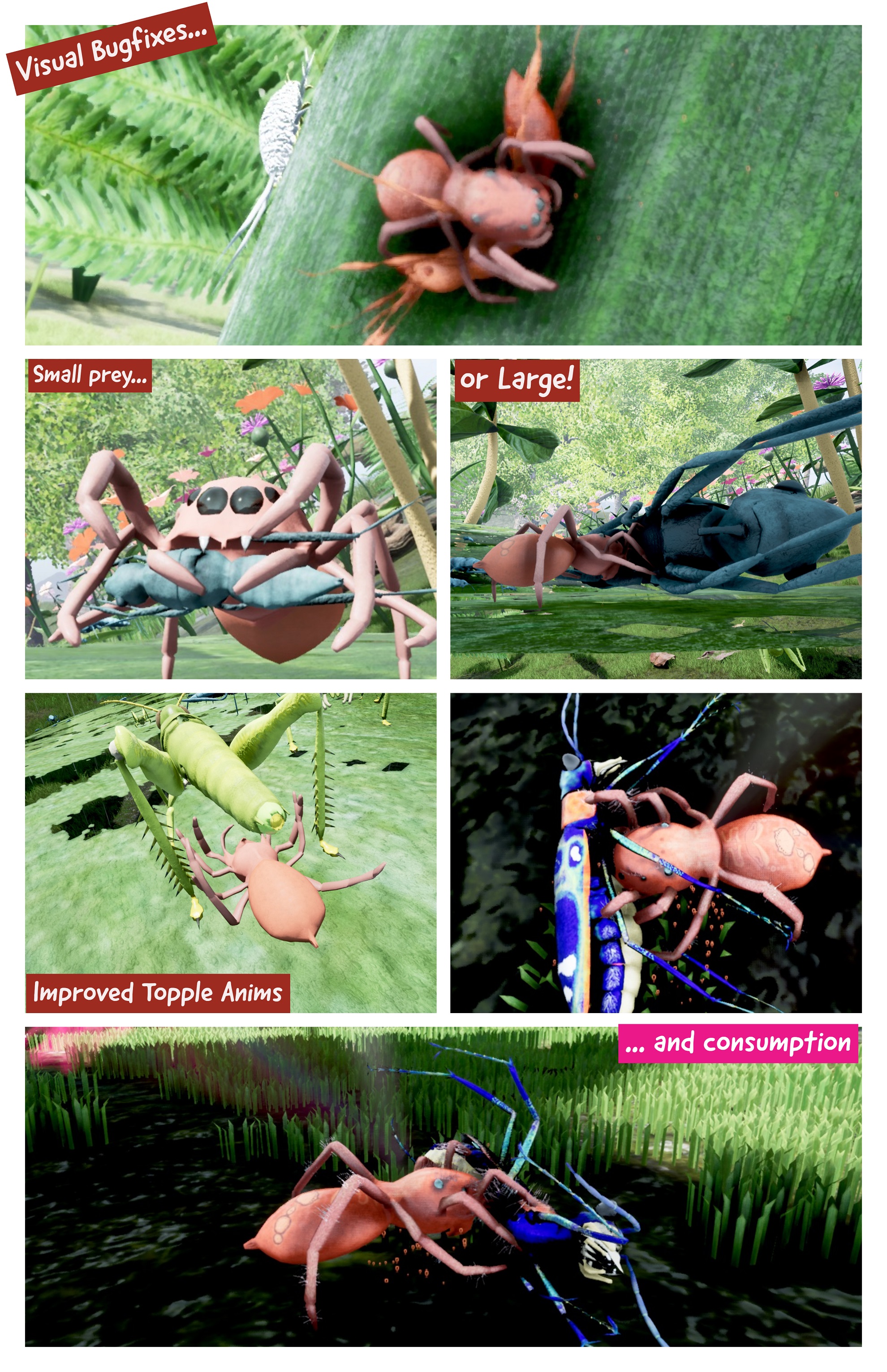 Various Other Improvements
Silk Tent:
Silk Tent camera/controls greatly improved to prevent wild movement while brushing against the sides. You can now also flip over from in or outside the tent.
Silk Tent construction visuals improved: The base is now clearly visible regarldess of external lighting; previously it was difficult to see during bright sunshine

Controls:
Mouse Y is no longer inverted by default for walking creatures. As many players are unaware of the ability to change this in Settings the default now caters to the behavior that most players expect.

Gamepad:
All gamepad issues fixed. Act 2 is fully playable with a gamepad now.
With default inversion fixed camera controls on gamepad should be far more intuitive now
Gamepad camera reset feature added: Press LT + RT. This will reset camera direction or camera zoom depending on whether zoom is active.

Camera:
Camera does not penetrate through floor for Jumping Spider anymore.
Camera distance for climbing your mother in Act 1 improved

Gameplay:
Long jumping for Instars greatly improved - far more reliable now
Visual, color and audio cues also added to tell you whether your jump is going to succeed
Grasshoppers no longer make you fall down after crushing you with their legs (unless you're in mid-air). Players no longer need to climb all the way back up as a result.
Narration no longer freezes player controls; you're now free to roam around while reading the narration :) For sensitive quests (final instar/spoiler) the game is still paused.

Anatomy Combat:
Rebalanced all attack and critical hit stats. Combat now focuses on fun and quick encounters. It should be a lot more engaging now!
Counterattack made easy: Players can now very easily counterattaack by just blocking around the same time you get attacked. Much easier now.
Counterattack (Reversal) input hint improved to encourage players to use it
Anatomy Combat Z target min distance reduced for AI. This makes it slightly harder for tiny instars to just squat under their larger opponent landing strikes from below :)

Benchmarking:
Benchmark warning added reminding players to close other heavy applications.
Benchmarks can now be retaken from Extras -> Benchmark

Chem Trails:
Ladybug chem trails brightness partially restored. As a side-effect of Act 2 (which made chem trails faint) the Ladybug was having a hard time in the "Curious Triad" Creature Quest.
Chem trails reworked (origin and destination height adjusted) to make them easier to see

Misc:
Act 2 victory screen message revised (Act 3 ETA made flexible)
Quest Tiger Beetle now disbanded after night to ensure player doesn't end up in an unplanned handicap match with 2 Tiger Beetles the next morning
"Zooming Out" quest now locks player input to prevent players from roaming without completing the quest
"Zooming out" quest ensures HUD cannot be hidden to ensure players see the input cues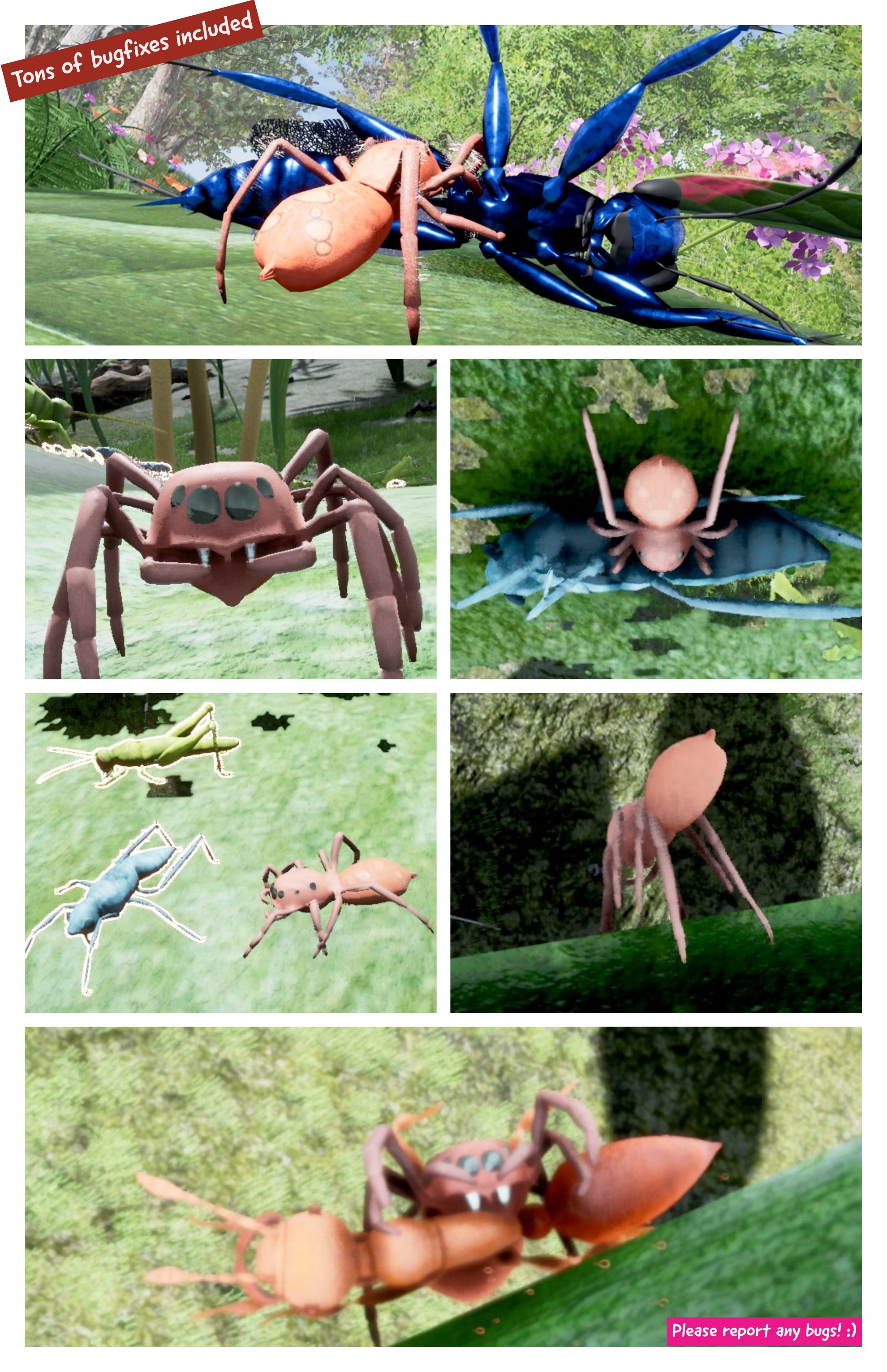 Bugfixes
Major Locomotion Bugfixes:
Stuttering movements, hovering above the floor, getting stuck in places have all been fixed! This should significantly improve your experience of the game.
Movement transitions from Leaf to Stalk and Stalk to Leaf transitions fixed; they no longer cause the Jumping Spider to bump into the surface endlessly
Leafhopper flight fixed! This creature now properly flies around as an adult and lands on a leaf to feed. It's a lot of fun watching them grow from tiny helpless creatures to winged aviators that can go where they please ;)
"Exhausted" animation no longer gets stuck
Stamina cost for walking is now applied correctly after a player darts (previously this would stay constant after darting)
Sneaking inside silk tent does not reset speed
Prey no longer reverts to stale floor (previous location) after being dropped

Predation:
Prey no longer dangle in mid-air after being dropped
Predator no longer dangles in mid-air if the prey escaped via long jump just-in-time
Tiger Beetle walk anim no longer plays while you're holding the prey and standing still
Tiger Beetle now flees as expected from smaller Jumping Spider if the latter (player) has successfully beaten it

Gameplay:
Nocturnal Wasp: Parasitization sequence made more reliable; Wasp now finds its way back to its nest properly even if it bumps into something along the way
Nocturnal Wasp: Sleep till morning cue now goes away after a wasp or other predator subdues you
Grasshopper prey outline no longer gets stuck after it kicks you and escapes

Misc:
A possible crash for some players upon approaching a new swarm has been fixed
Save Games can now be migrated between computers (as originally envisioned). Previously it would crash while searching for an associated screenshot.
Please Provide Patch Feedback!
QA for this patch has been particularly challenging due its broad nature and scope. Please let me know in case you run into any issues! If you see any glaring visual issues or bugs at this point it is quite likely that it is an accidental bug that needs immediate attention.

So please report any oddities! :)

~ ~⚘~⚘~⚘~ ☀ ~⚘~⚘~⚘~ ~
Drunk On Nectar's Next Big Update!
With the solid foundation of recent patches now in place, it is finally time to usher in that exciting phase of setting a new milestone for the game!

There are many options to choose from, with the Monarch Butterfly reproduction being the most obvious and likely choice at this point. There are some ambitious plans brewing for this update, but more on that later :)

A recent Google poll (hosted on the game's Google Search page) has produced overwhelming and unanimous results in favor of "Butterfly Reproduction", so that one is going to be hard to ignore :)

In any case please do make your suggestions known in the meantime!

So it's time for a new adventure in the woods again! :)

With ❤,
Venugopalan Sreedharan
~ ~⚘~⚘~⚘~ ☀ ~⚘~⚘~⚘~ ~

(Developer of Drunk On Nectar - The Nature Simulator)