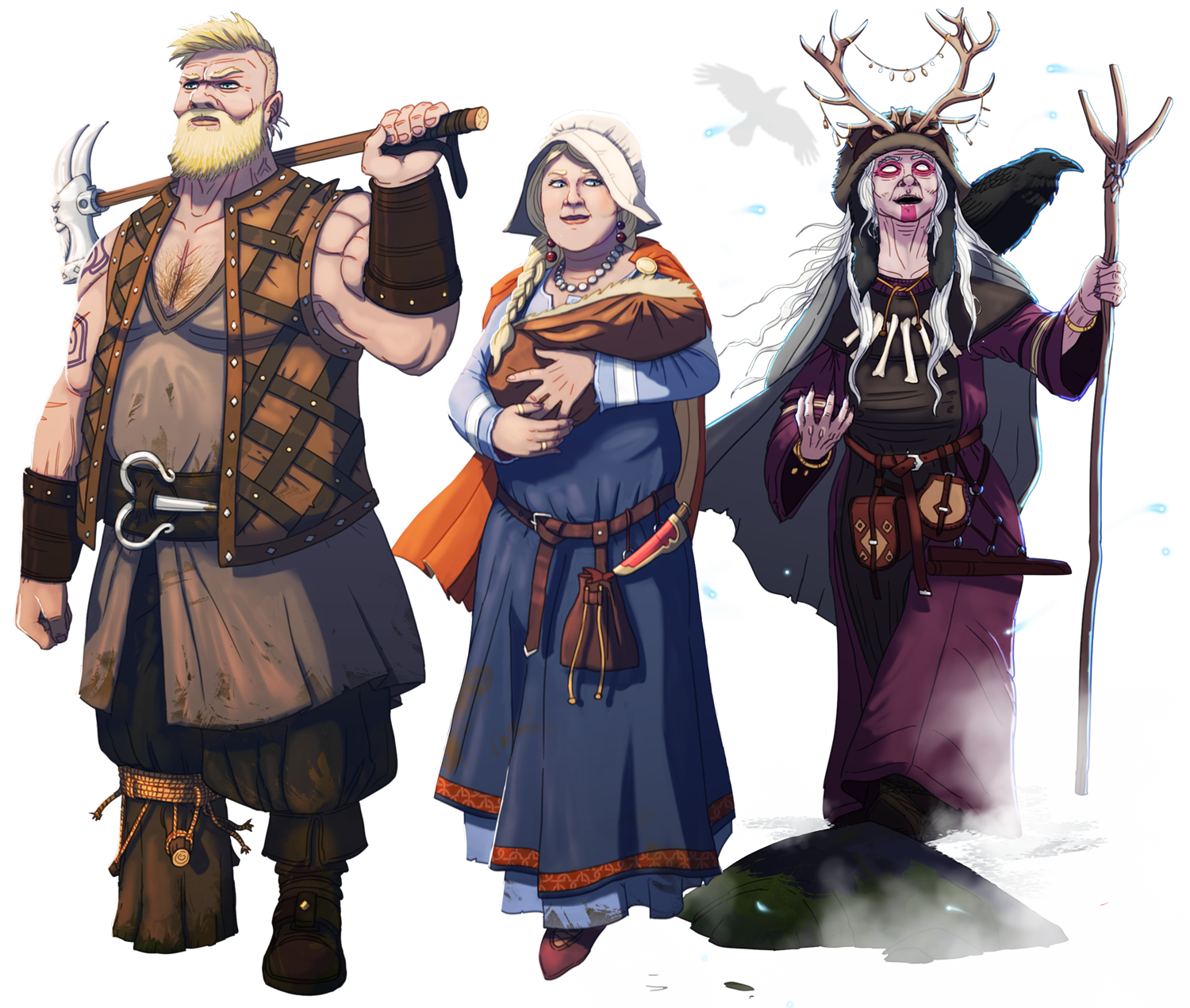 Hi survivors!

A while ago, we introduced our main protagonists in Dead in Vinland, the family that has been forced off their native lands.
If you missed it, go take a look there:
Indiedb.com
As they discover the island they run aground on, they'll quickly understand that they are not alone. They'll run into various inhabitants that will be either welcoming & warm or aggressive & violent. Here we'll focus on some of the characters that might join your camp.
Those characters all ended up on this uncharted land for various reasons, some have fled like the family, others are here willingly. But they all have something to offer if you understand their strenghts & weaknesses!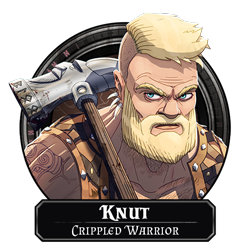 We'll begin with Knut, who comes from a danish tribe of fierce warriors. He is married to Solveig.
One cannot say that they were very lucky in life. Knut being forced out of the village warriors after he lost his leg during a fight, he became by necessity a bitter and below average blacksmith. He also became very despotic with his family.
Then, their numerous children perished one after another to a typhus epidemic, none of them exceeding the age of twelve.
One day, the Jarl's guards stormed into his house and bluntly took Knut and his wife to the Jarl, to endure his judgement. They were expelled from the village, condemned to run as exiles as far as possible to avoid a certain death.
Knut never accepted to explain to his wife the true reasons behind their exile.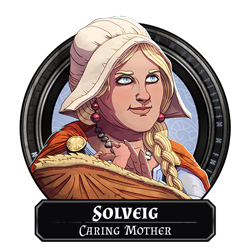 Solveig comes from a danish tribe of hardy people. She is married to Knut.
The youngest of a dozen brothers and sisters, the meals were scarce and the punishments were daily in her young days, but the joy of growing up in a large family always warmed her big heart.
When she became of age, she married a strong and handsome warrior of the clan. Sadly, he wasn't much home at first, leaving for months to rampage and pillage neighbouring rich shores, getting her pregnant each time he came back victorious.
This life was not perfect, but at least she was able to have this big family of her own that her heart desired.
That's until most of their children died from a typhus epidemic and they got expelled from the clan with no apparent reason.
They sailed away with their newborn child to a new, better life.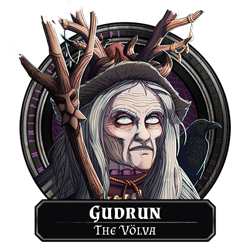 Gudrun is the Völva of the group. A Völva is a female shaman who can oversee the future and can make dark magic.
She's the only member of the group who arrived on the island who is here willingly. She had seen what was happening to Eirik and his family, but she also sensed some "defenses" coming from the island. She KNEW she had to come to check out the place. However, she's not sure how she ended up here, as she only remembers waking up on the beach after searching for the island for days.
Gudrun may seem old and useless, but she's also a quick-witted woman, and a precious mystic during combat. What will her purpose be? Is she really seeing things related to the island, or is she just plain crazy?
Now that you've learnt a bit about them, you'll be more prepared if you come across one of those survivors while exploring the island. See you next time for an in Dead in Vinland!
Follow us!
If you want to stay up to date with all the updates – be sure to follow us there:
Follow us on Twitter
Like us on Facebook
Join our Discord server

For more news about Dead in Vinland, you can also follow our publisher here:
Follow Dear Villagers on Twitter
Like Dear Villagers on Facebook