Hey guys, this week brings a new direction in our development style, some new concept art, and a big update about the story behind Wake Up Call.
This Week:
This week was a slower week than the last two or three have been, except we have made progress in music, overall design, the main character in 3D (Coming Soon), and overall just kinking out minor details. We are happy with how things are going however, and we are still looking for concept artists to help us.
The Art:
The art you are seeing is the Cryo Station from the outside, and the reason it is so small is because the majority of it is underground, so the above ground portion is small in comparison. The Cryo Station, as some of you know, is where the remnants of humanity have been stored so that Kyle can wake them up, and it is essentially the end goal of the game. Anyways, I hope you like the art, and feel free to leave some comments of praise or criticism; we appreciate all of it.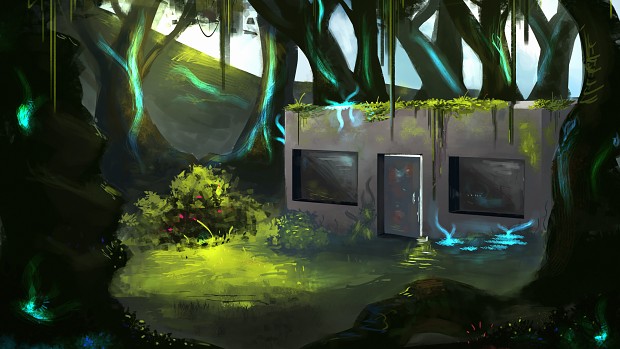 The Story:
So, as many of you know, the story of Wake Up Call has been largely kept secret from you guys for a long time, but now we are going to release a bit of the backstory from the GDD to all of you. Leave your feedback and enjoy:
In 2064, testing began for a new initiative called Pure Sky, and a small shuttle was launched into the atmosphere to experiment with a micro synthetic archae bacteria that derived its energy from the sun and did not require oxygen or other things necessary for most organic life. In 2070, with a few years of testing under their belts and a lot of governmental pressure, the scientists launched Pure Sky to mixed critical and academic response. Many said it needed more testing, that all the variables could not be accounted for, that is was a flawed plan to start with, or that the Federal Government should not be pushing the scientists. Unfortunately, the skeptics were right...
By 2085, the only cities still on the grid in the world are New York City, Los Angeles, and Boston. In 2087, Los Angeles goes dark and is presumed to have been wiped out. 2090, the final human refuges come under attack by the alien enemy. 2094, the Western half of NYC is vanquished. 2097, Boston is gone. 2100, NYC is overrun and humanity's last hope resides in Kyle.
Hope you enjoyed that little tidbit, please do leave your feedback in the comments, I want all of it.
The Near Future:
The big thing that I accomplished this week was determine better what our schedule would be like for the rest of 2011 and for Q1 2012. This year will mark a few things, hopefully the main character will get finished and the animations started, the code base will expand a bit more, the demo level will get its first pass underway, and the art library will grow a bit as well. That sounds like a lot I know, but it is doable. As for Q1 2012, I have only outlined it a bit in my head, and all I can say is that I plan on a good, playable thing we can show off by the end of Q1 2012 which will probably include the basic character movement and weapon handling as well as some combat and a puzzle or two. That being said, we will probably launch our fundraising efforts around the end of Q1 2012, but I am unsure if we will be ready by then (I hope so).