That Which Sleeps is participating in Screenshot Saturday! Let's take a look at what we've posted and do a run down on what you should take note of.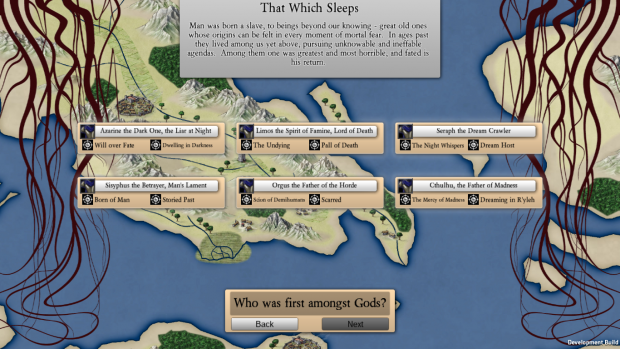 Old One Selection
After you select a Scenario (this one is "The North Burns" which you can see more of on our page) you are prompted to select from a list of Generic Old Ones and Old Ones specific to this scenario
Each old one has two power paths, highlighting them shows a tooltip with a general description of the type of abilities gained as the old one awakes
Background photo is actually out of date, from a Beta map for the Archipelago map (hence the marsh overrunning into the water)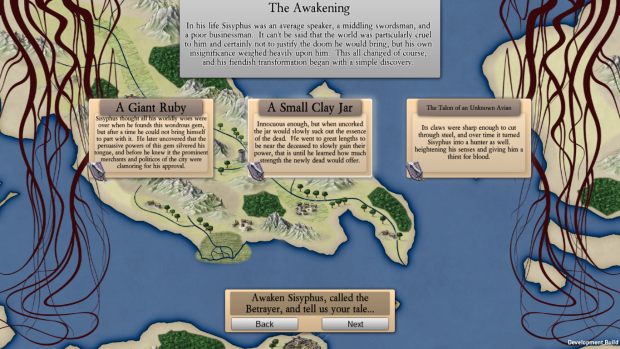 Scenario Choices Screen
Some Old Ones have choices like the one above, but otherwise they pass into selections for the scenario
Changes can range from modifying what abilities the Old One has to changing the map, its cultures, and what type of heroes are generated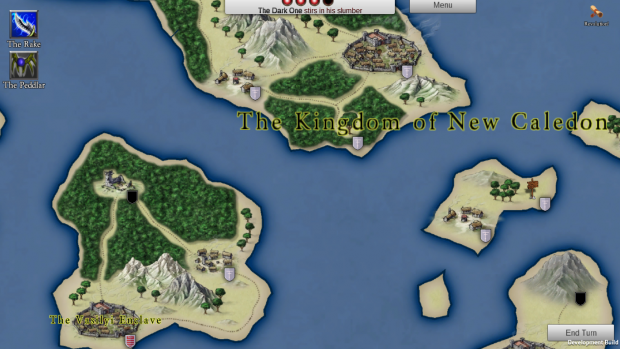 In Game Map
The map is separated into POIs(Points of Interest) which is anything with a Shield Control Marker next to it, clicking on a POI presents a menu with information.
Heroes, Agents, and Armies appear next to the POIs when present and known
Political Entities like countries, cabals, and tribes generate their titles dynamically on the map, and they display with a definable pause (you can opt to not see the titles ever as well)
The Upper Left contains your current active agents, clicking on them will bring them up on the map, clicking on them again will bring up their profile, or the challenge they are currently a part of
The Upper Right shows any events that require your attention, and possibly future events if you have the proper ability
The Top of the screen shows your current power and your current maximum power, which also serves as an indicator of how close to being awake you are
THE MARCH TO KICKSTARTER
Our game is almost 90% feature complete but with a serious deficit in art assets, in fact we do not have any art assets for Heroes, Agents and Armies. Our goal is to produce a simple, playable demo showcasing our functionality and getting a small amount of money necessary to hire an artist. What do we need for this?
Marketing
Continue to post routine updates to IndieDB, reddit, and our website
Create videos showcasing The North Burns, our Scenario Selection Process, and Gameplay itself
Outreach to indie game sites, hopefully get an article or two published
Demo Development
Naval movement needs to be completed, currently they are treated as regular roads
Agent Selection needs to be "game-ified", as right now any agent can be selected at any time for testing purposes.
Army battles need a screen to represent their results, currently it is simply resolved without feedback
End game screen? Possibly not necessary
We have a lot to do but I think a 30 day time frame looks reasonable. Click on the link below to get up to date announcements on our campaign and its progress!