Hi there!
after a time of absence for almost four weeks I released the next devlog of my current project "Road to your City" again. This time I give you some insights how I worked on the upcoming Kickstarter campaign, that I released a demo version of the game which can be download on my Itch.io page, what kind of features I've added & which bugs I've fixed.
If you are interested in the whole series, you can also have a look at the playlist.
---
Before starting the video: if you are not already part of my Discord channel and you want to be up to date regarding the development I would love to welcome you over there!

---
Here is a short summary of the devlog video.


1. Kickstarter page
The Kickstarter campaign for Road to your City starts on this Thursday February 1st, 2019. I've really underestimated the effort which is needed to setup a Kickstarter campaign with all its components. First I wrote all the texts for the campaign, created all the necessary graphics - ingame GIFs, perks, stretch goals, social media images etc. and last but not least I've worked on two additional very important things for running a Kickstarter in 2019. First I created a demo version that all the people who might be interested in backing the game have a chance to test the current state of development. For this demo I've hired a composer from the US who wrote 20 minutes of music. Here is the new main theme of the game:
The seconds thing was the game trailer. For this I've made some cut scenes and wrote a script which I was able to send to a voice-over artist. He spoke the trailer with an impressive result (in my opinion):
The campaign has already been approved by Kickstarter and is ready to go on Thursday.
2. Demo release
During the past weeks I've worked on a demo version for Road to your City. Everyone who's interested to have a first peak at the game can download the demo from the Itch.io page.
The playtime is limited to 15 minutes but you should be able to get a very first impression about the current state of development - Feedback is very welcome!
3. Steam store page
Last week I also set the Steam store page to public. That means that Road to your City can now be wish-listed.

4. All platform support
Since Road to your City has its own engine I had to implement the support for all platforms (Windows, Linux and MacOS) manually. So lately I worked on a build script I can run from my dev environment, which creates folders for all the platforms and the type of game (alpha or demo version). The alpha version is already fully compatible with Steam to this important task has been solved.

5. New heat map shader
I wasn't satisfied with the last version of the heat map shader since the visuals hadn't been perfect. There haven't been much contrast so it was sometimes hard to get the information out of the heat map. I instantly had the idea of creating a new heat map shader. This shader converts each texture to a greyscale version which is now for non-focused objects while having the heat map option turned on. It now looks like this: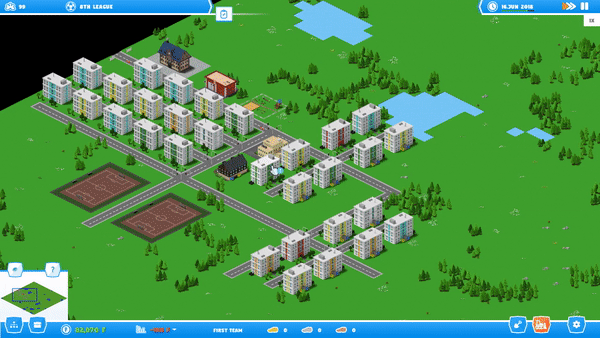 6. New screens for events and "New game"
Long time ago I've designed a screen for a "New game". Since there have been some settings which won't be used currently I decided to make a new and very basic "New game" screen only with the properties Player name, city name and map size. If more settings will be added to the game the current view will get extended.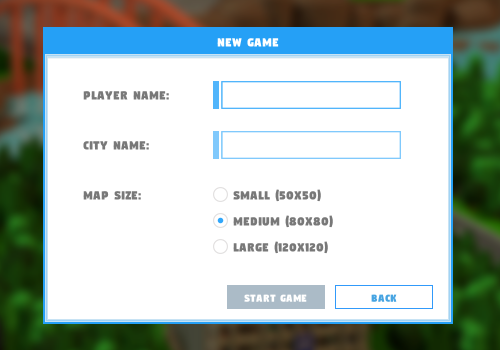 7. Burning apartments
Last but not least I've made a change on burning apartments. In the last alpha version the apartments caught fire very often which was really annoying for the player. I've changed this behavior but also made a small concept change. Now once an apartment catches fire it will always burn down.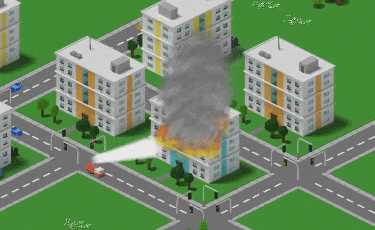 All the people will be lost since they left the city (including players) and the building itself has to be renovated.
---
That have been the most important facts from the devlog. Some things are missing so if you're interested in more details you should watch the devlog video.
Feel free to leave me some feedback - have a great week and hopefully see you on Thursday on my Kickstarter page :)
Cheers, Christian