Novus Inceptio is 3D MMORPG post-apocalyptic fantasy / sci-fi game. Its goal is to create a complex and fully independent world, regardless of the number of active players. Game style will focus on hardcore survival action, tactics and strategy.
The project is being developed by one person and from which also affects the formation of the entire game world.

Each player starts to play with only a knife and personal PPB (Player Personal Bot - more on that some other time).
At the beginning it is necessary to obtain basic tools and follow a mainly basic living needs - hunger and thirst + overall condition characters (fatigue, illness, injury, cold, heat, etc.). This is a classic proven gameplay elements in common survival games + additional project-specific.
Because in Novus Inceptio (hereinafter NI) can be performed on the interaction whatever the player sees or is within range. Thus the first steps lead to the search for raw materials in nature. The player has the ability to perform on the surface botanizing and foraging. When a distinction is whether the player is in the woods or not and what the ground surface is. Accordingly, a player found a lot of interesting and useful materials such as various herbs, berries, plants, seedlings etc. Most of these things found used at the beginning of the consumption and production of basic things.
Anything a player does in the game, so it increases the skill = over time are better and better things.

Every thing in NI is unique and has its specific characteristics and quality that is further reflected in the player skills and other specifics. For example, not every player finds the strawberries can feed well. Therefore, it is necessary to look for seedlings and gradually grow their own crops and better quality.
But let's get back to the basic survival: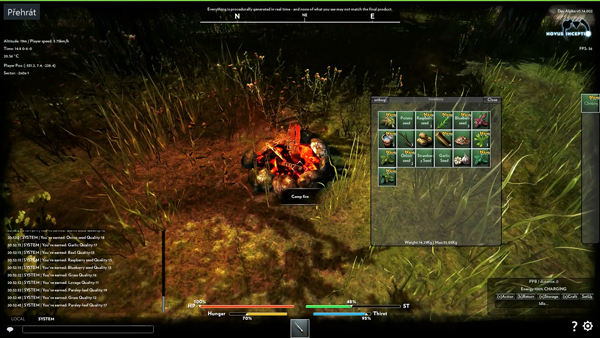 Only berries and herbs player is not alive, it is necessary to obtain well water - which can easily gather from nearby water sources or using PPB benefit underground deposits of water (use PPB is not free and is not always available).
But cold food never fill stomach, like a proper hot meal. Further steps should therefore lead to the basic position of the fireplace. Just find a tree with a knife to cut off the branch - make your kindling and go have a fireplace where they can cook basic meals from what player found (herbs + potatoes + water = potato soup). Basic fireplace is only for single use (than burn out - logically, it is possible to refuel). Therefore, if a player wants somewhere for longer periods or on the horizon dangerous night, so it is advisable to build a permanent fireplace (stone needed).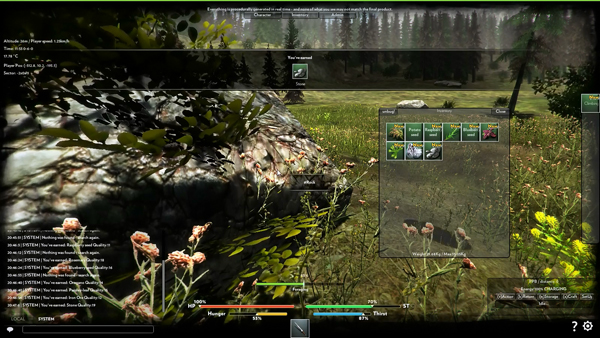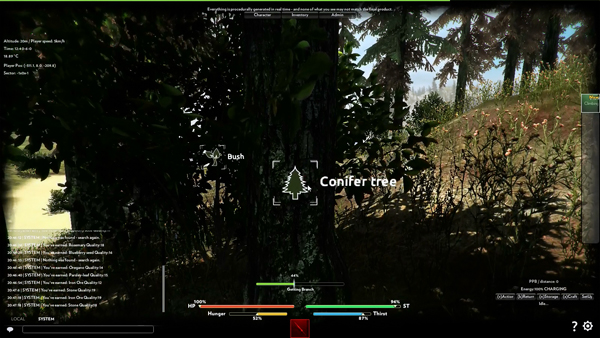 Stone, one of the basic ingredients and the beginning of the game very valuable (than a player produces a pickaxe). Intricately hand looking at the ground with his hands or breaking off of large rocks (i would really recomend pickaxe;)).
Another much needed raw material is wood - but how to cut down a tree if i only have knife? It is necessary to make an axe - although so far only a stone, but better than nothing. Production involves more heavy work in the search for raw materials and their combining.
The initial steps are very difficult, but everything is well deserved and honestly-earned.You Only need to watch out for damaging things - all damages even if the player is offline (world lives on!). All the tools must be continuously repaired (they are being destroyed by using) - otherwise irretrievably crumble to dust! (but again everything is going to produce).
How does such a start in the world of NI looks you can see in the following video (please note that this is an alpha version, and everything fits-game UI is not tuned, only serves to test the functionality + sometime in the video I use the admin hack - video may contain bugs).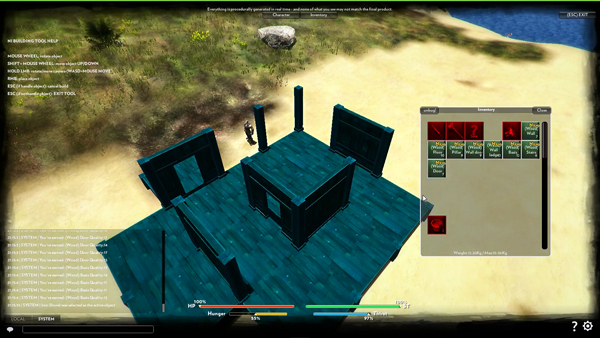 In NI, the whole world is fully customizable by the player, and it is possible to modify the environment according to his wishes or requirements (this game element will be discussed a bit more in the future).Let us head back to the basics of survival in NI world. Fireplace, some food etc. is good for begining. But everyone wants to settle once and set up a home, village or town with other players. All this is possible, but everyone starts with a small house first, which is serving as a basic shelter.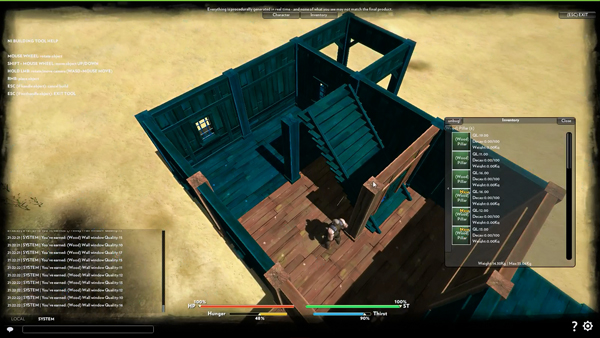 To build a house, you will need a lot of materials – which depends on selected construction materials (stone, wood, etc.). The construction is carried out using a modular system by building modules,player can plan ahead entire structure. And when is satisfied, he can finalize construction module - all from a top view with a free camera view for better handling of building elements.
Like everything in the world even home in NI gradually decays and it needs to be repaired and improved (to increase its stamina and endurance).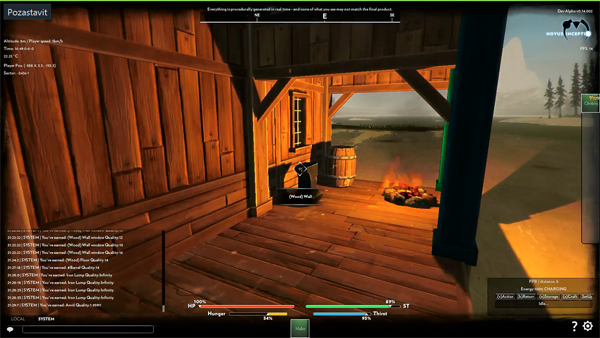 Below is a video demonstration of building a house, if I already have made the necessary tools (hammers outside) and all construction modules - in the video using admin hack on production (that video was not too long leave + is smaller bug (fauna collision with the house - in a fix ;)). Like the video above, this is an alpha build and everything is in the process of debugging and solutions.

Next time we will look at some other interesting gameplay elements, or discuss in more detail some - or information about the current Progress - Leave a surprise.