We've been waiting...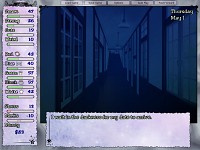 We've been teased with all the possibilities...
But now, at last, the game is ready for launch!
You can grab a free demo from either the Magical Diary website or the downloads section here. Demos are available for PC, Mac, and Linux, and cover the first month of the school year. You'll also have the chance to play with the character creator and upload your designs to the online yearbook.
It's been a long journey and a lot of work to get this far (The game text now comes to about 150,000 words. You could fit two books in there!) but just because the game is released doesn't mean it's all over. When you buy the game, you'll receive a license key for access to the online updater, which will be delivering patches and new content in the future. There are already a few goodies lined up for later release, as well as improved support for modding - and, of course, fulfilling crazy fan requests. And then eventually there's the next game in the series to start working on...
So come along and join in the action!