Got questions about Keep the Peace or this Kickstarter? Join us on Discord: Discord.gg

What should be the role of law enforcement in your community? What type of police officers should walk your street? What should be their priorities?
In Keep the Peace, YOU are the Chief of Police, responsible for the safety and security of your town, campus, city, or region. You'll make difficult decisions about the type of police force you want to create, and the way you'll approach crime, natural disasters, tensions in the community, and other issues in your jurisdiction. You'll decide which officers to hire, how to train and equip them, how and where they should spend their time, and how they should tackle a nearly infinite variety of delicate and dangerous situations. And every decision you make could have dire consequences.
Keep the Peace is an exciting fusion of grand strategy, "tycoon" management, city builder, and real-time tactics. For more than 15 years, Keep the Peace has been the passion project of an independent designer. But to become the high-quality game that you deserve to play, we need your help. Through this Kickstarter, we hope you'll get involved in the development and testing of Keep the Peace - sharing your hopes, ideas, and feedback -- while funding an expert team of developers and designers who will realize the vision of Keep the Peace.

PLATFORMS: PC (Windows, with likely addition of Mac and Linux)
DISTRIBUTION: Steam, with possibility of additional digital download stores; physical boxed copy for certain backer tiers
When you first boot up Keep the Peace, you'll choose a town, campus, city, or region to start your new career. Every map is an open-ended sandbox where you'll control all aspects of your police department. But every map also has its own unique circumstances and challenges, and you'll have to adapt your strategies accordingly.

Depending on the scenario, you'll either be taking over an existing department, or starting a new one from scratch. In either case, your first order of business is to ensure you have the right officers for the job. Select candidates based on dozens of skills and characteristics, like leadership, conflict resolution, marksmanship, explosives handling, driving, and forensics.

Assign your officers to units. Will you put junior officers with senior ones to gain experience faster? Or will every officer be a lone wolf? Choose from a wide array of vehicles, and customize everything from the paint job to the lights. Then give your officers the tools and weapons they need to get the job done, whether that means riot shields or speed radars or infrared.

Set up patrol areas around your city and distribute your units wherever they're needed the most. Prioritize their time between preventing crime, reacting to crime, and traffic enforcement.
Respond to dangerous and dramatic emergencies. Break-ins, bank robberies, shootings, high-speed pursuits, bomb scares, search & rescue, natural disasters… along with more common issues like domestic disturbances, noise complaints, and car accidents. And much more. Every incident type will have virtually infinite variations, so no two will ever feel exactly the same, and the circumstances of an incident could change in an instant, so you better be ready for anything.
You decide how to approach each challenge. Will you negotiate with a hostage taker, or break down the door? Will you block a growing group of protesters, or let them march unimpeded? Will you send in overwhelming force, or a single undercover officer? Will you set up a roadblock to stop a pursuit, or back off and try to catch them later? Every situation is different, and every approach has its pros and cons based on your resources, your objectives, your opposition, the terrain, the weather, and many other factors.

The outcome of every incident and every investigation matters, as do the tactics you choose to achieve those outcomes. Catch a major criminal and crime rates may fall, which will change the type of incidents that occur in your city. Community safety and satisfaction will increase, making people more likely to cooperate with your officers. But… your tactics can also backfire. Ruthlessness and excessive force will erode community trust, and could lead to complaints, inquiries, and expensive lawsuits regarding the conduct of your officers.

Your officers gain experience from everything they do, allowing them to improve their skills, gain new abilities, and get promoted. But your officers are also at risk of injuries, stress, and low morale. Keep them healthy, happy and well trained, and they'll be ready for any challenge you send their way.

Experiment with various strategies. Balance your efforts between preventing crime, responding to crime, investigating crime, and otherwise serving the public. Target crime hotspots with detailed data about past crimes, and launch stings and crackdowns in high-crime areas. Set policies, training priorities, and rules of engagement to create whatever style of police force you desire.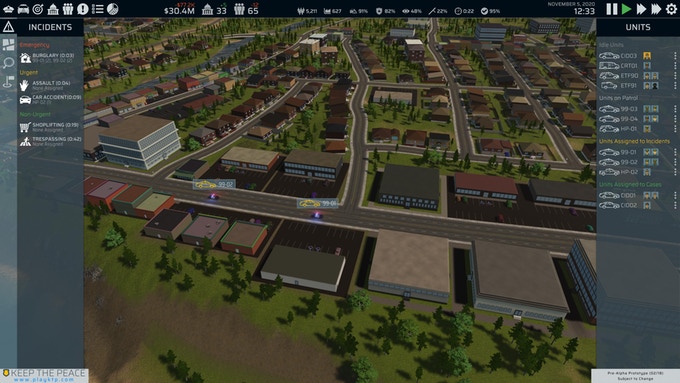 What Makes Keep the Peace Special?
Endless variation. There's no such thing as a "routine" emergency. Every incident, every investigation, is unique and will require a thoughtful approach. Every situation presents you with different objectives, terrain, layouts, resources at your disposal, weather, visibility, etc.. Even incidents of the same type always play out differently. So make the best plan possible with the information you have, but be prepared for it all to go sideways. Surprises are around every corner.
Multiple environments. Rural towns with long stretches of highway. Large metropolises with densely packed high-rises. Busy university campuses. Keep the Peace will challenge you to adapt your strategies to a wide variety of map types and environments.
Intuitive UI. Keep the Peace will feature a smart, intuitive user interface that makes it easy to deliver complex orders to your units. Focus on perfecting your strategy, not struggling with the controls.
Intelligent AI. Assuming you hired smart ones, your officers can take care of themselves. There's no need to micromanage their every move. They'll react on their own to danger, or to someone or something threatening their mission objectives. Just tell them what you want achieved, and they'll find a way to get it done.
Open-ended gameplay combined with procedurally-generated story arcs. The jurisdiction is yours to command however you choose, but things are always happening. A serial killer could terrorize your city for months or years. A new gang could come to town. Your allies in City Hall could retire, leaving a mayor intent on making your life difficult.
Meaningful consequences. An innocent bystander is caught in the crossfire between gang members and police. One of your best officers is hurt in a car accident while pursuing a fleeing suspect. The mayor is disappointed with your performance and thinks you're wasting money. These aren't just random one-off events, they are outcomes that can have long-term consequences on your community, your department, and your resources.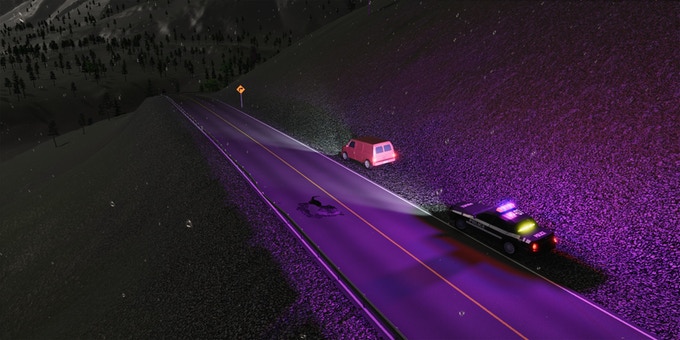 For more information about the game including full-size screenshots from the Keep the Peace prototype, visit Playktp.com<

If the campaign reaches its goal, backers will receive rewards based on the amount of their pledge. If the campaign significantly surpasses its goal, we may introduce additional features and functionality for the game, ones which would require additional resources to complete. These could include:
Additional maps & scenarios
Modding support and game editors (e.g. create your own models, skins, vehicles, equipment, incident types, maps, scenarios, etc.)
Localization (translation) to other languages
Particular expansions
Multiplayer
Backer Rewards
Access to Exclusive Backer Forums. Talk directly to the KTP development team and other backers about how the game is progressing, and share your ideas, feedback and questions. Estimated Delivery: June 2018
Digital Goodies. A set of 4K desktop wallpapers, smartphone backgrounds, exclusive screenshots with developer commentary, and more. Estimated Delivery: July 2018
Digital Copy of Keep the Peace. Get a digital copy of Keep the Peace upon its public release plus all free updates released afterward. Some reward tiers include additional copies of the game, which you can gift to your friends. Note: additional copies count for only the final game, not alpha/beta copies or other rewards. Estimated Delivery: Late 2019 / Ongoing
Beta Tester Access. Play the game even sooner by joining the Beta program and testing the game before its public release. Estimated Delivery: 2019 / Ongoing Now available for all reward tiers Officer and above!
Alpha Tester Access. Play the game the soonest by joining the Alpha program. Test new features, share your feedback, and shape the development of the game. Estimated Delivery: Late 2018 / Ongoing Now available for all reward tiers Sergeant and above!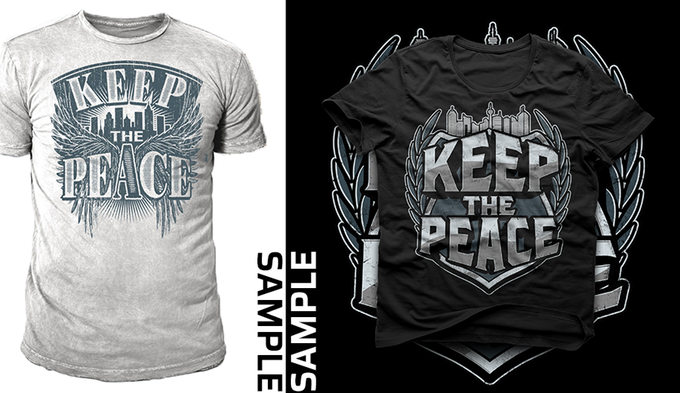 Keep the Peace T-Shirt. Choose from at least* 2 designs, available in mens/unisex and ladies fit, S - XL. Multiple colors will be available. Note: you will be emailed a survey after the Kickstarter in order to choose the design, color, and size of your T-shirt. Estimated Delivery: Summer 2018
*When the Kickstarter hits 50% funding, and again when it hits 75% funding, we will unveil a new t-shirt design to choose from.
Name in the Credits. Special recognition of your support in the production credits within the game. Estimated Delivery: Late 2019
Name in the GAME. We'll work with you to name a recurring feature in the game -- a special character, street, landmark, etc. -- however you like! Within reason, of course… Estimated Delivery: Late 2019
Collector's Edition. A physical, boxed collector's edition of the game, including a booklet of concept art, behind-the-scenes photos and development notes, and signed by the development team. Estimated Delivery: Late 2019
Face in the Game. We'll create a 3D caricature of your face that you'll be able to use for any officer in the game (or all of them!) and that could also make an appearance elsewhere… (that person who keeps spray painting the side of the police station??) Estimated Delivery: Late 2019
Lifetime Expansions / DLCs. If Keep the Peace is a success and if, beyond our free updates, we make paid expansions for the game, you will receive all of them free-of-charge.
Lifetime Deliberative Entertainment Games. If Keep the Peace is a success and Deliberative Entertainment makes future games, whether sequels or otherwise, you will receive all of them free-of-charge. (Applies to final digital versions of publicly published games)
Meet the Team. Join our team for lunch at the Deliberative Entertainment office in Toronto, Ontario during the development of Keep the Peace! Get a behind-the-scenes look at the process, discuss your ideas and feedback with the developers in person, and play completely unreleased versions of the game. Note: includes lunch and access to the Deliberative office only; does not include travel expenses to Toronto, accommodations, or any other associated expenses.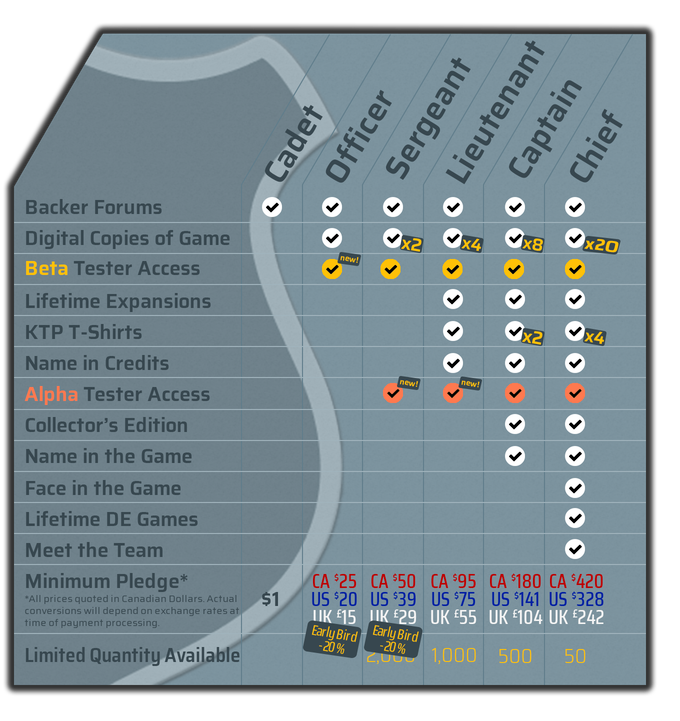 As you will note above, ALL tiers OFFICER and above now get BETA access. And all tiers SERGEANT and above now get ALPHA access. This means you can get your hands on parts of the game sooner! IMPORTANT: This update is not reflected in Kickstarter's rewards list, because we cannot edit it. However you will receive this benefit if you pledge to those tiers. ALSO: If you wish to change your reward tier -- up or down -- as a result of this change, you may do so with the "Manage Your Pledge" button on this page, and in the confirmation email you would have received from Kickstarter. Other tiers (e.g. Captain and Chief) are not affected by this change.

Whether or not you're able to make a pledge in support of Keep the Peace, thank you for your encouragement, ideas, and feedback, and for sharing the game with others who may be interested. This game depends upon a strong community. Thank you for being a part of it, and for helping it grow!
Join Us on Facebook || Share on Facebook