In the next weeks, will come the biggest update for Islanded in the whole time. But, before the update release, here are a few things that this new update will include.
Also, an early Alpha will come out after the update 0.0.3.0, giving the possibility to explore the map, and make use of the few items included in the upcoming update.
In this pre-update we are gonna cover few things of the changelog for the new update, like the new buoyancy system in the water, and the new weapons and tools.
Buoyancy system:
With this new feature, all the objects that can float in real life, will float too on the game, applying real physics on the water, and keeping the object in the surface.
Here it's a little gif to show how this works.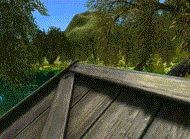 Weapons and Tools:
With a new inventory, and melee system, that will be covered in the update, new weapons and tools will be added to the game. Here are the "player models" that the player will see when the weapons/tools are equiped.
Here are few parts of the new update 0.0.3.0, the las DEV update, coming in a couple of weeks.