Hi everyone! When we started our first Kickstarter campaign we knew little about crowdfunding. Although we fell short of our funding goal, we received lots of positive feedback about the game and encouragement from the community. This alone is a huge source of motivation for us to keep going. Plus our determination and belief in making the game we want to play, not for a moment did we give up the goal of bringing Wild Mage to life and making it a game that re-imagines the genre!
Since the last update we've been focusing on regrouping and preparing for our Kickstarter relaunch, which is scheduled to go live on March 12th, 9 am PDT! We've created a Thunderclap campaign for announcing the launch: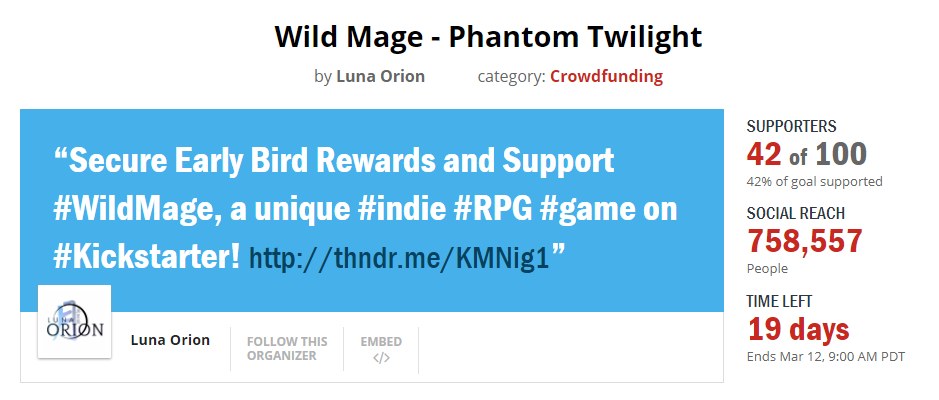 Please support us and help spread the word! It takes only a few seconds and is completely free! Simply visit our Thunderclap page: Wild Mage Thunder Clap
Choose the social media account you want to use, and click support:

Thunderclap will then post the message announcing our Kickstarter launch to your feed the moment the campaign goes live. This will help us tremendously in improving our reach! Thank you and we appreciate your support!
Also, to show appreciation for our most loyal supporters, we've added "Early Bird" reward tiers:
Early Bird - DD of Final Game ($15 instead of $25)
Early Bird - Beta Access w Special Spell ($25 instead of $40)
Early Bird - Founders Airship ($60 instead of $80)
Early Bird - Dragon Lord ($100 instead of $150)
They are available ONLY within the first 48 hours of the campaign (3/12 9 am - 3/14 9 am PDT). If you're interested, secure them when they last and we'd appreciate the help in generating early momentum! Thanks!
Follow us on social media for updates: