So it's finally done...ELFSQUAD7 is golden, approved, and is now live on the Xbox Indie Channel. My first released indie game! Huzzahs and WOOTs all around!!!
But the big news for me is that I was able to snag a publisher to head up the marketing and PR...and as all indie developers know, getting press is a HUGE part of the battle! THANK YOU STARDOCK FOR LETTING ME FOCUS ON THE GAME AND NOT PRESS RELEASES AND MEDIA GROVELING FOR ATTENTION. :) Of course I had a foot in the door since I've worked at Stardock for 12+ years now, but it was still nice of Brad to offer to field the marketing for me.
Anyways, let's talk CONTENT. "What do I get for my 80mspts," you ask? "What holiday deliciousness did you stuff this game with?"
Here's the skinny...
- Wrap n' Grab gameplay (I've seen a few reviews compare it to "Bubble Bobble")
- 18 unique stages, broken up into 3 difficulty levels (so 6 Easy, 6 Medium, and 6 Hard)
- 6 Hero Characters to pick from (and 2 unlockables)
- 10 Items to purchase in-between levels
- 1-4 players, local co-op, with post-level stats and rankings for bragging rights :)
- Destruct able Environments (the lego-esque stages are some of my favorites)
- Full Soundtrack (each stage has unique music)
- 3 different enemy types and a unique end-game Boss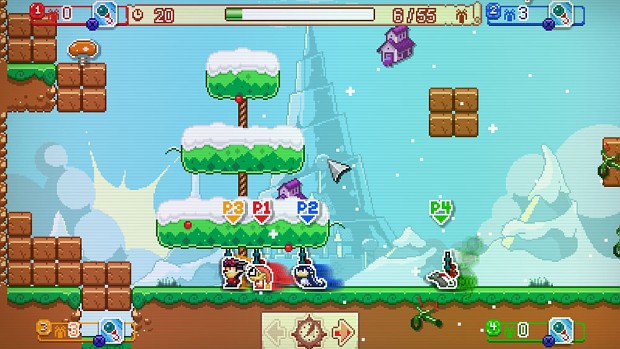 Have a few reviews coming in, all pretty friggin' positive...worst I saw was that someone beat the game, on easy, in 10 minutes. This isn't surprising since Easy is really for Grandmas and Babies, but I would like to put out an update that addresses single-player replayability. All my tested tended to be with the MP, so perhaps some SP-friendly challenge rooms are in order. We'll see what I can muster the energy for :)
So I highly suggest, if you have an Xbox360 and will be hanging out with family or friends this holiday season...pick up ELFSQUAD7 for some co-op, Christmas saving gaming fun!
As for me...I'm off to take one of those 'long winters nap's I've heard so much about. ;)
---
- Next Time-
Now that I'm not making ES7 I can take more time to chat about it! Next journal we'll look at the GAMING INSPIRATION behind some of my favorite set-pieces of Elfsquad and perhaps get some feedback from you about how ELFSQUAD7 actually turned out. Happy gaming!