I know it has been a while since the last update, but a few of the things we needed to do took a while to get set up and running right. The Biggest news for this update is that we are now Testing for Early Access Release, this means that we are testing in-house and all the backers that have backer keys are testing too. Once all the testing is done and we have the bugs worked out, we will be releasing the game for Early Access. WE DO NOT have a date for the EA release yet, but we will let you know as soon as we are for sure about it. Now let's get down to all the awesome stuff we have done since the last update.

One of the biggest projects we worked on was the terrain, we have a huge map planned for BugOut. It consists of 2x100+ Square Miles of area to explore. The first map is part of the Appalachian Forest in North Carolina. We used a height map taken of the area we wanted and created a map as close as we could get of the entire area.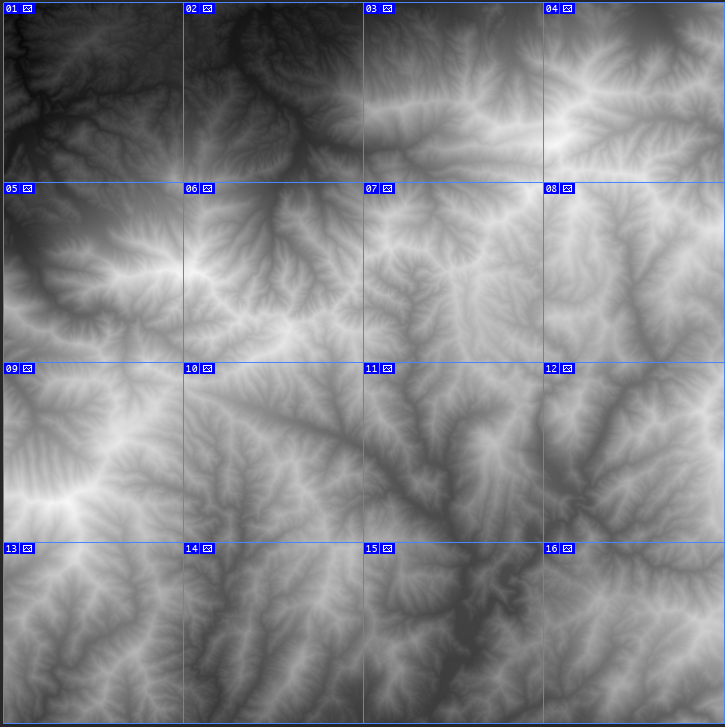 The picture above: This is a full picture of the first terrain ( Height map ) We broke it down into 16 equal pieces. Terrain #6 is the first terrain that will be available to play in EA. Then we will open the map through updates as we get them completed.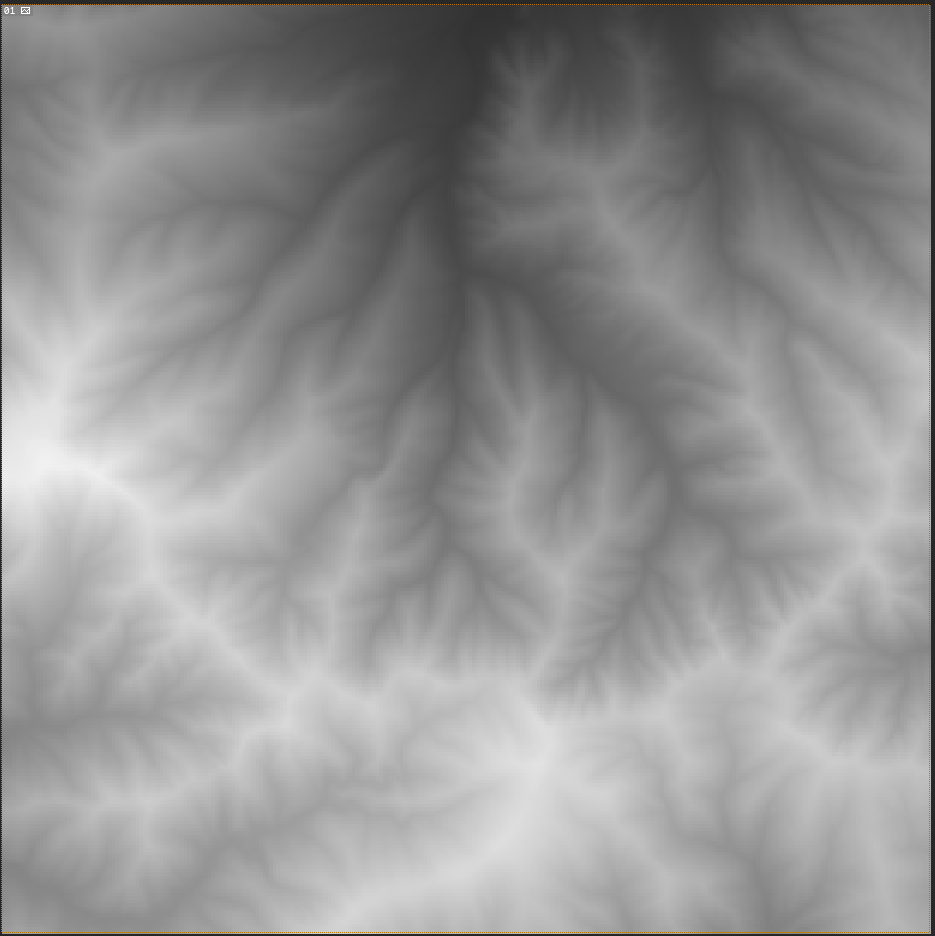 Above picture: This is a height map picture of just the #6 piece of the terrain. It is still so big that we had to break it down to stream the terrain into chunks.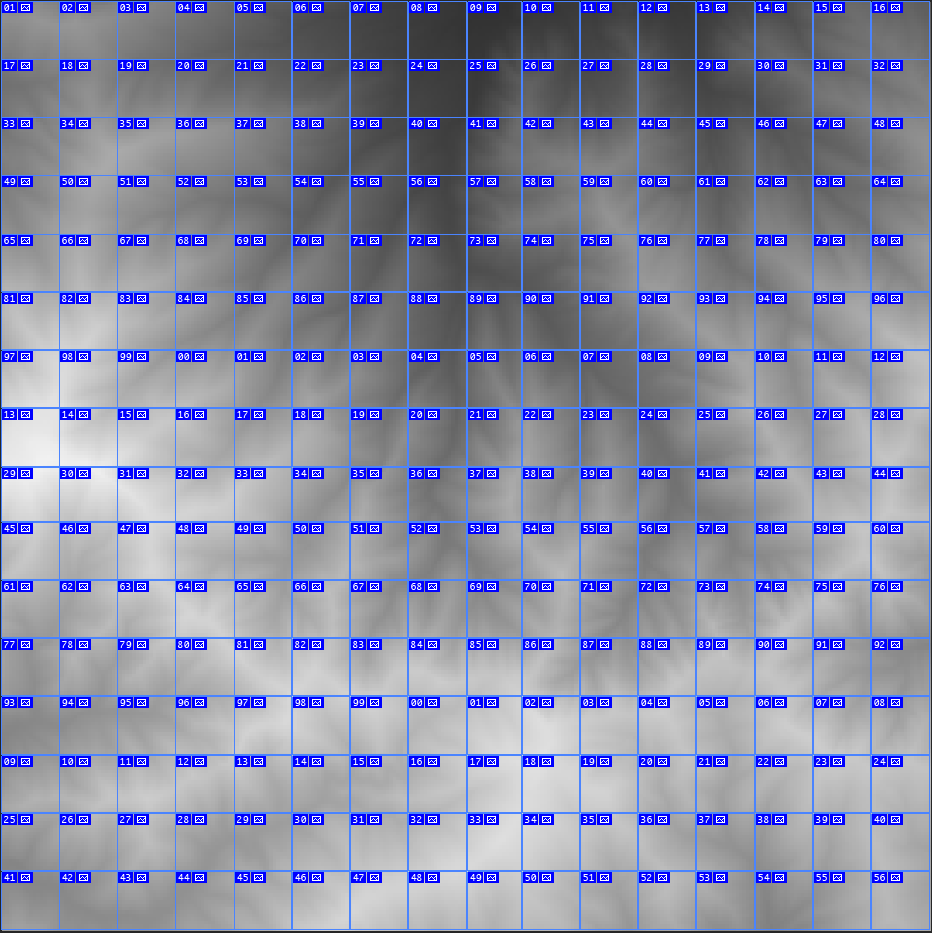 Above picture: This is the #6 terrain broke down into 256 pieces. We are hand painting all the maps to get the detail that we want for our game. So as you can see this can take a lot of time. It took 2 days to break all the terrain down for just this one section of the map.
Below picture: This is a Raw splat map WITHOUT blending and proper shaders added.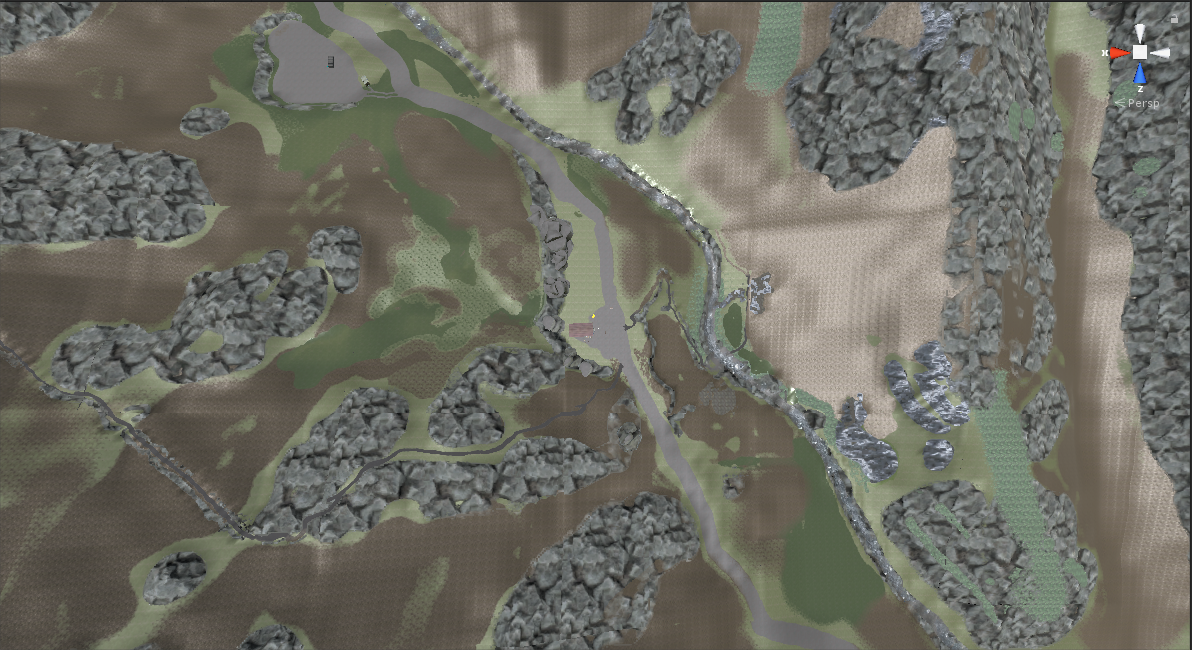 Above picture: Remember this is just one of 16 other pieces that make up the first map... We want you to have the feel of being able to hike and explore deep into the mountains.
Picture Below: Here are some of the textures we decided on for the terrain and have already added them to the map. They look great.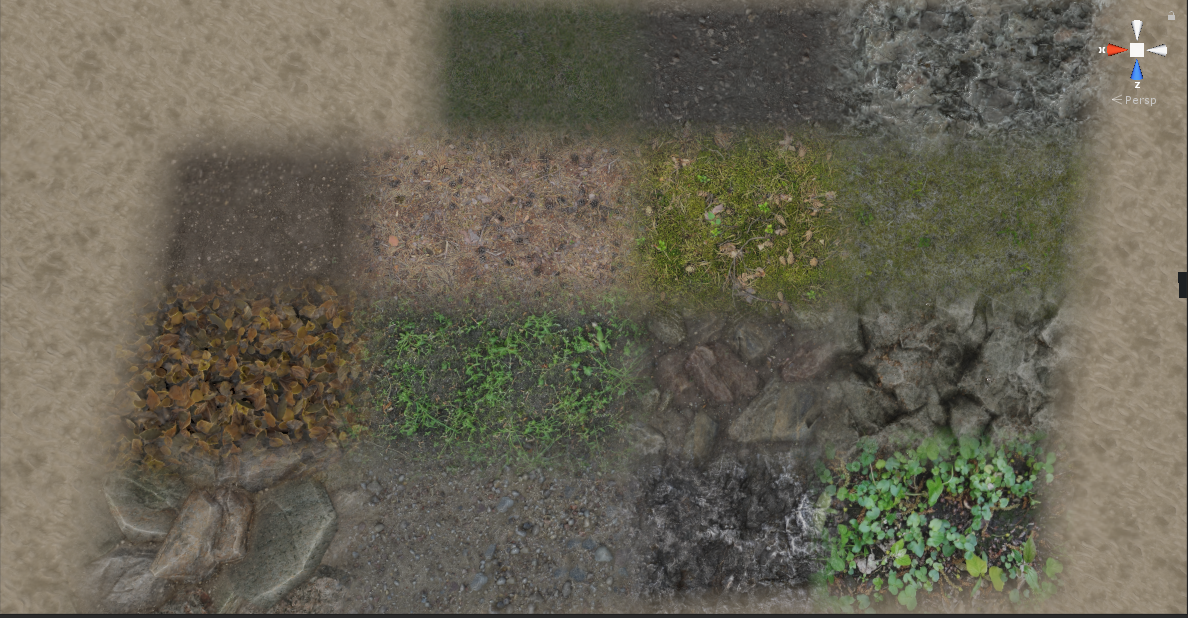 We are building most all of our characters for BugOut with Adobe Fuse, here is a quick look at one of the new characters you will get to meet in the game.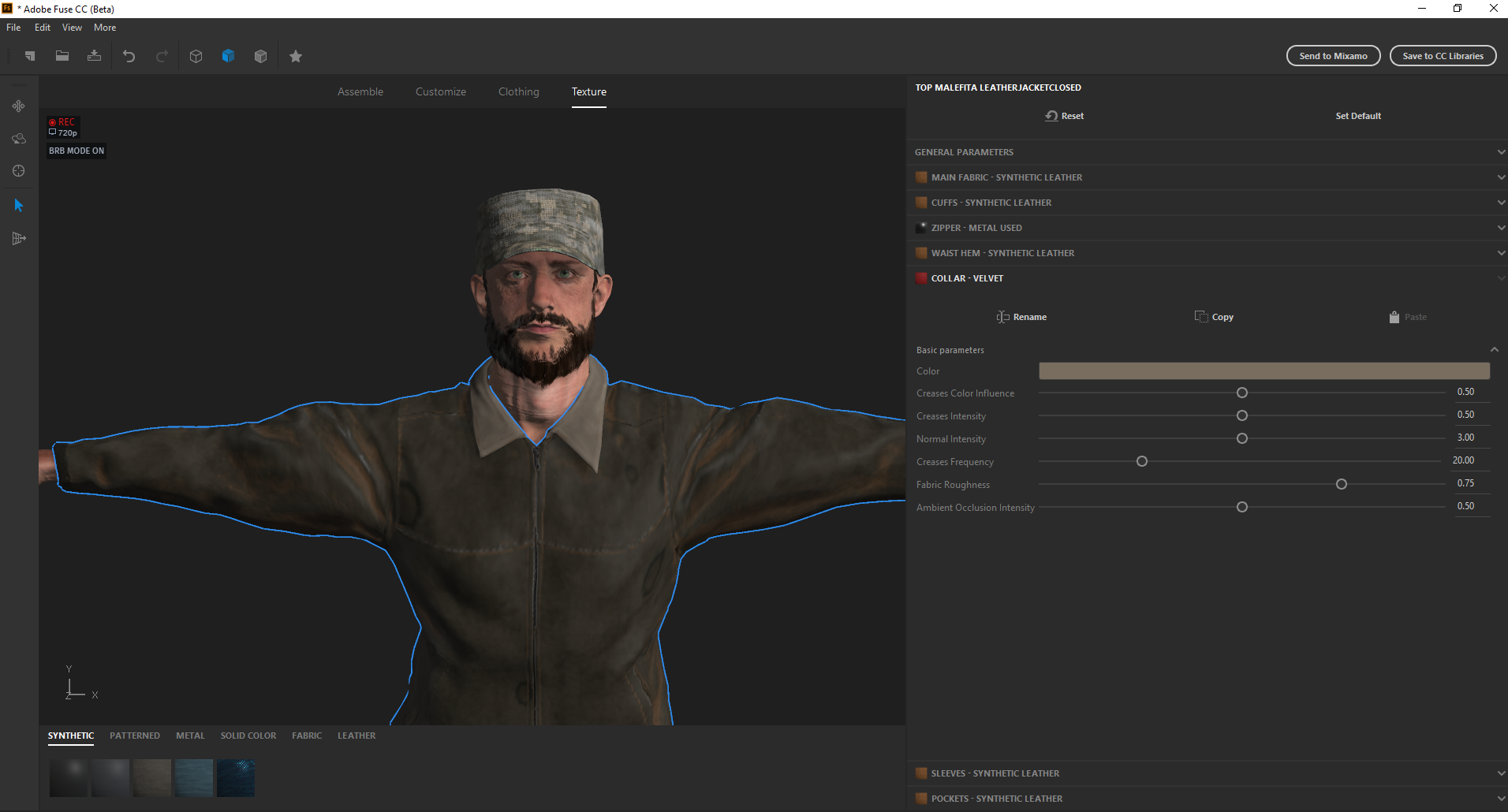 Integrated our building system and everything seems to be working great. There are a couple of small bugs we are working out, but I am sure we will have it all checked out really soon. You can build primitive shelters from sticks, branches and other natural items, you can also craft and build housing later in the game as well.

*Added New Trading Post, we have now removed the placeholder.
*Added decorations to the interior of the trading post
*Added Lights to Trading Post ( Set on a timer)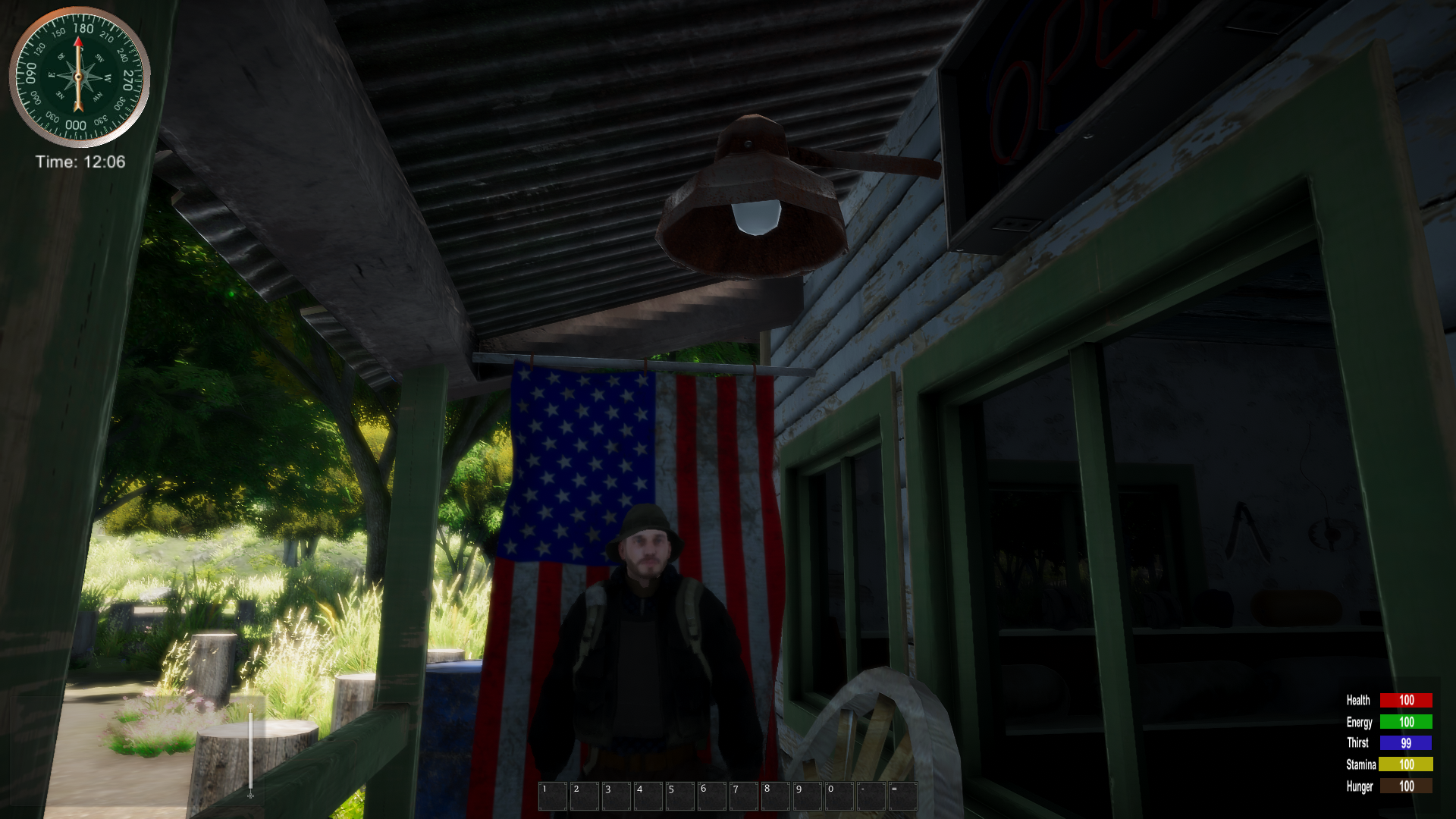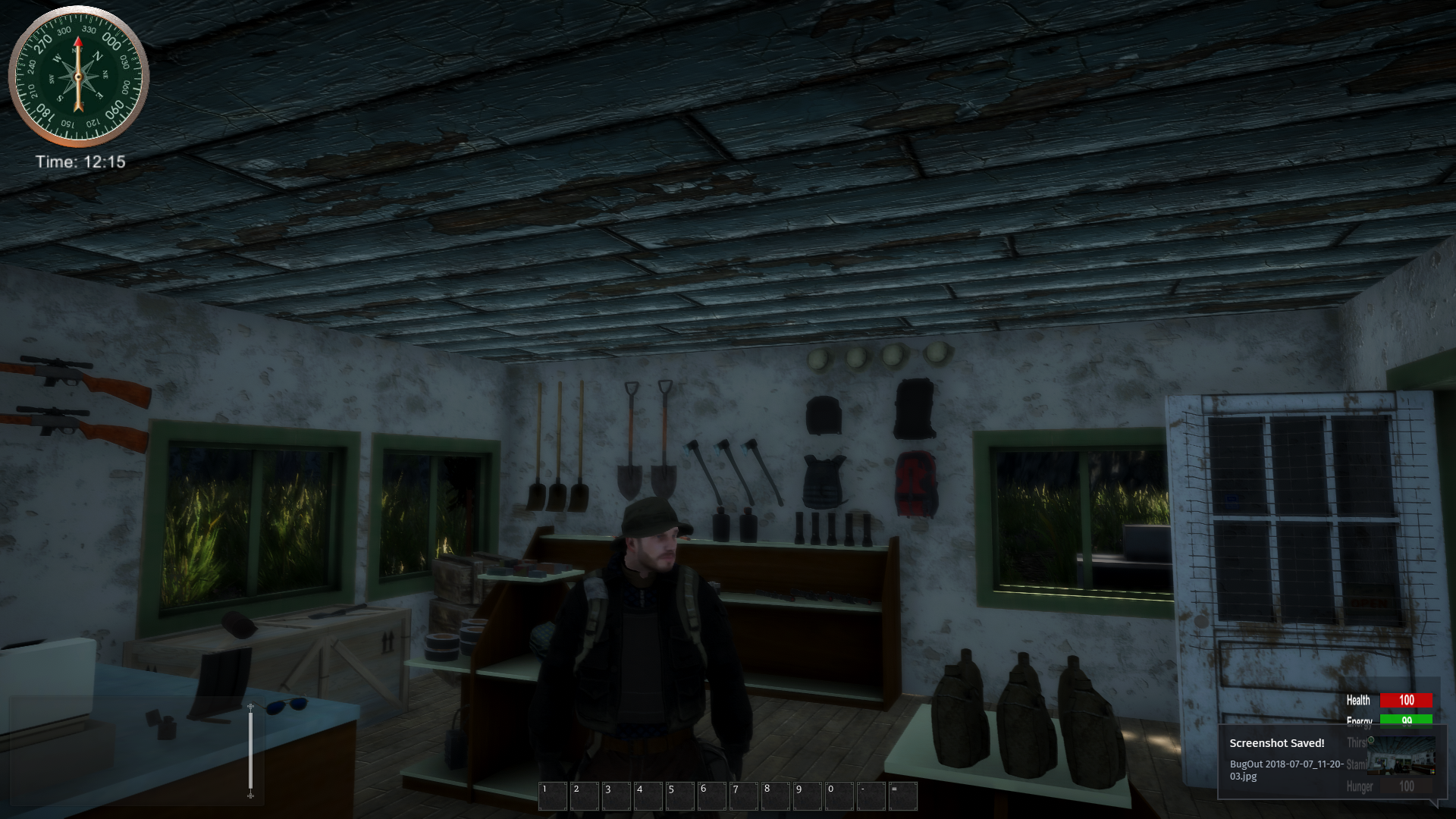 Day and Night is looking great, as we continue to add and make adjustments it just gets better and better. Here is a short video of me just walking around as the evening comes in. After I reach the fire tower and head down the other side of the hill you can see the sun rays coming through the clouds and trees and it looks amazing. I know there is more to be done, and this is just another small step to a great game.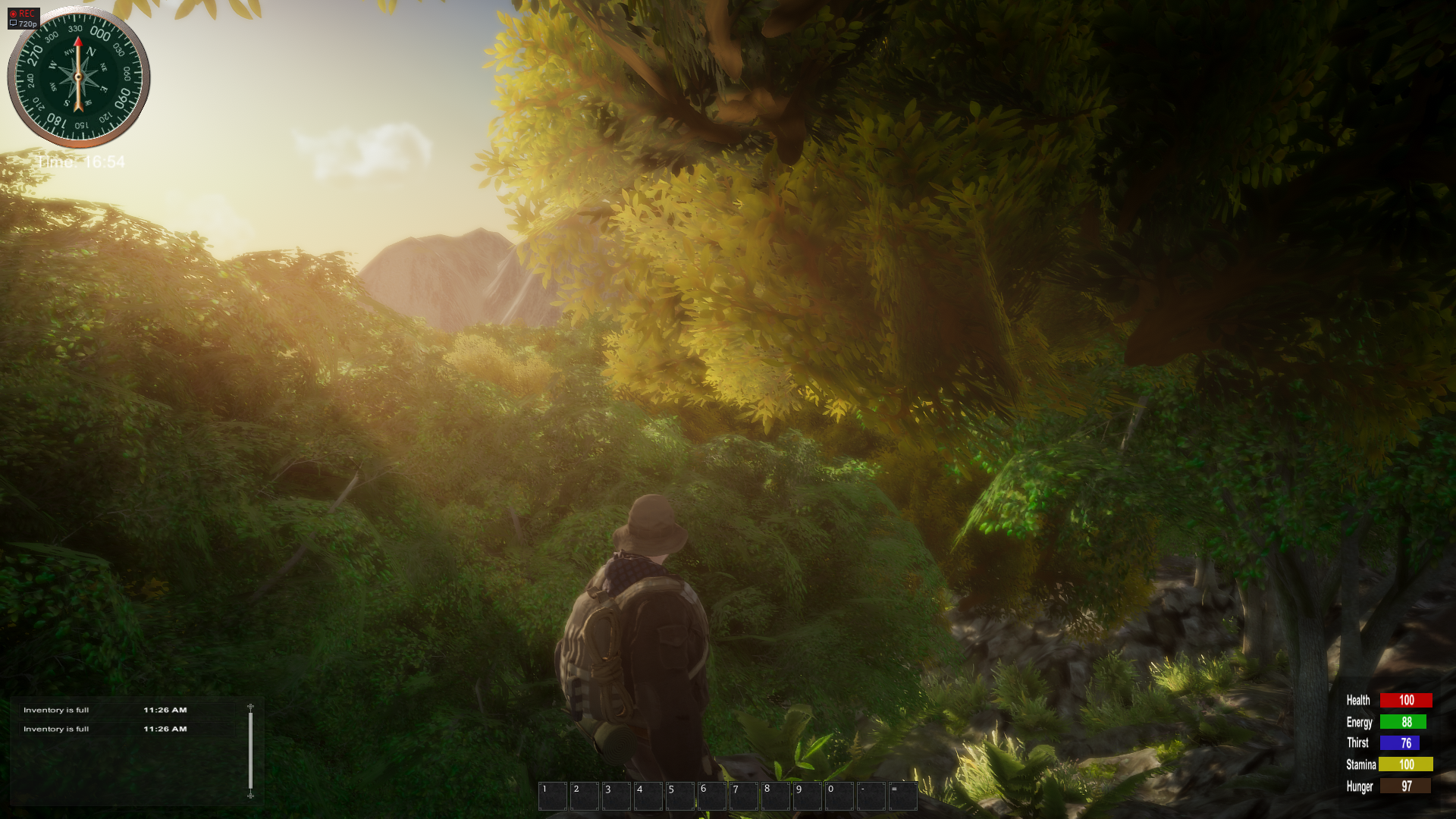 Other News:
*New Trello Roadmap Page This Week.
*New Trailers and Teaser videos coming This Week

Updates:
*Updated BugOut and all game files to Unity 2018 ( this was a painful task but its done)
*Added MicroSplat Shaders
*Added Post Processing effects
*Added New POI ( The Fire Tower)
*Added Scene Streaming to improve FPS
*Added Compass system and new Compass Model
*Added Creek and river sounds to water
*Added new Herb/Medicine bag. Opens with inventory, only stores herbs, they are automatically added to this bag when harvested. Like all the other windows it can be moved around the screen to customize.
*Added 100+ acre lake to the main map
*Added 16 new high-quality terrain textures
*Added Storage container to building property, storage is linked to the trader, you, and outdoor crafting areas
*Added Yellow Tail Salamander
*Added Snail ( can be eaten for a small amount of Protein )
*Added Copperhead Snake
*Added Antibiotics ( Trader Item)
*Added Ability to craft Stick frame
*Added Simple Tarp Shelter#1 ( Craftable )
*Added Simple Tarp Shelter#2 ( Craftable )
*Added Simple Tarp Shelter#3 ( Craftable )
*Added Simple Stick Pot Holder ( Craftable )
*Added Ability to Craft Tent Spike form Stick
*Added Large Branch to pick up Items ( Used to craft primitive structures )
*Added Vines that can be harvested and used for crafting
*Added time management system to allow for timed actions and speeding up / slowing down of time in-game
*Added persistent data system for saving game progression.
*Created audio management system framework
*Built initial character stats system to control hunger, thirst, energy, stamina, and health.
*Added base Quest system that will handle all the storyline and NPC players for the game.
*Added Ability to Craft Antibiotic Cream, Forest Salad, Boiled Water, and Fiber Rope
*Added 256 persistent Vegetation profiles to the split terrains on the main map.

Fixes and Changes:
*Adjusted the speed of the weather to look more realistic
*Fixed Stats on the Character UI, they are no longer on top of each other.
*Fixed Tear in Terrain by the River
*Fixed Main Menu from crashing the game
*Fixed River floating in the air on the main map
*Replaced Grass with a better quality grass.
*Minimized lag on the main map when loading in new terrain.
*Improved Shadows

See More Screen Shots, Videos, and News, Visit our Discord Discord.gg