Small update this time, we're officially on vacation because it's too hot to work ;-).
Blackreef Pirates
Things are progressing nicely, the arena minigame only needs refinements in the UI part and we're almost finished a gigantic work about indoor furniture and decorations (nearly a hundred of new models!)
An unwritten rule says we can't publish a blog post without an image, so here's a unrelated shot from the herborist house: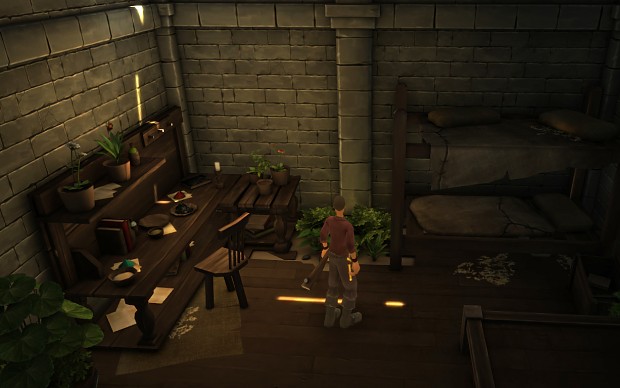 Spoiler: she really loves plants and flowers
Ludum Dare 24
We're going to take some days off to relax and drink rum (yes, the Ballmer peak exists!!) until August 24th, then it will be the time for our first Ludum Dare! The rules from the Ludum dare "Jam" are easy: we will have 72 hours to create and submit a playable new game and the theme of the game will be announced as soon as the competition starts.

It's going to be an excellent excuse to create our first complete game and learn something new in the process. We will reuse all the tools we already know (like Unity, Blender, Modo) and if time permits I would love to make some music again like in the old times (with Ardour and Hydrogen drum machine).
In the next days we will also setup a new page which will host all the real-time updates about our Ludum Dare game.
Stay tuned, it's going to be fun :).