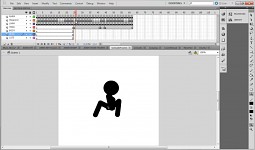 In the second episode of our bi-weekly developer diary, Art Director Bennett Tyler, walks you though exactly how we get the stick figures to die so gruesomely in our tactical side-scroller, Ballistick. If you have any experience with Adobe Flash you will be able to follow along quite easily, but for those who don't, here is your chance to see the other side of game development. It may not be as glorious as you think.
2D animation entails painstaking work as each frame has to be crafted nearly entirely by hand (though Flash helps a bit with this of course!). Check out our video below and be sure to tune in every other week to learn more about how Ballistick is being developed.
And of course, if you still haven't played our proof of concept, download it here:
Missed episode 1 of our developer diary? You can still view it here.