Development Update 8# - Introducing the Machine Gun Turret Family
2112TD brings you a beautifully immersive tower defence experience. Expect to see all the classic ingredients that make TD games so timeless and everlasting, complimented by features adapted from the real time strategy genre. Set 100 years in the future, you must battle inter-dimensional hell spawn across the solar system in a desperate struggle to defend Humanity from total annihilation.
Merry Thursday Everyone!
Been slacking in the updates department over the last couple of months. Christmas, New Year and moving house sapped the life out of me. Nevertheless business continues as usual with lots of progress behind the scenes for 2112TD. We are currently polishing off the key features and getting ready to create our first trailer before systematically building and testing the game levels. Concept designs and 3D models continue to fill our drop box while we scratch our heads thinking of ways to make the game smaller. This could be the first sprite based strategy title to put Nvidia and ATI cards under serious strain.
Anyway time for the eye candy! Mike has finished designing the entire Machine Gun Turret family which is now in the hands Pierre who will be producing their 3D counterparts.
Machine Gun Turret Level 1
The machine gun turret is the most cost effective tower in the game making it a good choice for early monster waves. It fires bursts of four bullets and can attack both land and air units.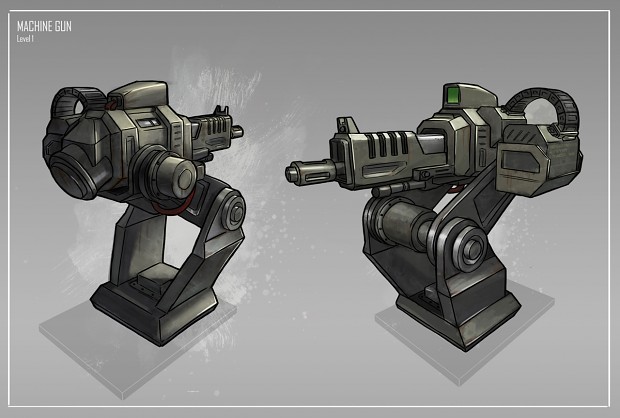 Machine Gun Turret Level 2
Level 2 introduces a twin cannon and upgraded targeting system. Combined, the two enhancements offer more firepower and range.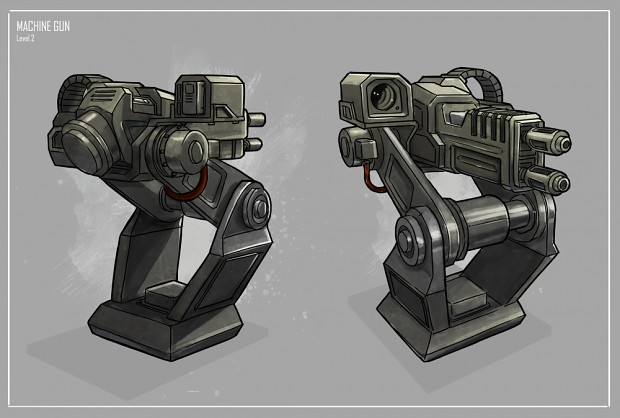 Machine Gun Turret Level 3
Level 3 introduces dual barrels, each housing two separate cannons. In addition, level 3 utilizes the most advanced targeting system available for robotic weaponry providing excellent accuracy and increased range.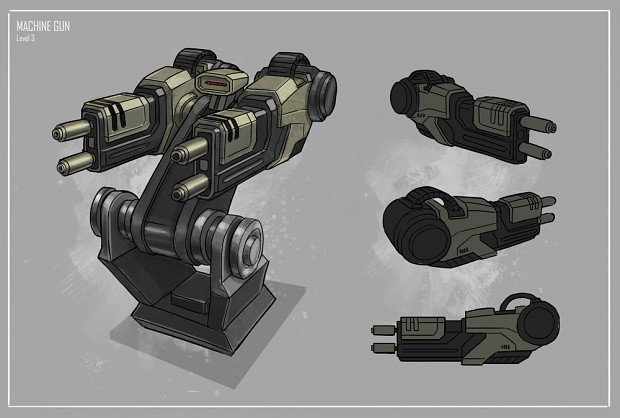 Machine Gun Turret – Surface to Air Missile Attachment Upgrade
The first of the two final upgrades offers no enhancements to the standard machine gun weapon. Instead two rocket launcher attachments become available specifically designed to deploy surface to air missiles making it ideal for combating flying monsters.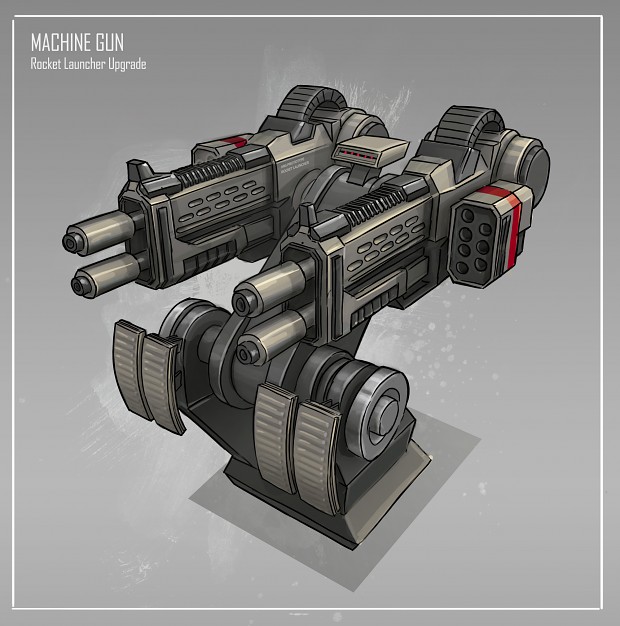 Machine Gun Turret – Gatling Gun
The gatling gun is what it is… Superior firepower. By sacrificing its ability to tackle air units the gatling gun provides excellent ground damage, unloading a stream of bullets at its targets.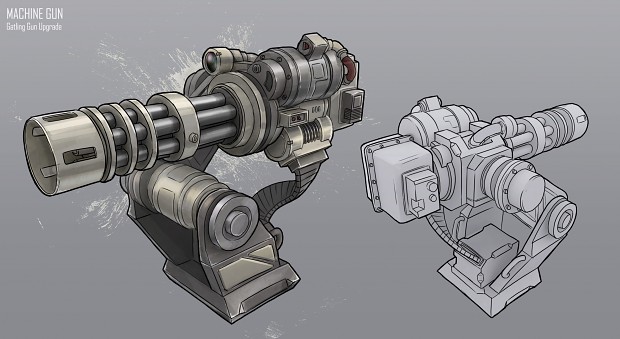 Thanks for reading. Keep connected with us, watch our page and find us on:
James