The worlds a changing
Since our last progress update, a lot has changed, and one of the biggest updates is the actual entire world! Using a completely Perlin noise based procedural generating system, we have created a procedural world builder, allowing us to put together new realms very quickly. We have previously mentioned we will be launching with a total of 3 worlds, but this system gives us the ability to quickly put together new worlds and may be developed further to allow for user-created worlds in the future.

Updated Menu Scenes and armory
Gone are the empty backgrounds of yesteryear, Veil of Crow's menu screens have all had a facelift and are now prettily decorated with machines of death. Find the kings head resting on a plate in the main menu, or the sight of a struggle at the Inn. Veil of crows has a dark sense of humor, and we wanted to set the tone early. Another takeaway from the above image is the updated armory UI. We have spent hours and hours playing, and reading your feedback and decided to make things a bit more informative in our menus. You can now see benefits and disadvantages with each piece of equipment. A fancy large shield? You can clearly see the impact on your attack and agility.

Did I mention updated UI?
One of the backbones of a great strategy game is its UI. The ability to convey information back to the player in effective ways is extremely important, so we decided to take a look at how we can make kingdom management a lot better, and easier. Now, every element of the campaign map will show as much information as possible. from your hero units garrisoned in towns/armies, to their population, or resources. All of this can now be seen at a glace as opposed to being buried in menus. Most sliders used for creating armies also have text boxes where you can simply type the number of units you want to transfer. Everything has a had an upgrade and it looks and feels music much better.

Battle texturing and foliage
We mentioned earlier about using Perlin noise to generate the world maps, well, we also used a similar system to texture and place foliage in our improved battle maps. Terrain blends with rocks and dirt depending on their slope, or with snow depending on the height (or season), trees are placed together as is grass and other foliage. We wanted to give a more living feel to the maps, and this is how we did it. Being completely procedural means we can quickly put these systems together, which is essential in small development teams. Not only improving the visual appeal but also conveying to the player how to best navigate the terrain, as being forced to charge up a steep slope with projectiles raining down can result in heavy losses.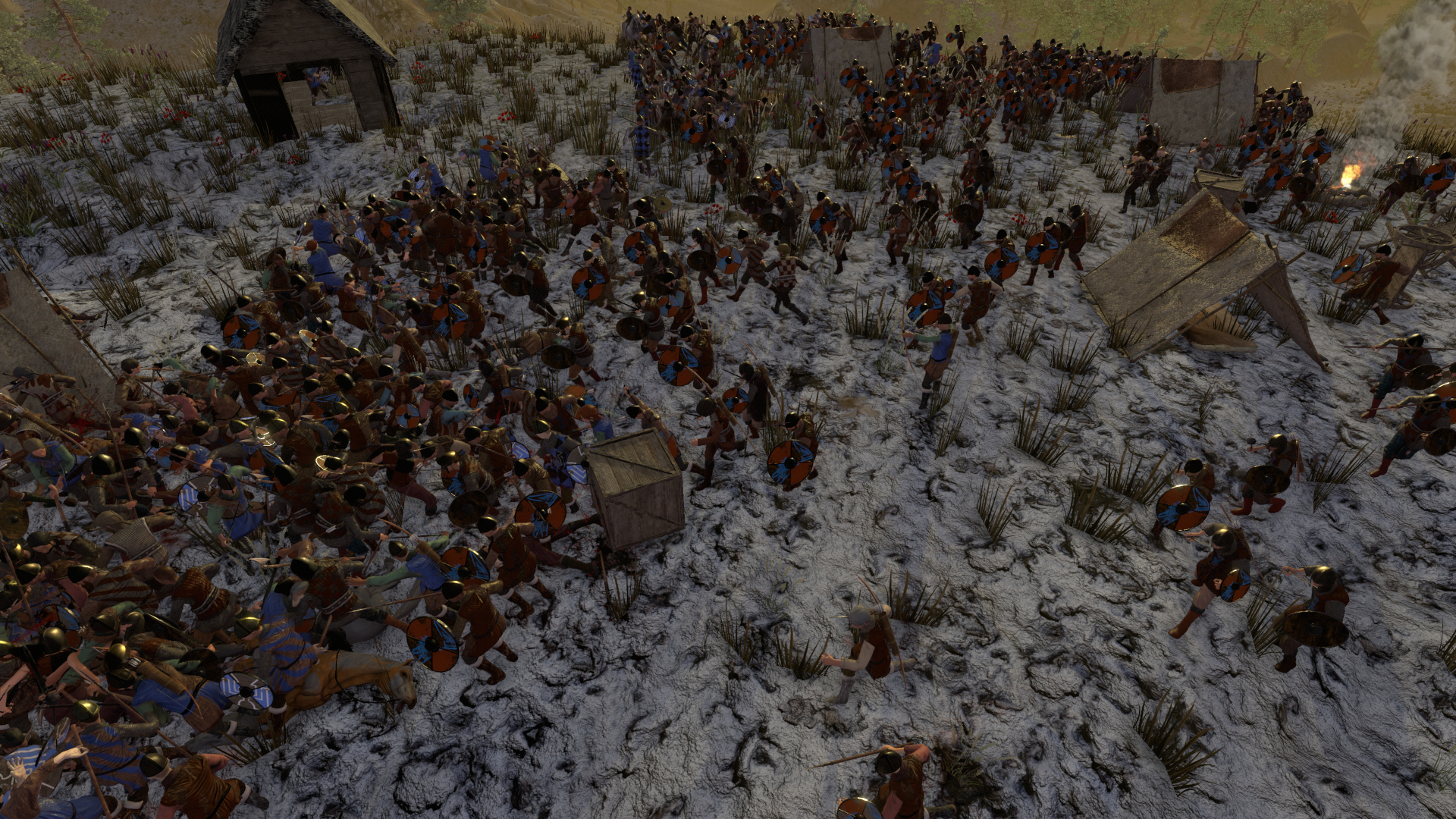 Improved performance means a bigger battle scale!
A massive thank you!
If you have not been following the news, we are leaving early access on the 18th of October!! Veil of Crows could not have happened without the support of the community. So thank you very much!
- Kerry Fawdray