The Inventory
The inventory is the place where you'll find all the items you have equipped at the moment. To open it all you have to do is to click the bag icon in the UI.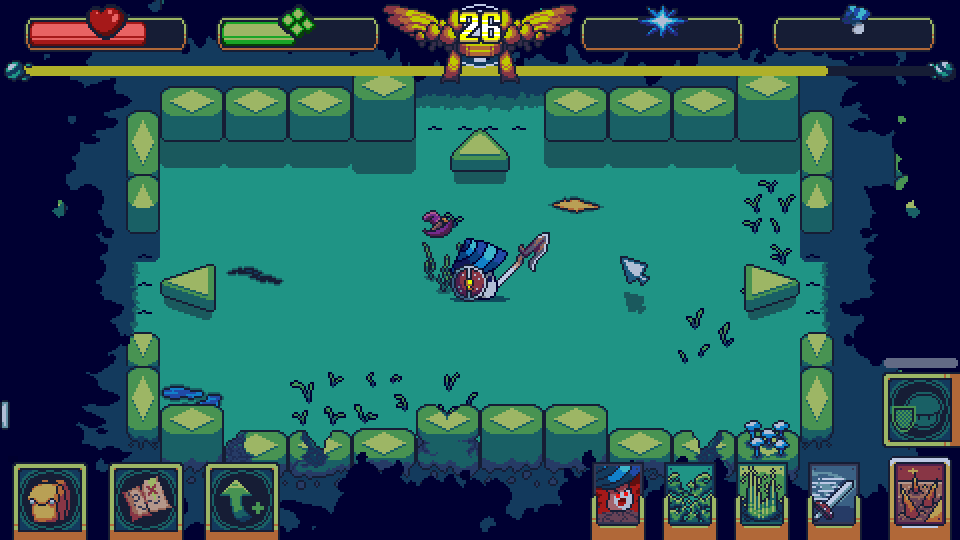 On this example all the slots are being used by one kind of item, so let's go from left to right and see what they are.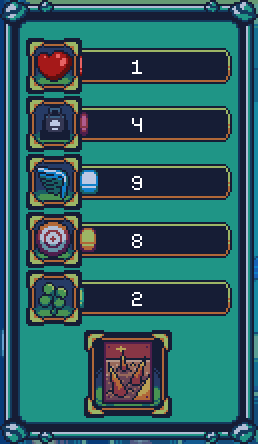 At the left, you can see your current Stats. The numbers represent the total value of each one, that is, bonuses and current character stats added together. Finally, In the lower part, there is a card representing the current Fungi Skill equipped.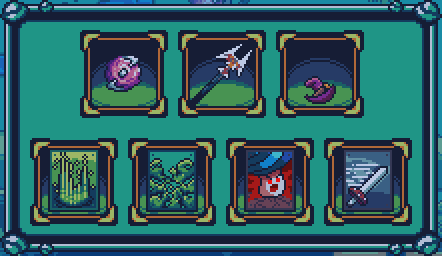 In the center section, you can find your current equipment, with the upper part holding your shield, weapon, and artifact and in the lower part all of your skill cards. The order of the skill cards is the same as in the game UI.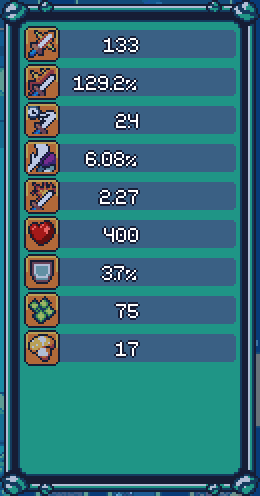 At the right we have the most dynamic of the whole inventory. As it is now, with nothing selected, it shows your total Attributes, with all bonuses added, but depending on what you have selected and if you are trying to swap items or not, it can show the difference in Attributes that such an action would make.
In this example, you can see that moving your skill from one place to another is possible, and when doing so the right part shows you what you are swapping around, although in this case you are not losing anything as you are just moving things in your equipment, yet is very useful for comparing skills.
When opening a chest its items will always be at the top in a new section.
If you select a skill in the chest section the following auto-selection will happen:
It checks for all the skill you currently have and see if you have a similar one to the one selected at the top.

If there exist one or more similar skills it will auto-select the weakest of them, as it is very likely that is the one you will want to swap it for.

If there is no similar skill then it will select an empty slot.
In the example, you can see how the new found skill does more damage, but its Food cost increases. This is also a good example to point out that the right section is showing attributes related to the skill and not to the character.
On this other example, you can see that equipping the spear increases a lot of Attributes since you don't have any weapon equipped currently.
For shields, weapons, and artifacts the auto-selection is always the corresponding inventory slot.
Item Summary
You can see the item summary of any item in the Inventory, regardless of it being equipped or in the chest section.
An Item Summary is a window pop up that shows information regarding the inspected item, for example:
In this weapon template, you can see that it has a name, a weapon type, some bonus stats, different attributes, and a lore description. Most items are like this, showing only what they have, so if it doesn't give a bonus on some stat or it doesn't add some attributes then that icon won't be shown.
For Skills the item summary changes a bit, it has a name, a skill type, unique attributes, an skill description, and a lore description.
Finally, for Artifacts we have the most simple of the item description. These are all about their passive skills so you only see text and highlights, it has a name, an artifact type, an artifact description, and a lore description.
All this make the Inventory a very versatile menu where you can check pretty much everything you currently have.
Social Media
Keep up with all our daily updates, post, and giveaways on our social media!
Also go and vote for us in the TOP 100 Indie of the Year Game at IndieDB in the following link :)
See you soon shrooms