Asura is a hack 'n' slash game and as such we have put great effort to make the combat system as unique and interesting as possible. Let us give you a brief insight on how the combat mechanic works in our upcoming game!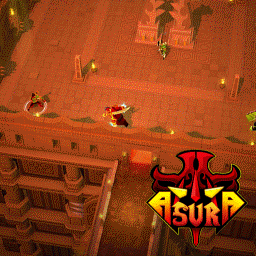 The Base Weapon Type:
In the beginning of the journey, Asura will always be equipped with a bow and uses his claws to strike enemies. These are his base weapons. Your Melee attacks tend to be stronger but you always are at risk of going close to the enemies to attack where as Range weapons have the advantage of distance but it depletes your ammo. You have to be careful when using range weapons and make sure that you are accurate in your strikes.
Stamina:
Weapons may or may not consume stamina depending on their weapon type. Some weapons deal insane damage but exhaust full stamina where as other weapons only consume small portion but also deal less damage. You should always have a check on your stamina bar which when depleted can put in you a rough spot and cost you a session.
Counter Mechanic:
f you played any other top down hack 'n' slash games, you might be aware of the armor resistance system. Well, in Asura we have tried something really different from other games in the genre. Your melee attack will do full damage to Range units where as your range weapons will deal optimal damage to Melee units. This mechanic adds a layer of depth to the combat system and makes the player actually put some thought in his action when combating and destroying enemies.
Dodge Roll:
You can dodge roll in Asura which can evade enemy attacks but you need to be attentive because if used carelessly, it can evaporate your stamina which can end you up in a dire situation!

We have tried to design and implement a combat system which maybe difficult but is always fair. We let you break the rules if you know them but if you take it for granted then you can pay the price of death and since death is imminent in Asura, you loosely all your progress. So BEWARE!
If you enjoyed the article and found the game promising then maybe you head over to Greenlight page and help us with your vote, It can help get Asura on STEAM!
Asura Website: Asurathegame.com
Greenlight Trailer: Youtube.com
Twitter: Twitter.com

Cheers.
The above article is a re-post from an announcement we made at our greenlight page regarding the games combat system. The topic was suggested by one of the steam users!