Soon you'll be able to re-live that 80s nostalgia but keep the frenetic gameplay that makes Solaroids so much fun! Solaroids is getting a new theme soon. Swap out the current graphics for NEON-RETRO vector goodness!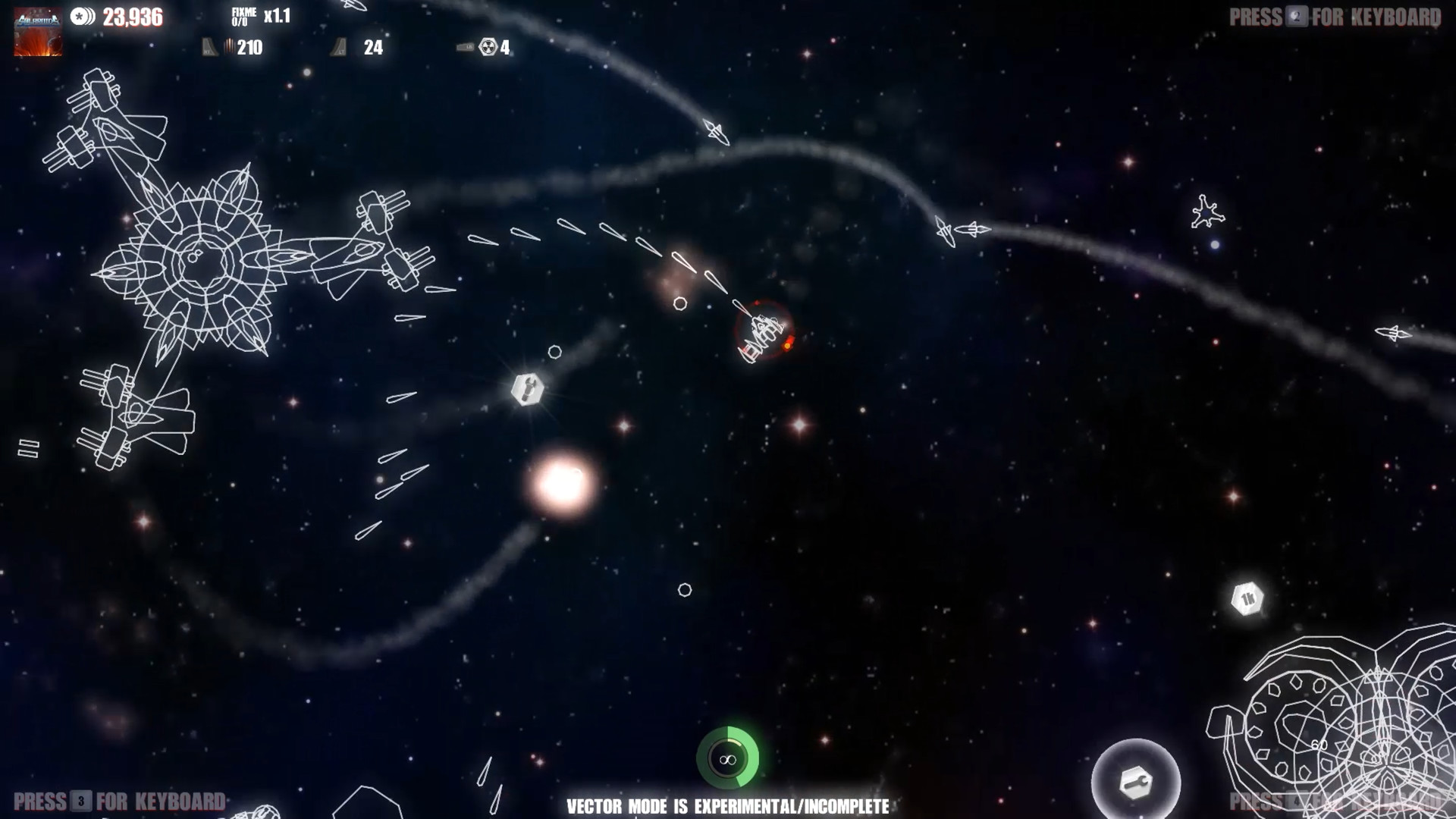 There's still a lot to do to make the theme a full-on experience of it's own, but the main gameplay elements have been converted and I'll be continuing to work on it to add some color to those vectors, alternate vector based fonts, particle systems, other shapes and symbols, and of course a cool neon vector logo to go on the title screen to wrap it up with a bow.
What's better than being able to switch themes?
How about switching between them while your playing with a silky-smooth transition. By pressing the T key for keyboard and/or mouse players, or the DPad-Up button on controllers, Solaroids will smoothly transition between the modes. Off course, as a normal control the bindings are also fully adjustable, so don't fret if you want to reserve the DPad buttons for other controls.
If you want to toss the background nebula, planets, and stars, you can freely turn them off or fade them out as well as turn the parallax down or off for that classic experience. Myself, I kind of like leaving the background element and parallax on. It reminds me of the reflective display of Asteroids Deluxe, how it made the vector graphics appear to hover over the background art.
More themes are planned, including a version that re-creates the triangular ship greatness of the original Asteroids and Asteroids Deluxe, so stay tuned and watch this space!!
If you haven't played Solaroids before, I hope you you'll give it a try (free demo here), or brush of the dust and give it some play-time with the new features. Either way, please share some feedback in the Steam Community or in the new Solaroids Discord server. Also, if you like it or know someone that might, please help spread the word by sharing in your circles on Twitter, Reddit, Facebook, or your other favorite social platforms/forums.
Solaroids is available in Early Access on Steam , Kartridge, and GameJolt and receives regular updates. Try the demo out today or splurge and get yourself a copy and join the fun!